2.
A gorgeous dog basket made from elephant grass and with traditional Ghanaian techniques that'll be a more of an accent piece in your home than just your pup's hangout spot.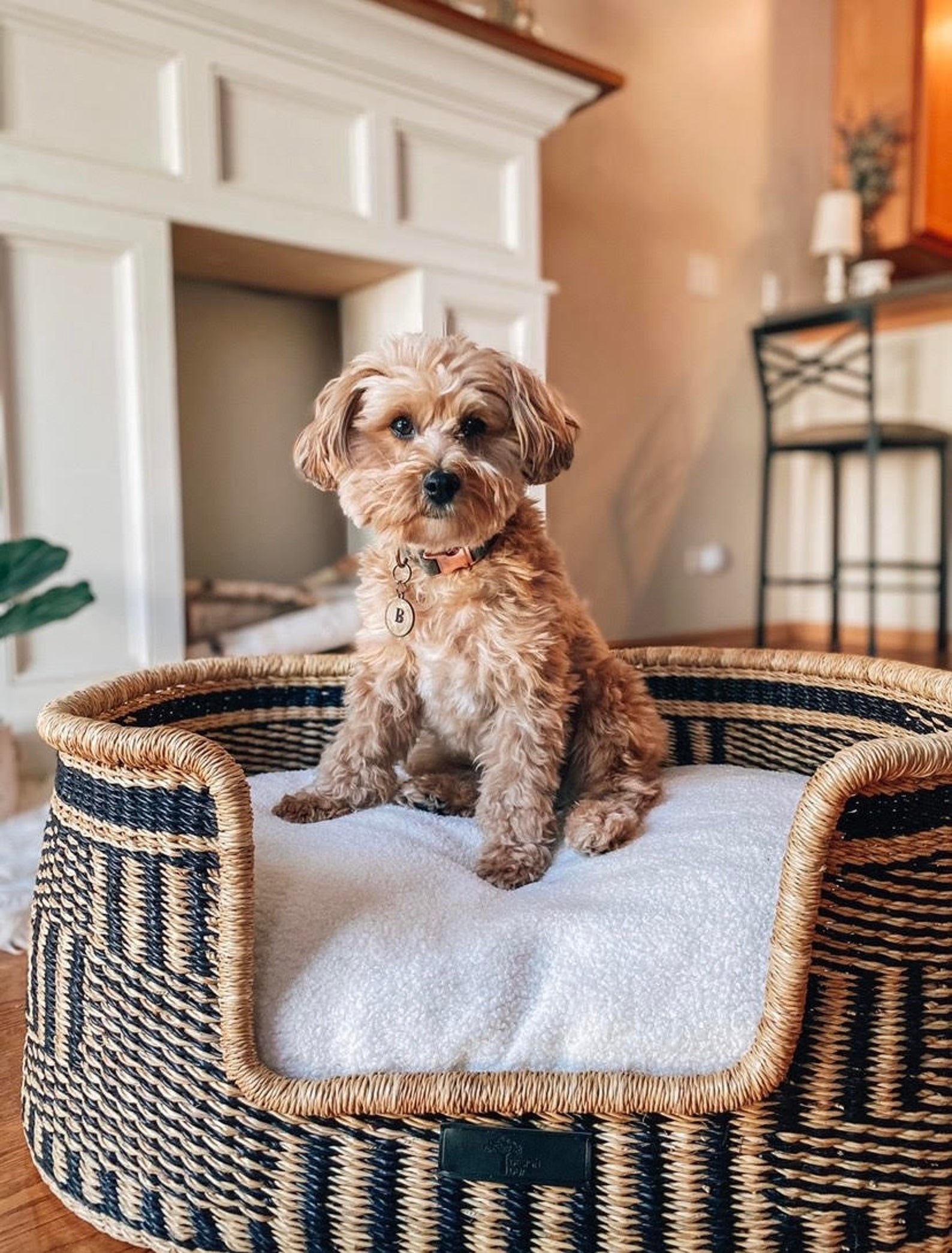 Design Dua is an HGTV award-winning small business handcrafting baskets, basinets, bags, and so much more!
Promising review: "This is a beautiful bed of fantastic quality. My dog jumped right in without even having to be coaxed. The mattress part is super fluffy and comfy, and the cover is removable for easy washing." —Audrey
Get it from Design Dua on Etsy for $139.99+ (available in three sizes and two colors).
3.
A cozy pet bed both dogs and cats alike will enjoy curling up inside — and you'll love it because it has a darling design that'll look divine next to end tables you just purchased.
4.
A pet hammock so your pal can lounge in style on long road trips and your car seats might get a little less covered in hair.
Promising review: "Construction is sturdy and able to hold up under a lot of wear and tear. The zippers allow a 'kennel'-type setup and it has Velcro openings for seat belt access. The zippers can withstand a lot of pressure — my dog is an 86-lb golden retriever and the weight stress on the zipper and straps for the seats didn't cause any tearing or damage even though they often supported his pure weight. I put the doorway mats on the bottom to give additional traction." —Candace Owens
Get it from Amazon for $34.96+ (available in two sizes and six colors).
5.
A stylish pet sofa you won't be able to prevent yourself from taking 900 photos of your pet lounging on — it's so darn fabulous!
Promising review: "This couch is adorable and very classy looking which is exactly what I wanted. My dog has several floor type dog beds which she loves and will sleep in provided I am not occupying her favorite recliner. I always feel bad kicking her off when I want to sit down because she likes to sleep up on something so I thought this raised bed would be a good compromise and it is. I have it right next to my recliner and she loves hopping up on it and sleeping right next to me when I watch TV. Since the beds sleeping area was larger than the seat of my recliner I knew she was going to fit even though she is a little larger than 30 lbs." —T. Hayes
Get it from Amazon for $92.13.
6.
A crate that'll double as an end table and fit seamlessly into any room's decor — just maybe think twice before putting a beverage or snack on top because your pup's sniffer will DEFINITELY notice.
Promising review: "It's wonderful quality for the price. The espresso color matches all the other espresso colored furniture in my home. There's a lot of room for my dog to move around in. It was easy to put together and the instructions were easy to follow. My dog is not a chewer, but if your dog is, it probably would be easy for them to chew the slats. When the door is closed you can't even tell you have a kennel there. The pad size needed is easy to find in stores and online. I love love love it!" —Tammy
Get it from Amazon for $102.59+ (available in four styles).
7.
A bed-warming mat to keep your little one comfortable and cozy at all times while adding a touch of ~wild style~ to your home decor.
This thermal bed mat is ideal for both cats and dogs and comes in a bunch of fun patterns. It features a lightweight core that reflects the animal's body heat back to them, so you don't have to worry about wires and electricity.
Promising review: "My 15-year-old kitty who's always cold took to her Christmas present immediately. I first put it on my lap and she hopped right up and didn't want to leave for an hour while I watched TV. Then I left the mat on the sofa and she stayed there instead of retreating to her usual hiding spot in the cabinet. Now the trick will be for me to reclaim my seat on the sofa!" —Body-n-soul
Get it from Amazon for $10.99+ (available in two sizes and five prints).
8.
A two-tier window perch that'll be waaaay easier to install than that desk you bought yourself (and took three days to build). It'll look super chic hanging in your window and even better than a clunky cat tower would look in the middle of the room.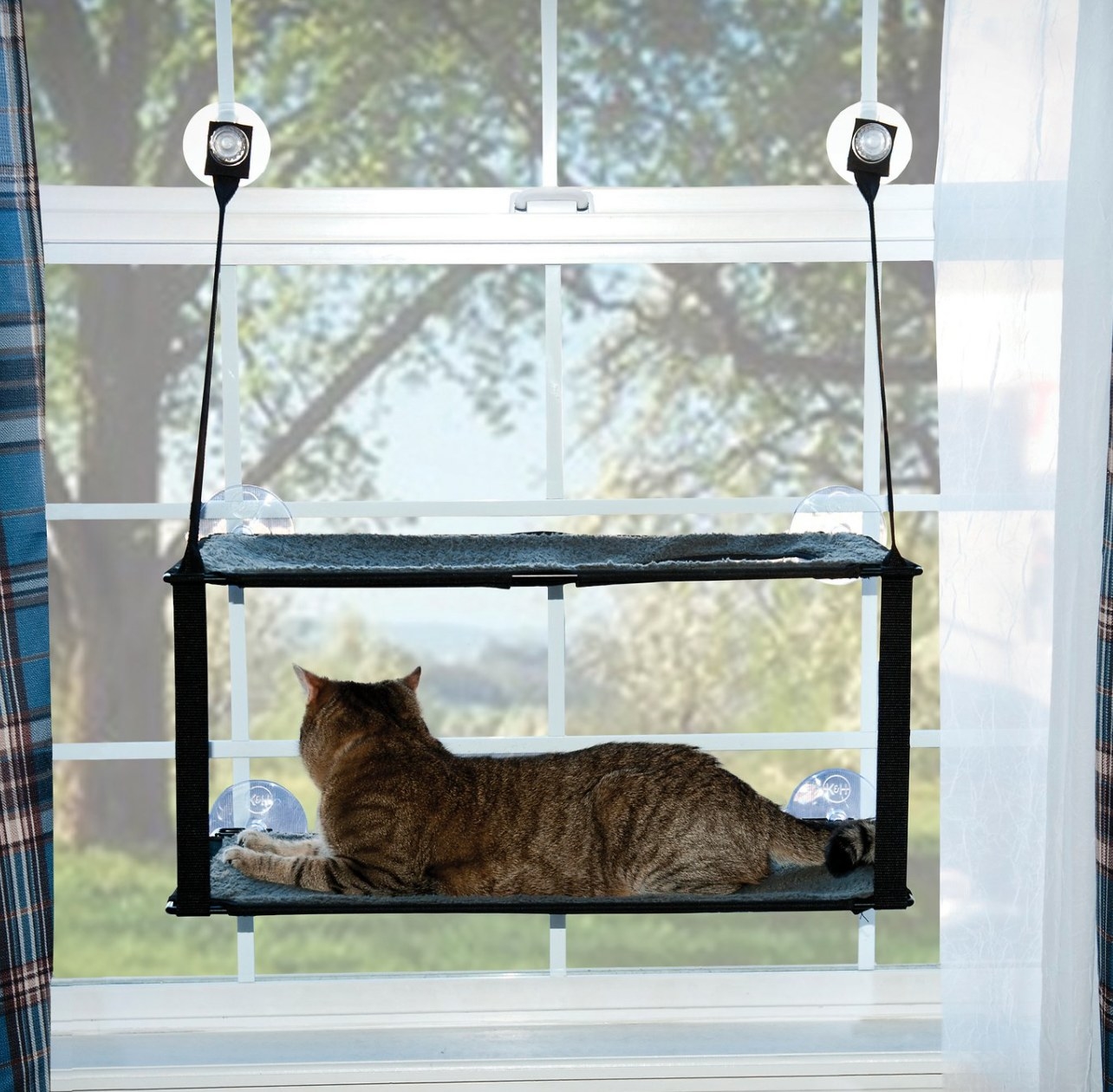 Promising review: "My cat absolutely loves this! He hasn't left it all morning and basically slept all day in it. He's 18 lbs and it has surprisingly held up. The suction cup at the top has a locking mechanism that makes it extra secure." —Chewy Reviewer
Get it from Chewy for $36.22 (originally $60.99).
9.
A chic marbled personalized placemat that'll ensure your fur baby can eat dinner in style — apologies if this is a nicer set up than your dining situation, but they deserve it.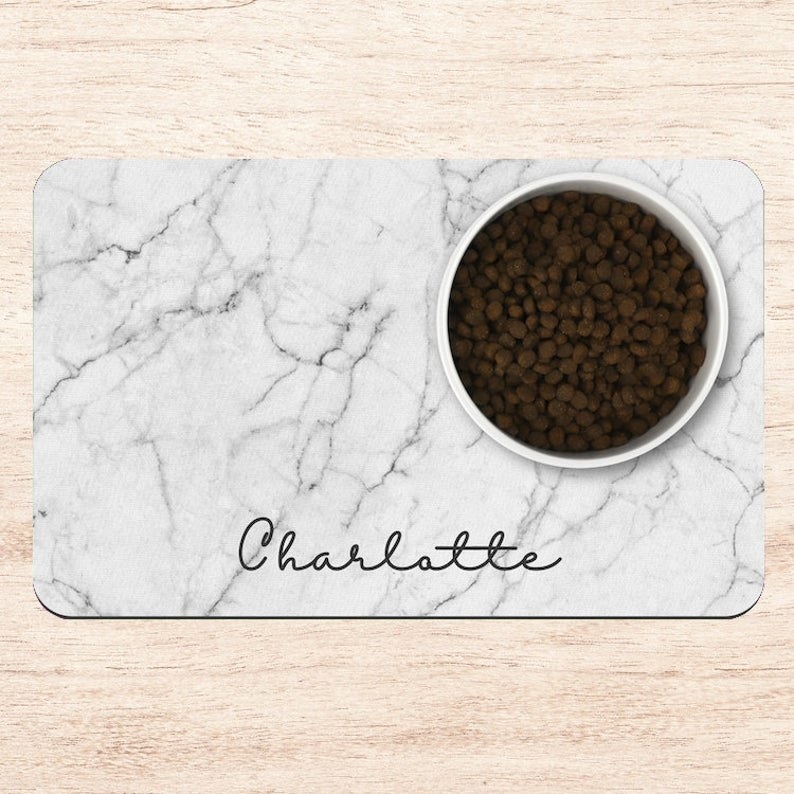 Why not jazz up your pet's special spot with a personalized placemat? With a ton of colors and font styles to choose from, you can really make this your own. RabbitPrint is a small business that sells pet-themed products.
Get it from RabbitPrint on Etsy for $19.99.
10.
A raised cat food bowl to prevent backflow and make them feel like they're dining at a five-paw establishment instead of your kitchen floor.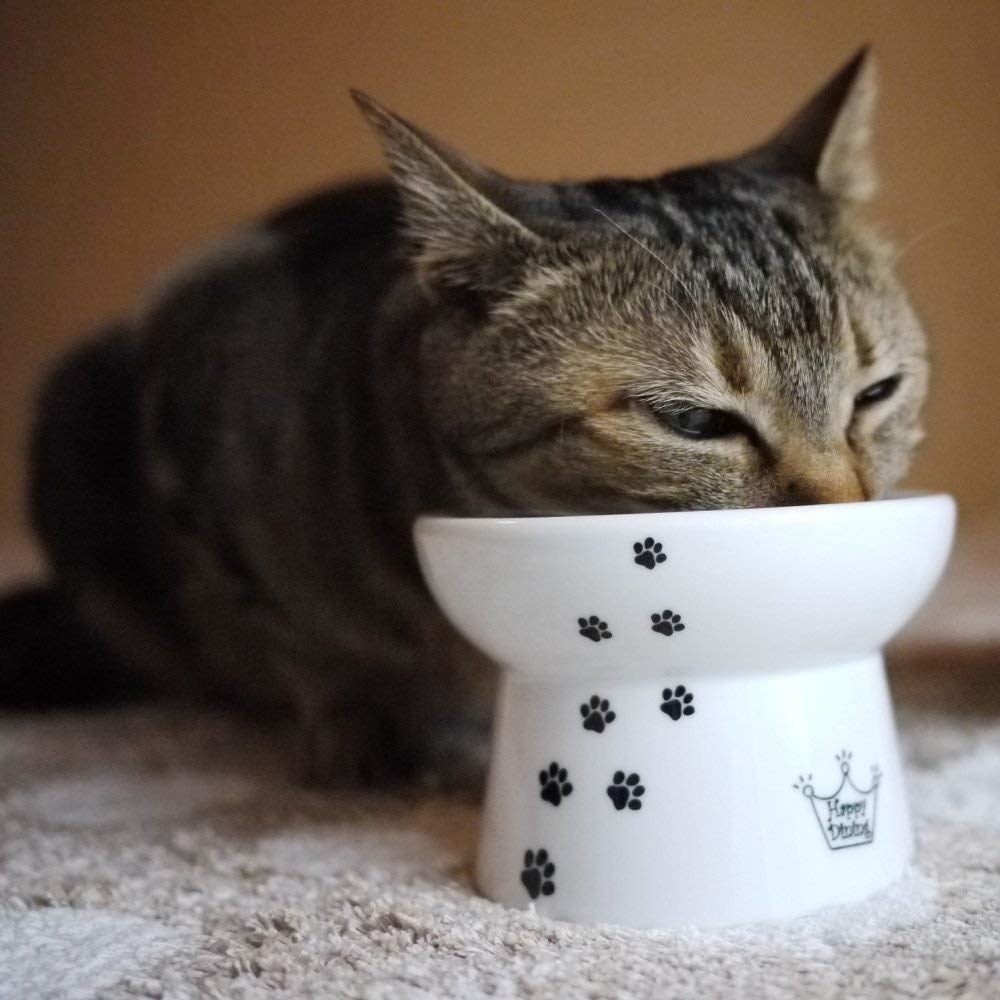 Promising review: "I love these bowls! They're so adorable! I know a few reviewers think the food bowls are too small, which I initially thought as well, but it offers the perfect serving size. One of my kitties is quite a sloppy eater and the height helps him eat over the bowl. He's still a mess, but less so." —BettyBean
Get it from Amazon for $11.99+ (available in six styles).
11.
A highly-rated cat scratcher/lounger with over 13,000 5-star reviews so your kitty can live the lavish life they deserve.
Promising review: "Kitty loves it! Never had a cat before, brought in a 10+ year old stray from my old apartment who I found out is FIV and Feline Leukemia positive but he is the sweetest cat ever and I fell in love with him so wanted to spoil him and bought him this. He loves it even more than I could have hoped. Spends several hours a day sleeping or just perched on it and hits it with his claws every time he jumps on. So adorable. Have had it for a couple months and it's held up really well. Cool that when the top is worn out I can just flip it over and it's like having a brand-new scratcher again. He's a pretty big/long cat so I was unsure how well he'd fit on it but it's absolutely perfect. Will definitely be buying another if this one ever wears out!" —Super Bon Bon
Get it from Amazon for $49.95 (available in three styles).
12.
A La-Z-Boy orthopedic sofa dog bed in a charming plaid print that'll have your pup feeling extra pampered while also providing them with some much-needed support from its ComfortCore Gel base. If only I could get one in a human size...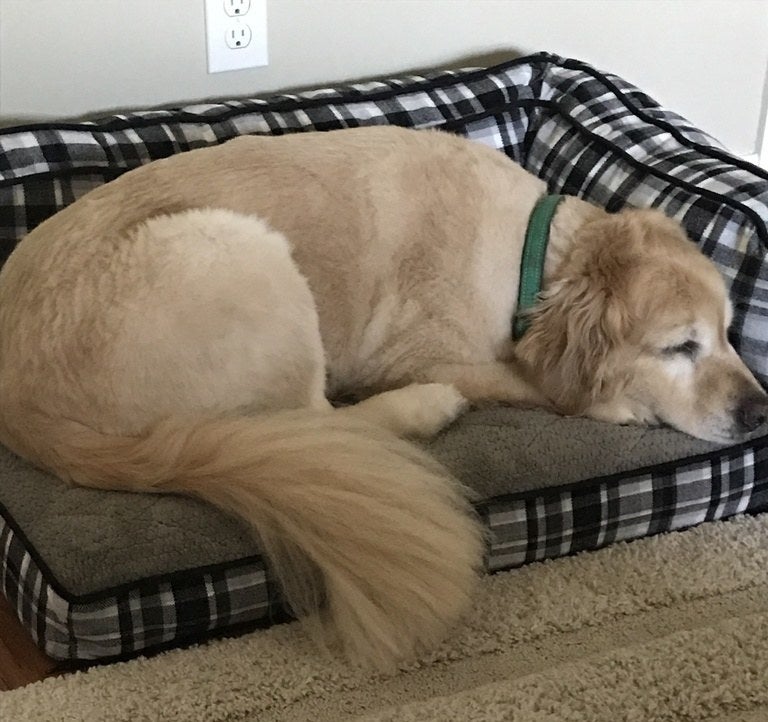 Promising review: "My two labs love this bed! It has a nice bolster for their heads, it's very comfortable and I would highly recommend! It's almost like a mini couch, sturdy but cozy! I now have three of these beds, one in each room. Our cat now cuddles up in them right along with the dogs! It's very good for my older lab who has some joint issues, yet if your dog is very large, you may want a larger ortho bed. This is super! Three cheers for Chewy!" —Peachy
Get it from Chewy for $77.03+ (available in two styles).
13.
A hidden litter box for any cat owner who has simply decided they no longer want a stinky, unsightly, poop-filled sandbox in the middle of their home — this one will get the job done and look way cuter.
Promising review: "Then I found this fantastic solution, someone made a litter box look like a potted palm fern! YOU GENIUS! This arrived in two halves that you have to look at carefully to slide together, the top rim fits into the slot around the bottom half. Then you put a thin foam piece down first on the top and then stick the palm into the top, it's one piece and you adjust the fronds. And the final bit is a baggie of shredded raffia for a nice grass mulch look. The cat loves it. It's big enough for my Maine Coon. And I face the entrance away from me, so all I see when I'm in the bathroom now is a potted plant. It's the best litter box on the planet!" —THX1138
Get it from Amazon for $64.14 (available in two colors).
14.
A cuddly bed with a simple gray design that won't scream "THIS IS A PET BED" the moment anyone enters your lovely home, so they can focus on other things like your unfolded laundry you forgot to stash away.
BuzzFeed writer Stephanie Hope has this pet bed for her cat Norman! She said:
"As you can see, my cat absolutely loves this bed. He lays in it every single day, for hours. The bottom has extra fabric which promotes burrowing and is honestly the coziest looking bed I have ever seen."
Promising review: "While this may be listed as a dog bed, I have been in the market for a large cat bed that would accommodate both of my feline children. Words cannot describe how happy I am with this purchase! Both cats have anxiety and this calming bed always puts them at ease. If you are looking for an incredibly comfortable, high quality bed for your pet/pets, this is the one!" —Rozhope
Get it from Amazon for $59.95+ (available in two sizes).
15.
A macrame cat hammock that'll likely be mistaken for a piece of purposeful, bohemian decor when your beloved furry friend isn't lounging in it.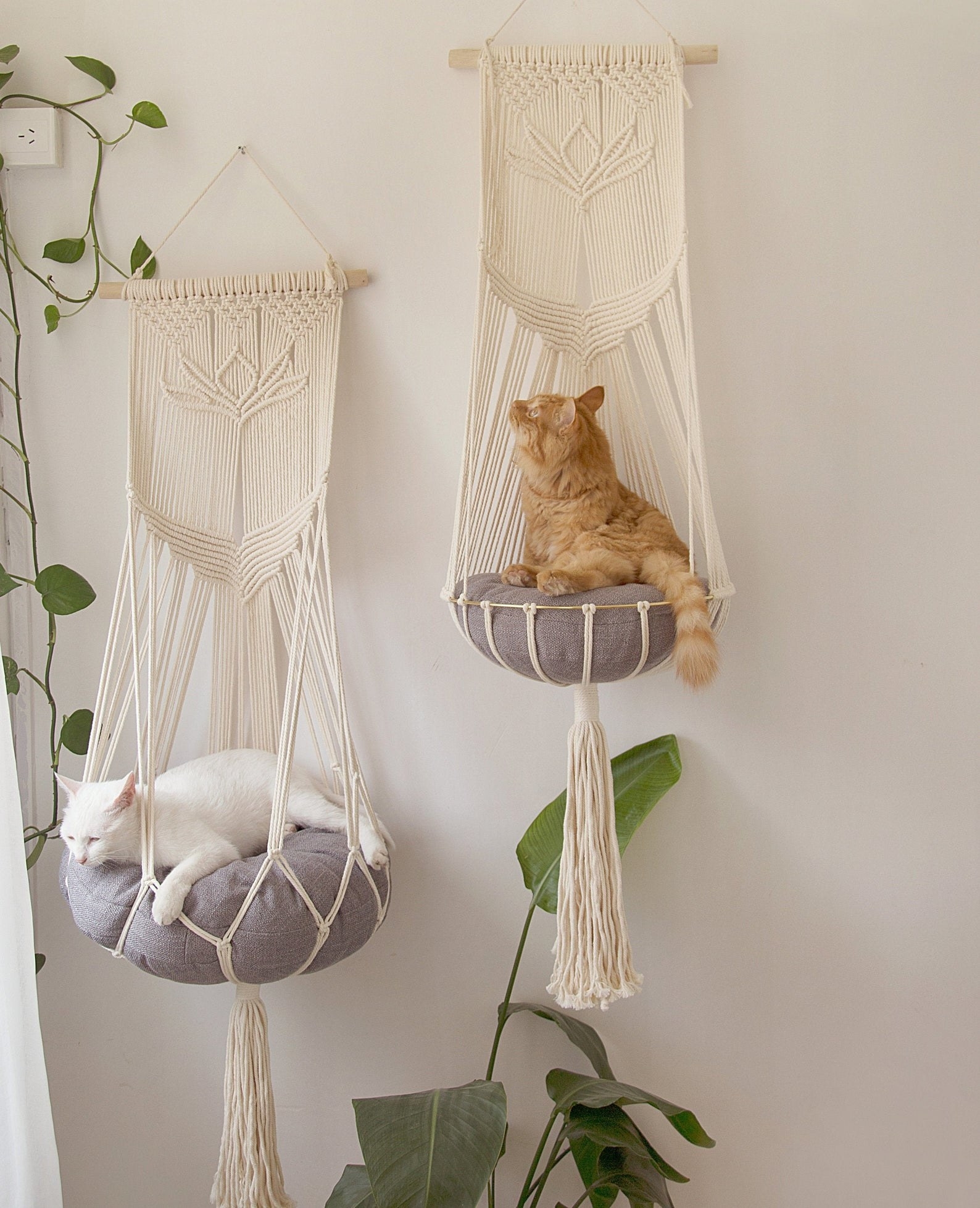 Macrame Beautiful is a small business based in Beijing that sells stunning macrame pieces like planters, wall decors, and baskets.
Promising review: "This is my second purchase and I will continue to buy!! The craftsmanship is so beautiful. It is evident she enjoys what she does. Every item is packed with care and in adorable resealable pouches. Sweet stickers with handwritten notes and beautifully printed 'how to care for and clean the items.' My kittens love their hammock!" —Annie Zummo
Get it from Macrame Beautiful on Etsy for $59.99+ (available in two styles and with one, two, or no cushions).