1.
A jar of internet-beloved The Pink Stuff, which is an all-purpose cleaning paste that'll help you tackle all of your kid-made messes but make it *~pretty in pink~* at the same time.
After hearing what incredible things The Pink Stuff can do, I finally ordered it and tried it for myself. Honestly, wow! It really does work wonders. I tried it first on my Le Creuset cast-iron pan (seen above, right) and really was amazed at how just one pass with The Pink Stuff (and a scouring brush) took off almost every stain! I can't wait to try it on literally everything in my home that needs a deep cleaning.
Promising reviews: "Favorite cleaning product of all time!! This cleaned my walls so well and my kids had colored every inch of my walls. The price is so affordable and the product is strong on stains!" —Marina
"AMAZING! I was heart broken when I saw that my daughters had wrote on the dresser with SHARPIE! I tried SO MANY different chemicals and nothing worked! I found this on TikTok and said 'Welp let me try my luck and see if it really works!' And let me tell you I am still SHOCKED at how amazing this product works!!!! Yayyyy! I'm so soo soo happy to see my dresser white again!!!!😭😭😭 Thank youuuu!!!!!! I HIGHLY RECOMMEND ESPECIALLY IF YOU HAVE LITTLE KIDS IN THE HOUSE!!!!" —Gabriela Portillo Solorio
Get it from Amazon for $5.97.
2.
A LeapFrog 100 Words Book that'll interact with your eager-to-learn little one and teach them all kinds of useful words in both English and Spanish!
Find out why this parent calls it "one of our favorite toys for our son" on TikTok.
Promising review: "This was a recommended product I saw off Facebook and again on TikTok — so I had to see if the hype was worth it. IT IS WORTH IT! My toddler (almost 2) loves the book for the sounds and names of all the categories in the book. This is a great book to gift others with toddlers or to help your little one develop. I love this!" —Megan C.
Get it from Amazon for $19.99.
3.
A grape cutter because who on earth wants to spend their precious time cutting grapes??? This lil' gadget will ensure your kiddo's favorite fruit is the perfect size without costing you an entire afternoon.
4.
Crayola Globbles, a fun lil' gadget kiddos can use to burn off some steam and provide some much-needed entertainment. Don't worry, they won't leave residue on your walls.

Promising review: "I waited over two months to write my review! My daughter is four and plays with these DAILY! YES they do attract dirt and hair HOWEVER they are so easy to rinse off, it's not a big deal! We took these to a family gathering and ended up giving two away because they were SO loved! The two we gave away went to a 12-year-old and my 19-year-old brother. They discovered throwing them at the ceiling fan and watching them shoot across the room which was pretty entertaining! None of these have busted or ripped and they are definitely NOT gentle with them! I will definitely be buying more!" —Kindle Customer
Get a pack of six from Amazon for $10.69.
5.
A sandwich cutter and sealer that'll make it easier than ever to make Smuckers Uncrustables copycats at home — embrace your love of kid-friendly meals once and for all!
Promising review: "These have been a GAME CHANGER in this house!! My son has always begged me for Uncrustables but my wallet didn't agree with them. I LOVE being able to make them at home and customize them to exactly what they would like them filled with! I make two weeks' worth of sandwiches at a time and store them in sandwich bags in the freezer so in the morning during the school year we can just grab and go! Love them!" —Katherine Smaczniak
Get it from Amazon for $15.96
6.
A FridaBaby medicine dispenser syringe you'll pat yourself on the back for buying when you discover your tyke actually despises medicine. This beauty doubles as a pacifier and will make giving them their recommended dosage with ease.
Promising review: "This thing is worth its weight in gold! A must have in my opinion because it makes life so much easier. We use it with gripe water or Tylenol around her immunizations. We bought it because she would cough and sputter because she wouldn't swallow well when given it in the cheek even in tiny amounts. It makes it a much faster process because all she has to do it suck like using a normal bottle or paci, and she has never turned away because of taste either. It also happens to soothe like a regular paci afterward. Great buy." —Sullivan
Get it from Amazon for $12.84.
7.
An enzyme-based spot cleaner that'll have your little one's clothes looking like you just pulled them off the rack in a store.
You can also use it on carpets, bedding, cloth diapers, etc.
Promising review: "I just purchased this. It took stains out of baby clothes and I used it on the fabric on a toddler chair and it looks brand new. I wish I would have taken before and after photos! Love it already! I had read some reviews about it leaking during shipping but I received it with a tight lid in a bag with a spray too lid separate so no leaking!" —Brianne
Get it from Amazon for $9.99.
8.
Spillproof Munchkin snack catchers so your tyke can grab a lil' treat whenever the mood strikes without making a crumbly mess all over your rug.
My best friend's kiddo has this and insists on carrying it around everywhere!
Promising review: "These are a must-have for a small toddler and their snacks. The top is soft and flexible so I don't have to worry about my little guy scratching his little hands when he's digging around in the cup. Very easy to clean and they're priced well. Buy them now!" —Wooty

Get a two-pack from Amazon for $5.97 (available in two color combos).
9.
A car seat buckle release tool that'll save both your nails and your precious time! No one wants to struggle to open those (thankfully) extremely secure buckles while they're kiddo is hitting a pitch that could likely break glass.
This gadget doesn't attach to the car seat, so no need to fret about kiddo's unbuckling themselves while you're driving.

Promising review: "Love that my kindergartner can unbuckle himself. It makes morning school drop-off SO MUCH EASIER! And he likes the independence of being able to do it himself!" —Lauren
Get it from Amazon for $13.99+ (available in five colors).
10.
A high-density foam guard to prevent any unnecessary bumps and bruises your baby might do their best to acquire — soften up your coffee table's sharp edges, the wooden backboard of your changing table your tyke ALWAYS wants to slam their head on, and every other piece of furniture in your home while you're at it.
The set includes 18 feet of edge guard and 8 corner cushions, capable of covering 20.4 feet of surface area. Also, comes with 3M double-sided tape (36 feet of tape for the edge guard), while the corner guards are pre-taped.
Promising review: "Great product that saved my son a trip to the ER! Funny story, when I installed these to cover my fire place brink corners I did so only to stop the nagging of my wife. BUT not 10 minutes after finishing the install did my son come up to the fire place and trip falling head first into the foam covered brick corner... THANK GOD I finally listened to my wife! Instead of a trip to the emergency room, he just bounced off of the foam and went about his business unharmed!" —Chris Y.
Get it from Amazon for $21.47 (available in two sizes and three colors).
11.
Sink extenders so you won't need to muster up Herculean strength every time your surprisingly dense toddler wants to wash their sticky little paws. 
Promising review: "Must-have for toddlers and small children! LOVE this! My 1- and 3-year-old love washing their hands now, and my back gets a nice break. Adding the faucet extenders and a stepstool to our bedtime/morning routine has been a godsend. Great bargain for the price." —TeaBea21

Get a two-pack from Amazon for $11.49.
12.
And a pack of brilliant light switch extenders that'll let tykes turn them on all on their own! Don't be surprised if you catch them humming Kelly Clarkson's "Miss Independent" soon.
These install in minutes on standard light switches.

Promising review: "Must-have for toddlers! Perfect solution! As my toddler's independence soars, so do frustrations. This light switch extender pack was a great buy. He can now turn on the lights in his room and bathroom. Installation was easy and works as expected." —AW
Get a two-pack from Amazon for $11.98.
13.
Outlet covers, so when your mini-me becomes mobile seemingly overnight and is suddenly interested in doing nothing but sticking their tiny fingers into any exposed electrical sockets, you'll be prepared.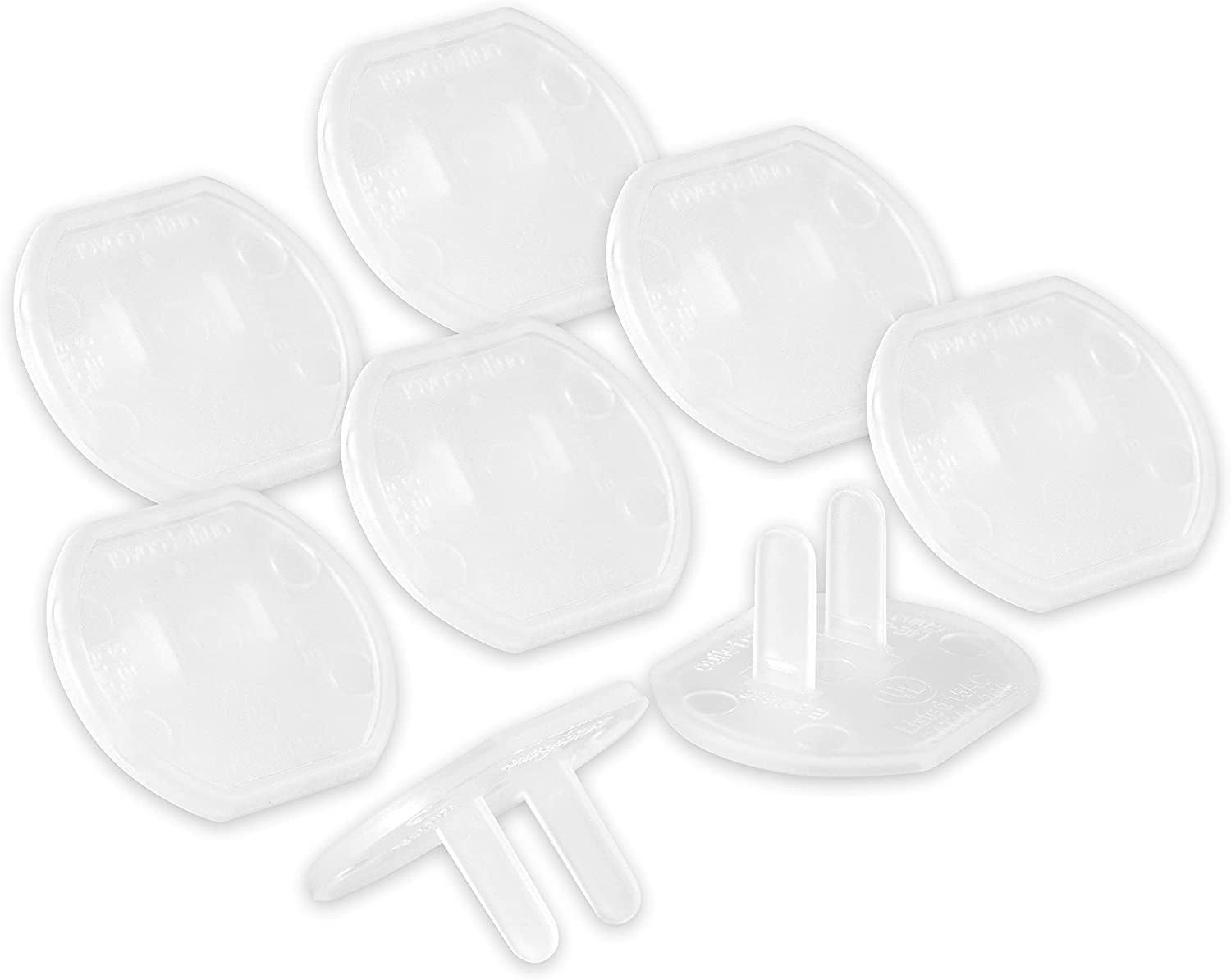 Promising review: "I had some outlet protectors already, but my 10-month-old daughter figured those ones out. These ones are nice because they are discreet. They sit flush with the outlet. They aren't distracting so my daughter doesn't find interest in them. And they are too thin for her to pry them off. I actually kinda had trouble getting them out of one of my outlets, but I find that a good thing. They are definitely childproof. Can't beat the low price either. And they arrived very quickly." —Bazoo Studios
Get a pack of 30 from Amazon for $5.99+ (also available as an 8-pack, 60-pack, and 120-pack).
14.
A Baby Brezza baby food maker, a must-have for when your tyke starts eating solids. Jars and pouches of baby food can get a bit pricey day after day, so save yourself some dollars and blend some meals up yourself!

This gadget cooks/steams and then blends baby foods all-in-one!
Promising review: "Purchased this product for my 6-month-old who is now eating solids for the first time and I was surprised that it worked so well in the first try. I made sweet potato and it turned out great, the puree was smooth and the perfect consistency. I cleaned, peeled and diced the potato. Then added the chopped veggie to the glass container added water to the water reservoir and set the timer. Once the timer was completed it automatically blended the potato to puree consistency. Overall I am very very happy with this purchase and the first meal. Btw my son loved the sweet potato." —DC

Get it from Amazon for $125.