1.
A graphic tee fit for a diva — you'll absolutely want to have it on hand for your next girl's trip. And is there a more fabulous duo than Minnie Mouse and Daisy Duck? Certainly not.

2.
A Grogu night-light that, for lack of a better term, can become your *guiding light* as you make your way through the hallway in the middle of the night when you'll inevitably have to pee.
I am admittedly obsessed with "The Child" and can't get enough of him — that includes letting him reign over my bathroom at night in the form of the night-light.
Promising review: "So cute and I love that it turns on when it senses it is dark. Would also make a cute gift! Could be brighter, but it is perfect for what I was looking for and adds fun to my home." —Julie
Get it from Amazon for $6.42.
3.
An adventure book just like the one Carl and Ellie created together in Up before Pixar went ahead and crushed all of our souls into a million pieces.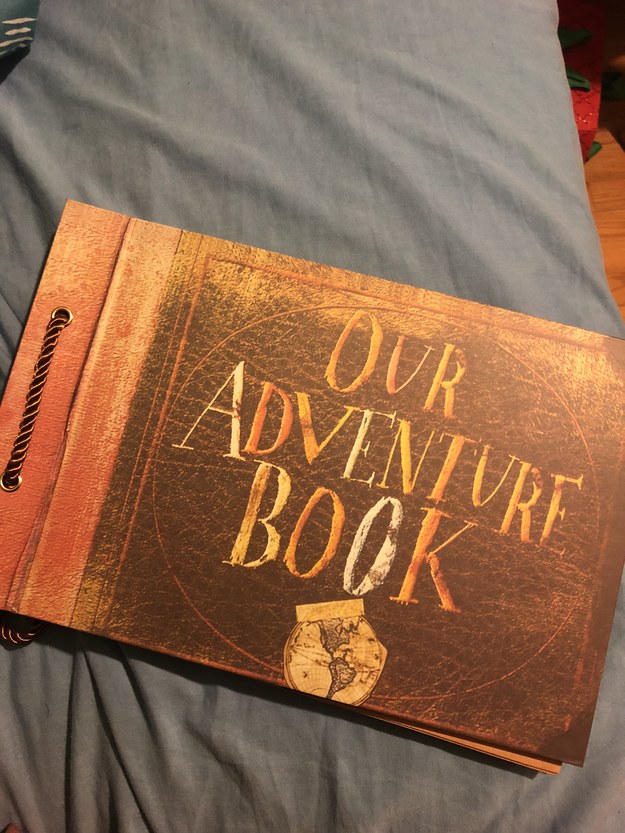 Promising review: "Super awesome gift to make. I made it for my one year anniversary with my boyfriend because he loved the movie Up. (Who doesn't? It's so cute.) We're going to continue adding to the scrapbook and hopefully pass it on to our children. The book is real sturdy and easy to remove and add pages. Pages are easy to write on and paste on pictures. Really great for the price." —Esther G.
Get it from Amazon for $13.99.
4.
A set of LED light saber chopsticks you're going to need to order two sets of so you can share 'em with the Chewbacca to your Han Solo (AKA whoever happens to be who you get sushi with every Friday night).
Promising review: "I purchased these for a friend's birthday present (he is a sushi waiter) and these are flippin' AMAZING. I ordered two sets by mistake, but I am totally keeping the second pair for another gift (or for myself!). These are sure to be great conversation pieces and attention-getters. Way to go!" —T. Redwood
Get two pairs from Amazon for $11.97.
5.
A Beauty and the Beast Loungefly backpack collectors won't be able to help but add to their cart — its design is inspired by the stained glass windows and opening musical number from the classic 1991 film. 🥀

I happen to have this Loungefly backpack so I *might* be a touch biased when talking about how absolutely stunning it is. Beauty and the Beast is my favorite Disney Princess film and this bag is the perfect nod to exactly that. It's, of course, roomy inside and is the perfect companion for any Park day. The design really is timeless and fabulous — with *so* many Loungefly styles to choose from I'm happy this one is in my line-up.

Promising review: "Beautiful bag! I used it for my first adult trip to Disneyland. Holds everything you need and has a gorgeous design! I have it displayed in my office (see photo, right) like a work of art. :)" —Cristal Porter
Get it from Amazon for $70.50.
6.
And a Loungefly wallet shaped like a ticket to see Dumbo the Flying Elephant, perfect for anyone who is a big fan of the classic film. It's a no-brainer for anyone with a penchant for vintage items.

Promising review: "This arrived on time! It is adorable. I was kind of surprised by the great quality and space this wallet has. I get the matching bag tomorrow! I'm so glad I decided on this set!" —Morgan Murch

Get it from Amazon for $29.24.
7.
Encanto-themed mom jeans, because if ya can't talk about Bruno you might as well give 'em something to talk about! With rumors swirling about Mirabel possibly becoming a more permanent "Meet and Greet" character at Walt Disney World, you best be prepared.

I wish I could tell you how many times my almost 1-year-old has forced me to watch Encanto. It's likely in the thousands by now. Thankfully, the music is fantastic. Anyways, you can find me ordering these jeans for my next visit to WDW.
Get them from Hot Topic for $21.96 (originally $54.90; available in sizes 0–19 and plus sizing 16–28).
8.
Disney socks you can count on to put a little pep in your step whether you're headed to Hollywood Studios or the office.
I treated myself to these fun socks to wear around the house and with my combat boots that typically tend to rub the back of my ankles — they're fantastic! I'll totally wear them with sneakers on my next trip to Disney to add a touch more magic to my outfits.
Promising review: "These are really great!!! They fit perfect and the colors are vivid, got compliments the first day I wore them, will definitely buy again!" —Dobie
Get a set of five from Amazon for $13.88+ (available in eight styles).
9.
A Star Wars tee with a retro vibe that'll ensure your style is *out of this world* during your next binge-sesh of the films (episodes 4, 5, and 6 only, amiright?).
Promising review: "I got this as a birthday gift for my brother and he LOVED it. There are so many cheesy, low-quality Star Wars tees out there. This isn't that. He said it reminded him of the first ever Star Wars shirts he got back when the first movie came out! Vintage aesthetic, great quality." —Afrobella
Get it from Amazon for $11.61+ (available in men's sizes S–XL, 2X–5X and four styles).
Psst: This item is included in Prime Wardrobe, so you can give it a trial run if you're a member!

10.
An "it's a small world" makeup bundle complete with a palette (featuring on-theme shade names like "After All" and "1966"), three lipstains, and a stunning highlighter you simply won't be able to resist.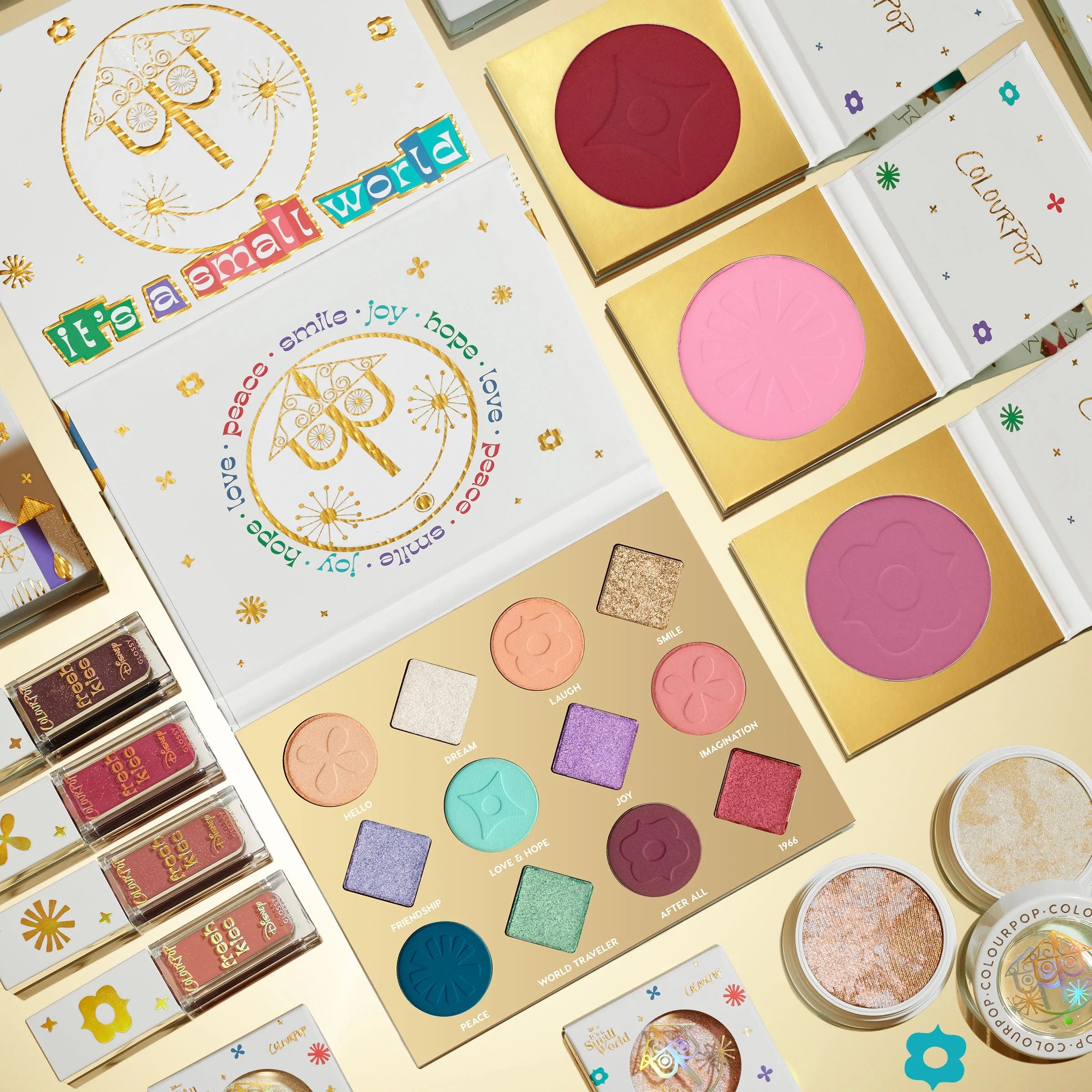 Promising review: "I got this for a friend for her birthday and even though it was ordered later, it arrived in two days. The packaging itself is very cute! My friend kept the boxes, not wanting to throw them away. The make up is also great quality and very pigmented and the names for each color is so cute!" —Savannah N.

Get it from ColourPop for $69.30 (originally $99).
11.
A Monsters University cap inspired by the one young Mike Wazowski wears in the movie — apologies to your actual alma mater because this is likely the only one you'll be claiming as your own from here on out.

I actually have this hat and have owned it for years! I originally bought it in Walt Disney World, but it's become one of my favorite Disney items over the years. I typically wear it to the beach or when running errands. It has an adjustable back, so it'll fit anyone and everyone, but not a Velcro one so it's not as noticeable. Big fan!

Promising review: "My sister spent a pretty penny on her exact hat at Disneyland. I purchased mine here and it's identical! She actually wishes she would have known to purchase this item here instead of the 30 extra dollars there. Comfortable, sturdy, I always get compliments." —Destiny
Get it from Amazon for $21.80.
12.
Or a Madame Leota embroidered hat, guaranteed to make you smile while thinking of your favorite Disney ride and to help keep the sun out of your eyes while on your daily stroll.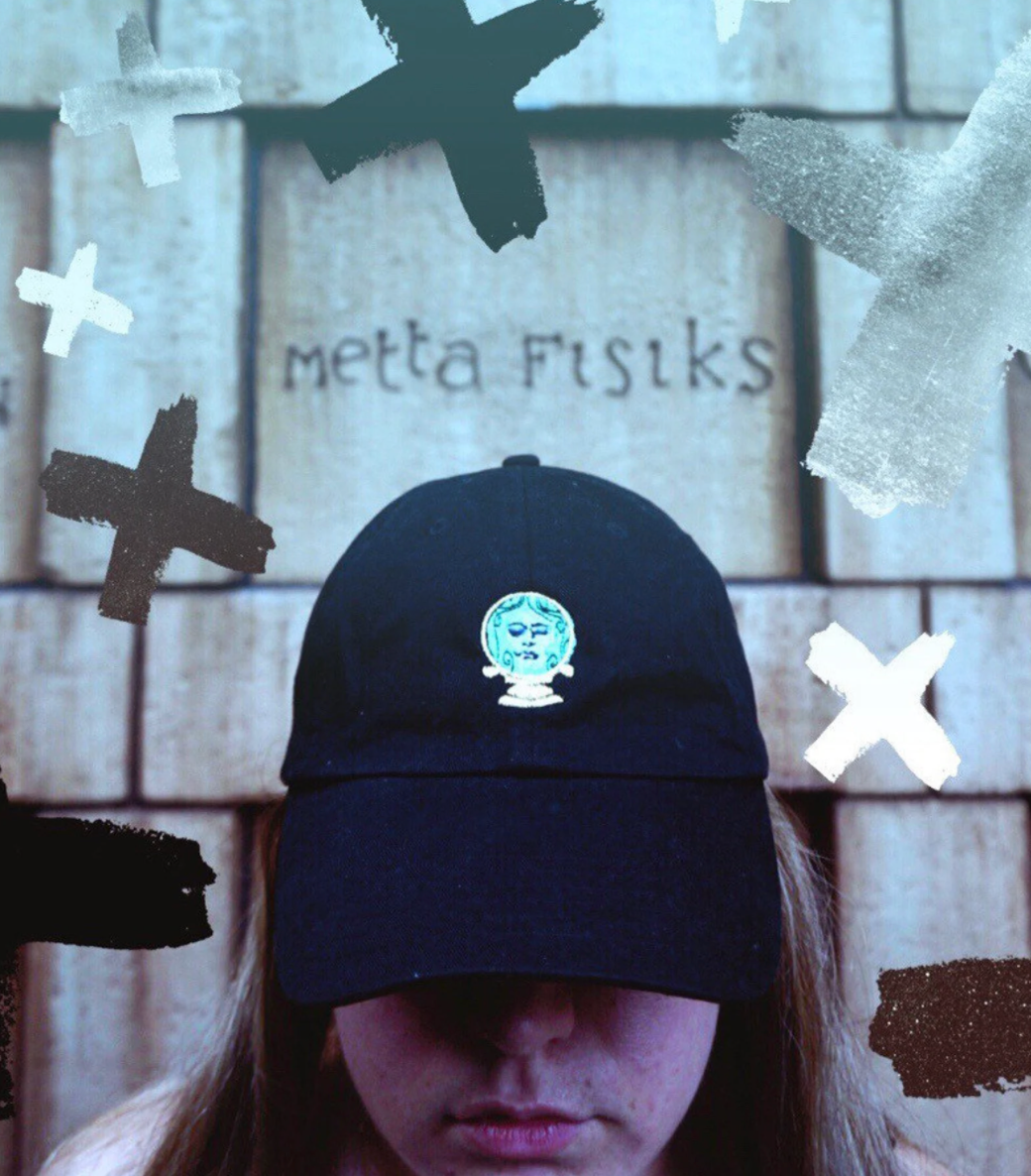 Every hat is made to order and is so well-crafted you'll likely start making excuses to wear one. Bad hair day every day? Yep, sounds good. You can also have custom embroidery added onto the back! I have and have gifted Claire's items many times now — they never disappoint to impress. 999 Spyglass Is a small business based in Baltimore, Maryland that sells, obviously, embroidered hats!
Get it from 999 Spyglass on Etsy for $26.99+ available with or without extra embroidery and 14 colors).
13.
The Unofficial Disney Parks Cookbook, perfect for anyone who would basically give their kidney away if it meant being able to chow down on a Mickey-shaped pretzel right about now.
Promising review: "This cookbook brings Disney magic to your kitchen! If you have grown up going to the Disney Parks or discovered them as an adult easily one of the greatest aspects is the food. I always wanted that food when I got home and now I can. This book is so comprehensive covering the best dishes organized by park. It is a beautiful book that will bring our family magic for years to come!!!" —Jason M. Bernhisel
Get it from Amazon for $11.99.
For more recipes, check out the The Unofficial Disney Parks Drink Recipe Book and The Unofficial Disney Parks Epcot Cookbook.