Save & Bake Beef and Cheese Rigatoni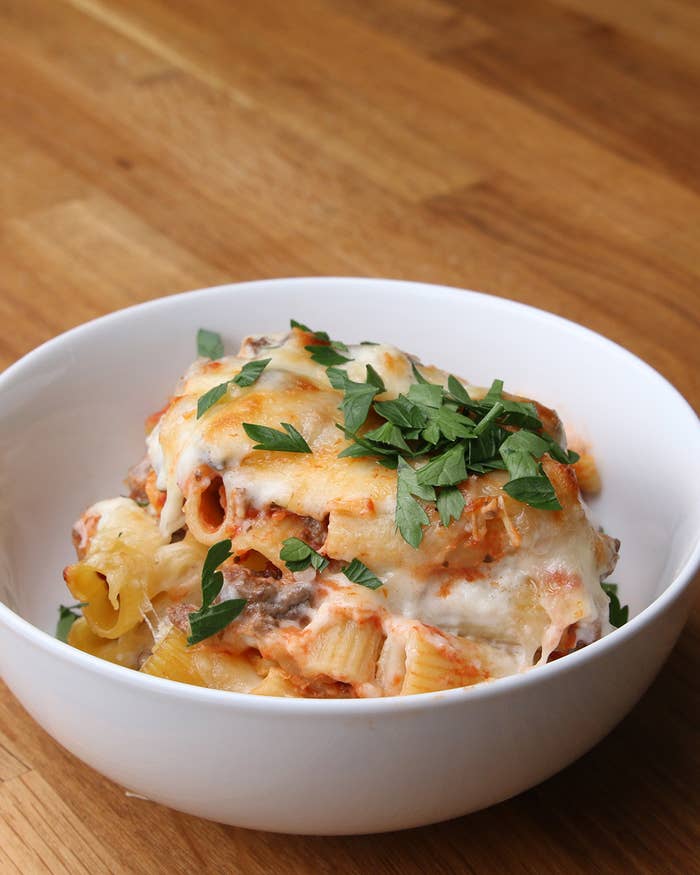 INGREDIENTS
Yields 2 9x13 in (23x33 cm) casseroles
2 pounds ground beef
Salt & pepper
3 tablespoons salted butter
⅓ cup flour
3 cups milk
1 cup unsalted butter (2 sticks), melted
2 pounds rigatoni, cooked
4 eggs, beaten
24 ounces marinara sauce
3 cups shredded mozzarella cheese
½ cup shredded parmesan cheese
PREPARATION
1. Preheat oven to 375°F/190˚C.
2. In a skillet, cook and crumble the ground beef with garlic powder, onion, powder, salt, & pepper. Remove from pan and drain.
3. In the same pan, melt the butter, and mix with the flour until it forms a paste.
4. Add the milk gradually, and bring to a boil, until it thickens into a creamy sauce. Set aside.
5. In a bowl, mix the rigatoni with the eggs. Divide between two 9x13 inch (23x33 centimeter) baking dishes.
6. Layer on the marinara, ground beef, mozzarella, white sauce, and parmesan.
7. Bake both for 30-35 minutes, or until cheese is melted and golden brown.
8. Cool and freeze extra casserole up to 2 months. (To cook, transfer to the refrigerator overnight. Bake covered at 375°F/190°C for 40 minutes. Remove cover and bake an additional 10 minutes.)
9.Enjoy!