One-Pot Pasta Primavera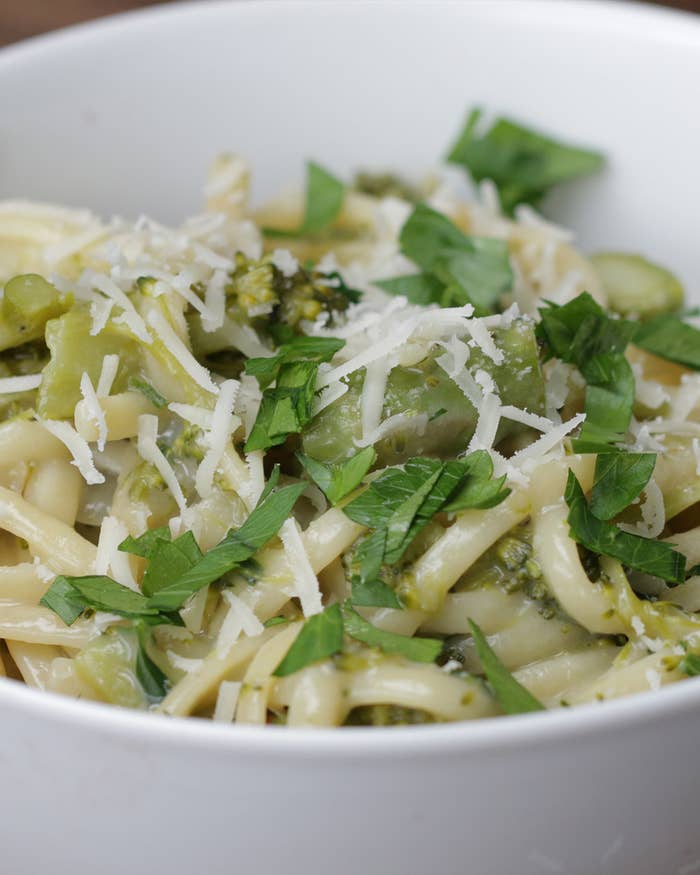 INGREDIENTS
Servings: 4
4 cups broth of your choice
10 oz uncooked linguine
10 oz broccoli florets
1 pound asparagus, chopped into 1-inch pieces
1 small onion, diced
4 cloves garlic, minced
½ tsp red pepper flakes
Salt & pepper to taste
1 tsp olive oil
4 oz mushrooms, sliced
¼ cup heavy whipping cream
½ cup grated parmesan
3 Tbsp. fresh parsley, finely chopped
PREPARATION
1. In a pot over high heat, combine broth, linguine, broccoli, asparagus, onion, garlic, red pepper flakes, salt, pepper, and olive oil.  Stir.
2. Add the mushrooms and bring to a boil.
3. Once at a boil, reduce heat to medium and cook the pasta for 10 minutes, continuously tossing with tongs.
4. Add the heavy cream, parmesan, and parsley, and toss for an additional 3 minutes.
5. If the liquid hasn't been completely absorbed, let the pasta sit off the heat for an additional few minutes.
6. Enjoy!
Want BuzzFeed Tasty right in your inbox? Sign up for our newsletter!