How I Made Five Trader Joe's Lunches For Less Than $20
It can be done! Seriously.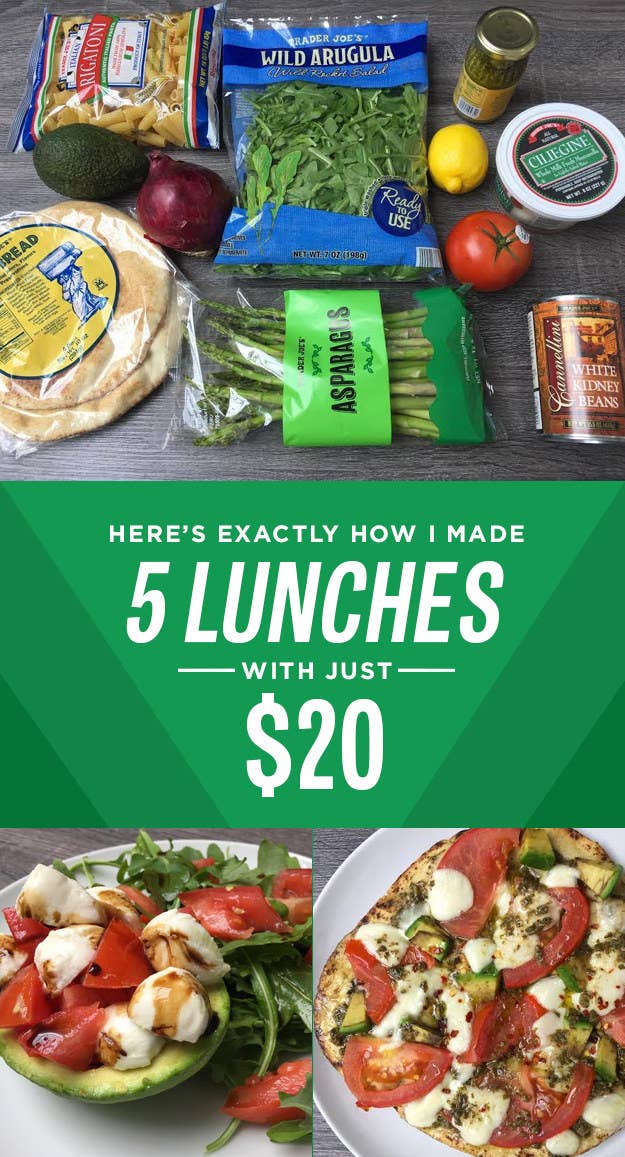 Hi! I'm Hannah from BuzzFeed's food team, and I love lunch.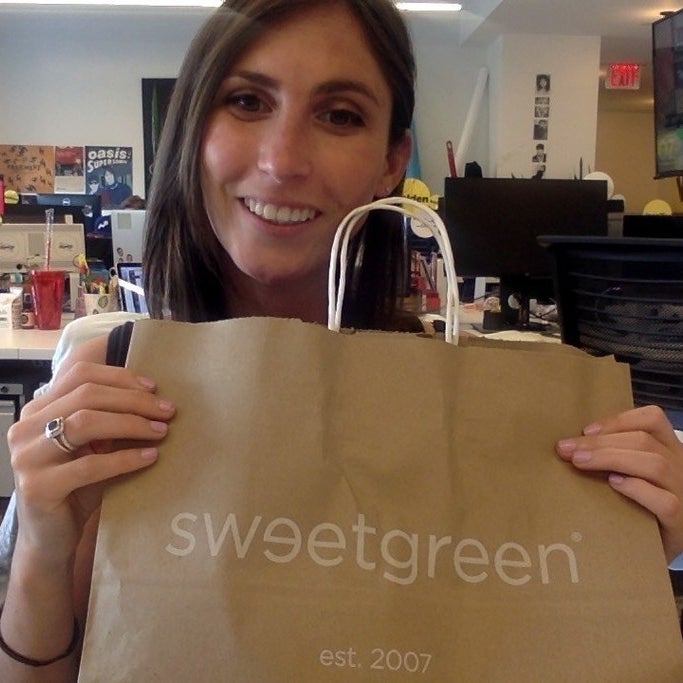 Seriously, it's my favorite meal of the day. Especially during the work week, lunchtime is something to look forward to. But most days, I pay $15 for the same basic salad — and that can add up. I realized I was spending a lot of unnecessary money every week for food that I wasn't even enjoying.
So I wanted to challenge myself to make lunch all week for just $20.​
To do that, I had to come up with a meal plan. I started by browsing Pinterest for both budget lunch ideas and meals using some of my favorite seasonal ingredients — like asparagus, pesto, and mozzarella. Once I came up with a few key staples, I built a five-day meal plan around them.
To keep my budget under $20, I cut out meat, which is often the most expensive item in my grocery cart. Instead, I stocked up on filling but inexpensive staples like pasta and canned beans.
I also aimed for healthy-ish recipes that I'd feel good about eating. And I tried to minimize cooking time, since I knew I'd be cooking or assembling my meals in the morning before work.
Then I did my food shopping.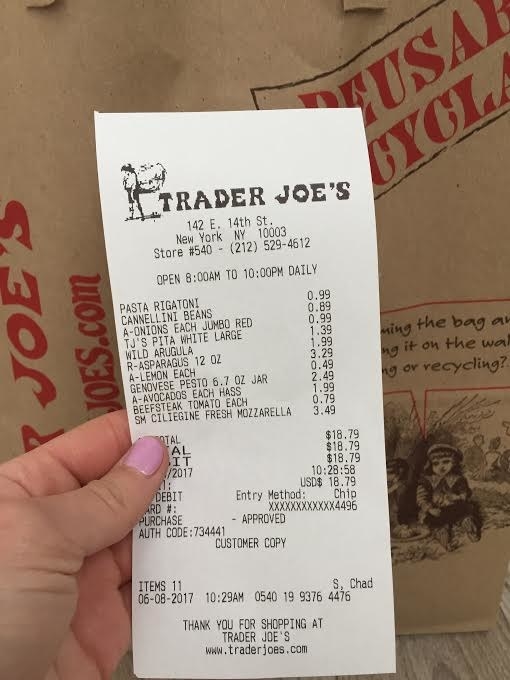 Say hello to my week of work lunches!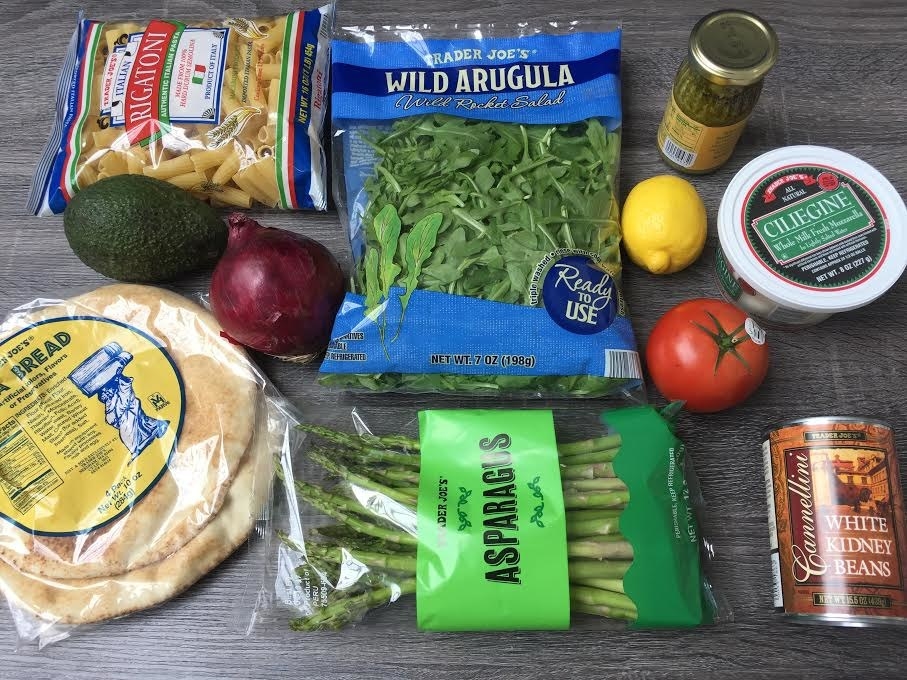 Here's what I made for the week...
Monday: Caprese Stuffed Avocado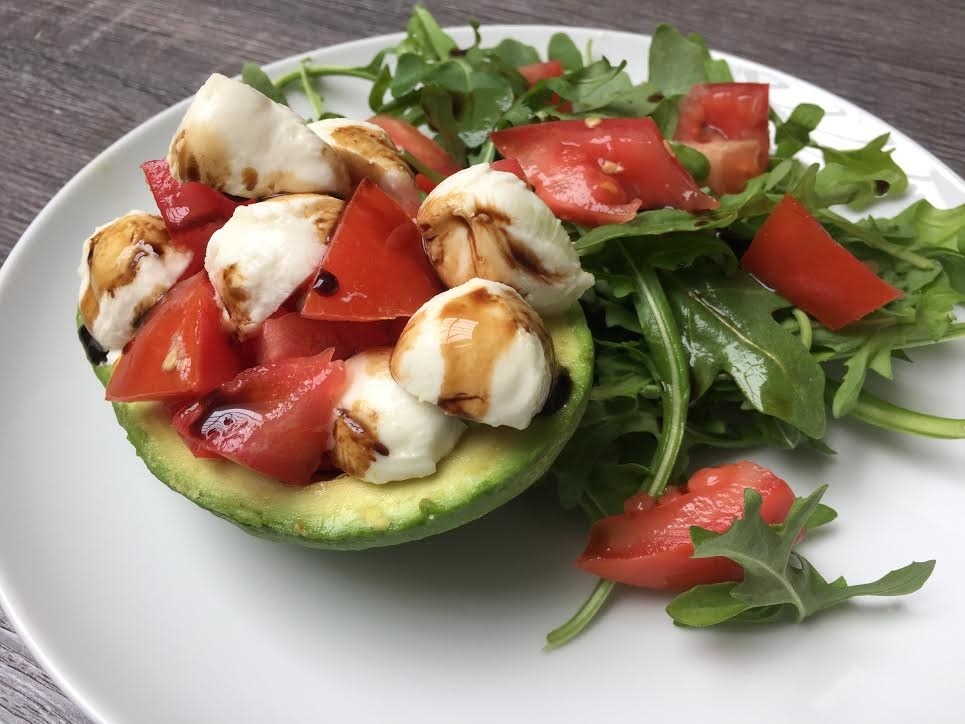 Tuesday: Asparagus, Arugula, and Avocado Salad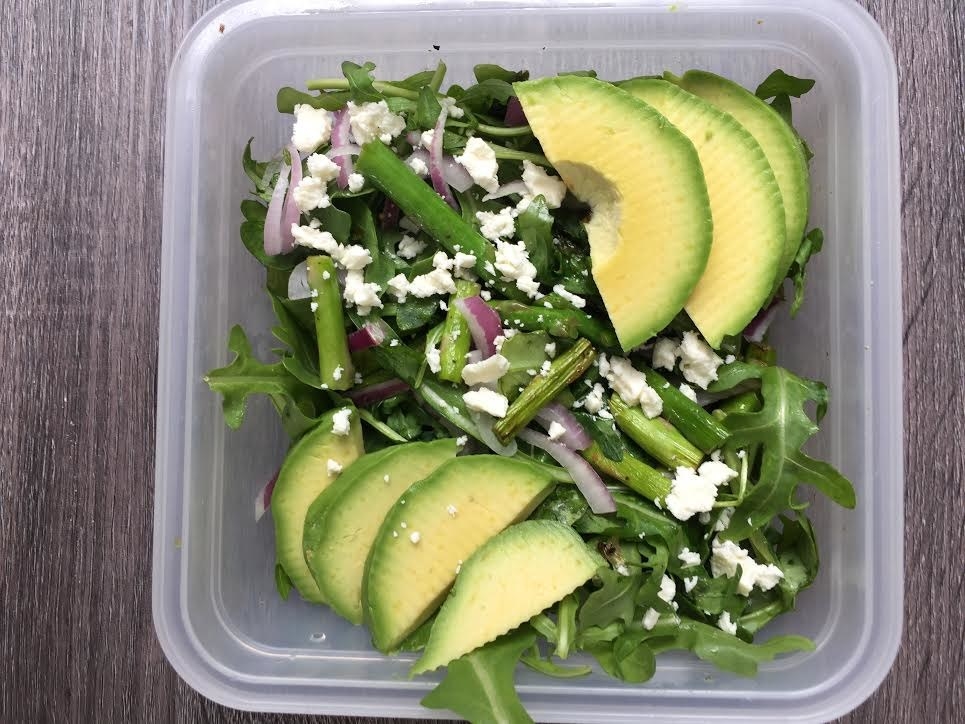 Wednesday: Pita Pizza With Pesto, Tomato, Mozzarella, and Avocado
Thursday: Arugula and Warm White Bean Salad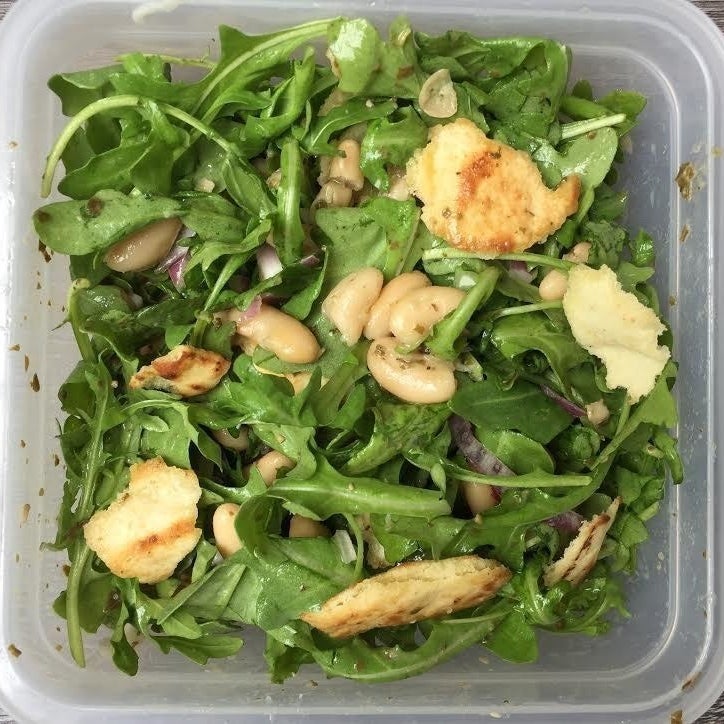 On Thursday, I decided to make another healthy salad. At first, I was skeptical that this meal would satiate me, but I used about half a can of white beans, which was actually very filling. I also made homemade croutons by toasting half a pita bread with olive oil, salt, and pepper. If you think you'll need more food, you could top this salad with anything from canned tuna to bacon — or just pile the salad into a pita for a veggie-loaded sandwich.
Ingredients:
Arugula
White beans
¼ red onion
½ lemon
½ pita bread
Pesto
Olive oil and red wine vinegar (pantry staples)
To make it: Heat the white beans on the stove or in the microwave and then mix them with chopped red onion, lemon, pesto, salt, and pepper. Put the bean mixture over arugula and toss it all with olive oil and red wine vinegar.
Friday: Pesto Pasta Salad With Asparagus and Mozzarella
The moral of the story: I saved money (a lot of it), I felt great knowing exactly what went into my meals, and I really felt satiated after every lunch.
Here are a few tips I'd give to readers who want to try out a similar budget meal plan:
• Make sure to include some wheat and/or grains. Things like rice, quinoa, pasta, and bread are super filling, and they generally don't cost much.
• Don't overlook budget proteins. If you feel like you need more protein in your diet, stick to things like canned tuna, ground turkey, and eggs, which are satiating but inexpensive.
• Plan ahead! Make sure that you plan your meals in advance and write a shopping list before you go to the market. This will keep you focused and ensure you stick to your budget.