Over the weekend, Drake aka Champagne Papi and Serena Williams aka The Greatest Athlete In The World were spotted canoodling at a restaurant in Cincinatti.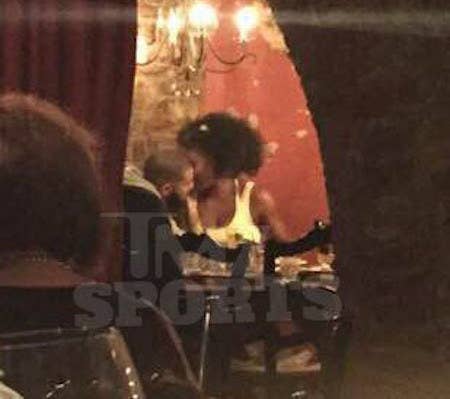 But how else do these reunited lovebirds spend their time when they're not sharing laughs on the court?
We think we might know what kinds of surprises Drake has waiting for Serena.
1.
Running her bath water with coconut oil imported from a small island off the coast of Canada.
2.
A screening of Love & Basketball with every reference to basketball painstakingly edited to be about tennis instead.
3.
A romantic evening at "Marvin's Room" studio where she would get to watch him record the album he plans to dedicate to their relationship.
4.
A private screening of Straight Outta Compton, in Toronto.
5.
A day date during which they'd play tennis through the 6 with his woes.
6.
Breakfast in bed in a comfortable bed after getting some comfortable.... you know the rest.
7.
Singing Beyoncé karaoke because girls love Beyoncé.
8.
A candlelight dinner while he deletes every girl from his phone, one by one.
9.
A trip taking her and her mama to the motherland...because he can do it.
10.
A shopping spree during which he'd hold her bags with no complaints while watching her try on clothes.
11.
A night spent deep-conditioning and two-strand twisting Serena's hair as she catches up on reruns of "Living Single."
12.
Buying an island and sailing to it.
13.
A double date with Kimye...that they end up leaving early because Tyga and Kylie tried to tag along.
14.
Watching old episodes of Degrassi and allowing Serena to give him critiques like a post-game review.
15.
A late night rendezvous at Drake's favorite Miami strip club where he'd tell her each stripper's life story and discuss the state of feminism in America as they drink rosé in VIP.
16.
A leisurely stroll through Macy's to dab themselves with samples of Tom Ford's Tuscan Leather and decide it's not luxurious enough.
17.
An orchestra performance of "Best I Ever Had," arranged to begin playing the second she wins the US Open.
Thumbnail credits: Jason Merritt / Getty Images, Leon Neal / AFP/Getty Images, Chris Trotman / Getty Images