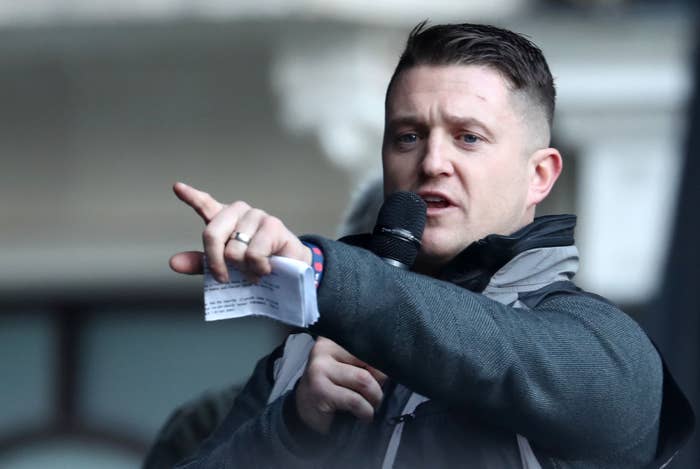 Young voters could stop Tommy Robinson from becoming an MEP — but only if they turn out to vote, according to advocacy group Hope Not Hate (HNH), which says that apathy could allow the former English Defence League leader to be elected to the European Parliament.

In the North West region, the ninth MEP slot can be elected with as little as 8% of the vote — which is why HNH says that turnout will be crucial in determining the result of the election and whether Robinson, whose real name is Stephen Yaxley-Lennon, is ultimately successful.
An online survey of 1,843 adults carried out by HNH showed 9% of voters overall in the North West have a "favourable" or "very favourable" view of Robinson, while 47% feel "unfavourable" or "very unfavourable" towards him.

If turnout is low, this could be just enough to see him scrape through - and young voters are the most likely to stay at home.

Separate polling by HNH and the National Education Union, shared with BuzzFeed News, showed a small but — given the system — potentially significant shift in view on Robinson among young (18-24) voters. It found 7% looked on him favourably — with just 3% taking a "very favourable" view, and 45% finding him "unfavourable" or "very unfavourable."
HNH's chief executive, Nick Lowles, told BuzzFeed News that "tiny swings in each region could make the difference in almost three-quarters of the Euro seats".
"With the Euro elections fast approaching and the voter-registration deadline in just a few days' time, it's urgent that the main political parties engage with young people, who could make the difference between electing extremists and not," he added.

However, the polling shows a lack of engagement among young voters: 42% are undecided on what they think of Robinson.
Robinson is standing as an independent candidate in the North West of England but is an adviser to Gerard Batten's UKIP. Among young voters polled by HNH, UKIP had the least support of all parties, with just 2% of those surveyed saying they intended to cast their vote for the party, compared with 10% for the Conservatives, 8% for the Brexit Party, and 43% for Labour.

Robinson's campaign has got off to a difficult start, after several incidents in or around Greater Manchester.

He was first warned by the police that he could not give out free burgers at his barbecue campaign launch in Wythenshawe; a video of a woman in Salford telling him he was "spouting shite" went viral on Twitter; the Man City goalkeeper Ederson said he didn't support him "or his ideas" after Robinson stopped him for a photo; and he had milkshakes poured over him on two consecutive days in Bury and Warrington.
According to YouGov polling for the Times, just 34% of people ages 18-24 say they are certain to vote, the lowest of any age group. The figure rises to more than 50% for age groups over 50.

HNH polled 6,118 people over the course of five days leading up to May 1. Of those surveyed, 576 were 18- to 24-year-olds.

Analysis from the organisation suggests that youth turnout in the North East could decide whether Labour or the Brexit Party gets the final seat; and in the East Midlands, it could decide whether the Brexit Party, Greens, Labour, or Change UK gets the last slot.
The European Elections are contested under the D'Hondt system, a form of proportional representation. In regions where there are more seats are up for grabs, a lower share of the vote will be required to win the final place.
Based on past results, in the North East, where there are just three seats available, only parties that poll above 18% are likely to see a candidate elected. In the South East, where 10 seats are available, a party with as little as 7.5% could get elected, depending on how the vote is split.
In 2009, Nick Griffin got the last available seat for the British National Party in the North West with just 8% of the vote, and in 2014, the last place in the North West was taken with 9%.

According to the polling, Labour's failure to adopt a decisive Brexit position has not had a huge impact on young voters.
Despite 51% of those polled saying their preferred outcome was to stay in the EU, 57% believing that the UK's economy would be stronger in the EU, and 56% thinking that opportunities for children growing up today would be better if the UK were to remain, the young voters said they were more likely than any of the explicitly pro-Remain parties to vote for Labour.
Although climate issues also feature high on young people's agendas, just 15% said they intended to vote for the Greens, with the Lib Dems and Change UK trailing at 11% and 4% respectively.
The top issue for young people was Britain leaving the EU, followed by the environment, health, and education.
Mary Bousted, joint general secretary of National Education Union, said: "We hope all candidates will think about the fact that education shows up within the top 4 most important issues for young people. This poll shows young people care deeply about Brexit but also about education. The NEU is confident that education will prove to be one of the major issues in the next election.
"What's interesting is how many young people in this poll connect the Brexit debates to the legitimisation of prejudice towards migrant and BME families. The rise in racism must be challenged by us all. We need to use both education and all public debate to counter the ideas which drive racism and racist violence."

At the end of last year, BuzzFeed News spoke to teenagers from across the country who were newly politicised by Brexit and keen to have a say. However, young people are still less likely to be registered to vote than members of older age groups.
According to research from pro-EU campaign group Best for Britain, almost 8 million people who are eligible to vote are not on the electoral register. Those most likely to miss out, Best for Britain said, are EU citizens, private renters, and young people.

In the North West, almost 1 million eligible voters were not on the electoral roll, the research found. The deadline to register to vote in all regions is midnight on May 7.
Lowles said: "Young people clearly have a highly negative view of extremists candidates like 'Tommy Robinson', but it's not enough to dislike him from the comfort of your sofa. If turnout is really low, he could win. Anyone who doesn't want that to happen needs to register to vote before next Tuesday."