Liz Truss Has Had To Clarify A Comment About Women Medics Needing "The Same Protection" From The Coronavirus
The British Medical Association said less than 24 hours previously that personal protective equipment is "designed to the size and shape of male bodies".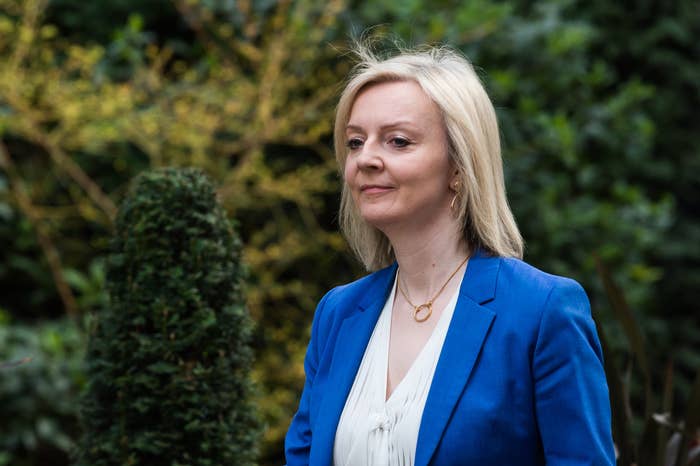 The journalists at BuzzFeed News are proud to bring you trustworthy and relevant reporting about the coronavirus. To help keep this news free, become a member and sign up for our newsletter, Outbreak Today.

Women and equalities minister Liz Truss has responded after she was criticised for "not being on top of her brief" for saying the "the same protection is required" from the coronavirus, regardless of sex.

At a virtual meeting of Parliament's Women and Equalities Committee, Truss — who is also international trade secretary — acknowledged that women make up 77% of the NHS workforce.
However, she did not appear to accept that many of their needs are not being met in terms of personal protective equipment, which the British Medical Association has said is "designed to the size and shape of male bodies".
"The Department of Health is the responsible department for making sure that they protect everybody who is working for the health service, and of course a disproportionate number of those are female," Truss said.
She added: "It's the same protection that is required regardless of what gender you are. It's just making sure that everybody has that protective equipment, and that's what the Department of Health is absolutely making sure that is happening every day during this crisis."
Caroline Criado-Perez, the author of the book Invisible Women, claimed that Truss's initial statement "tells me she's not on top of her brief — it's as simple as that".

But Truss later explained on Twitter that she was talking about the level of protection.
"We are aware that in the current crisis, female doctors and other NHS staff are having issues with filtering face-piece masks and other PPE not being available in smaller sizes as they tend to be designed to the size and shape of male bodies," Dr Helen Fidler, deputy chair of the BMA UK Consultants Committee, told the Independent.

Criado-Perez told BuzzFeed News: "There are an increasing number of reports from the female-dominated workforce on the front line telling us that they are really struggling to get masks that fit their faces, which is obviously a huge public health issue, and it's one that is not a surprise because we have known for a very long time that we have these problems with PPE that has been designed mainly around the face shapes of men in Europe and the US — Caucasian men, specifically."

Criado-Perez said that masks that are too large will not provide adequate protection, and gloves that are too big present an infection risk. Gowns that are too long also risk being a trip hazard. She said the issue of PPE being designed for men was well documented, including in a Trades Union Congress report from 2017.
During the hearing, committee chair and Conservative backbencher Caroline Nokes took Truss to task for her apparent lack of engagement with the women and equalities role.
She said Truss had recently tweeted 42 times about trade, five times about Norfolk (where her constituency is), and twice about the Home Office domestic abuse campaig, and only once have you mentioned the work of the Government Equalities Office — and that was to congratulate Marsha de Cordova for being your shadow."
Nokes added: "You regard yourself as a prolific tweeter, boast of having one of the highest social media presences of any minister. Do you think that's enough?"
In response, Truss said she did not think work output could be measured by one's number of tweets, adding: "A lot of the work I do as women and equalities minister is necessarily internal. It has been really noticeable so far that they have been conducted by men. When's your turn?"
Truss pointed out that home secretary Priti Patel had made an appearance, alongside women senior medical officials, such as Dr Jenny Harries.
When Nokes pressed Truss on why, from the government end, there had been "an appearance, once by one woman", Truss said she "did not like tokenism".
"I don't like tokenism," she told the committee. "I don't like the idea that somebody should just appear at a press conference or in a media interview because they're a woman. They should be doing that, and they should be doing the work internally because of the merits of what they're capable of."
"You have a remit for elderly people, for the disabled, for those from a BAME background, for the LGBTQ community," Nokes fired back. "A massive group of people who are being impacted by COVID-19, and you think it would be tokenism for you to appear at one of those press conferences."
"I'm not saying that at all," Truss said in response. "What I'm saying is that the excessive focus on what gender somebody is rather than what they do does a disservice to women."
CORRECTION
Caroline Nokes's name was misspelled in an earlier version of this post.