Corbyn Ally Chris Williamson Has Been Suspended Amid Another Labour Anti-Semitism Row
An investigation into Williamson over a "pattern of behaviour" related to anti-Semitism was announced earlier today, but some furious MPs called for the whip to be removed.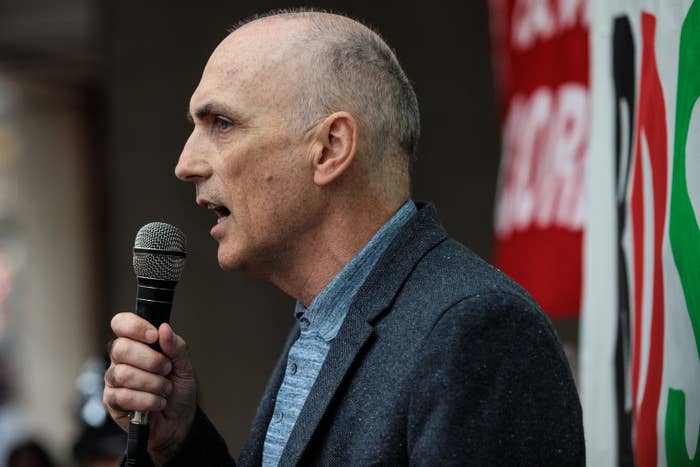 Chris Williamson has now been suspended by the Labour party while under investigation after saying Labour had been "too apologetic" over its anti-Semitism scandal.
The suspension was announced this evening after Labour was criticised by its own MPs for failing to take swift action.
The Derby North MP, a close ally of Labour leader Jeremy Corbyn, is being investigated over a "pattern of behaviour" related to anti-Semitism but, initially, the party did not announce plans to suspend him or remove the whip, provoking outrage.
A Labour source said: "Chris Williamson has been suspended pending investigation. Earlier the decision was taken to issue Chris Williamson with a Notice of Investigation.
"Once his pattern of behaviour was reviewed in full by relevant staff a decision was taken by the general secretary to suspend him pending investigation."

On Tuesday footage emerged of Williamson speaking at a Momentum rally in Sheffield the week before, where he referenced Labour's ongoing anti-Semitism row, saying that: "We have backed off far too much, we have given too much ground, we have been too apologetic."
It came just after Williamson was revealed to have booked a room in Parliament for a screening of suspended Labour activist Jackie Walker's film Witch Hunt.
A Labour spokesperson said it was "completely inappropriate" for Williamson to have booked a room "for an event about an individual who is suspended from the party and subject to ongoing disciplinary procedures".
On Wednesday morning, Williamson was issued with a notice of investigation, but was expected to remain a member of the Parliamentary Labour party while the investigation is ongoing.
Labour sources told BuzzFeed News that if Williamson were an "ordinary member", he would have been suspended "long ago", explaining that under Labour rules, bringing the party into disrepute would be enough to warrant a suspension.
"Before Formby, an ordinary member who behaved like this would have been suspended long ago," one source with detailed knowledge of Labour's disciplinary processes said. "Is his behaviour 'prejudicial and/or grossly detrimental to the Labour party'? Undoubtedly yes. Would suspending him help protect the party's reputation? Again, yes. So he would almost certainly have been suspended."
A second Labour source added: "It's not unusual to use a [Notice of Investigation], but normally suspension is the default if there's any reputational issue to the party."
After a day of tension, the party announced that Williamson would be suspended.

"The leadership must be consistent," senior backbencher Ben Bradshaw told BuzzFeed News. "If he were an ordinary member, he'd have been suspended immediately, while the investigation is conducted."
Ilford North MP Wes Streeting agreed, adding: "Zero tolerance must mean zero tolerance. He should be suspended immediately. Under any other leader this would have happened."
A a meeting of the PLP's Parliamentary Committee on Wednesday, Labour MPs appeared to have taken their own action against Williamson, agreeing unanimously to write to the MP to ask him to refrain from attending meetings until further notice.
Chief whip Nick Brown was present at the meeting, as was deputy leader Tom Watson. Corbyn and Formby had sent their apologies.
Senior Labour figures, including Yvette Cooper, former leader Ed Miliband, and current deputy leader Tom Watson, had also all called for Williamson to be suspended.

Miliband tweeted: "Chris Williamson is bringing the Labour party into disrepute over anti-semitism. This is a test of seriousness on our part about the whole issue. Disciplinary action, not simply an apology, is required."
Watson also wrote to Labour's general secretary, Jennie Formby, and chief whip Nick Brown, urging them to withdraw the whip from Williamson.
On Wednesday, Williamson apologised for his remarks recorded at the Sheffield meeting, saying: "I deeply regret, and apologise for, my recent choice of words when speaking about how how the Labour party has responded to the ongoing fight against anti-Semitism inside our party. I was trying to suggest how much the party has done to tackle anti-Semitism.

"Our movement can never be too apologetic about racism in our ranks. While it is true there have been very few cases of anti-Semitism in Labour, something I believe is often forgotten when discussing this issue, it is also true that those few are too many."
Watson described the apology as "long-winded and heavily caveated," adding that it was "not good enough."
Labour's existing internal investigations into suspended MPs have dragged on for several months — Ivan Lewis resigned the Labour whip in December after a probe into his conduct was still ongoing after more than a year. He had denied the allegations.
Another Labour MP, Kelvin Hopkins, was also suspended in November 2017 after an investigation into sexual harassment allegations was launched. Hopkins denied that he had behaved inappropriately, but the investigation is still ongoing.
A third Labour MP, John Woodcock, was also suspended pending a sexual harassment investigation. He denied the allegations and also resigned the whip before the investigation was completed.
A Labour party spokesperson said: "Chris Williamson is suspended from the Party, and therefore the whip, pending investigation."