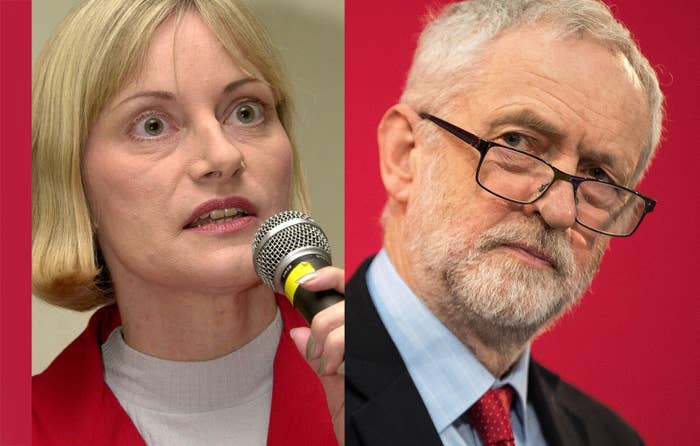 Labour's civil war has intensified after Christine Shawcroft, who was forced to resign as the head of the party's disputes panel, has said accusations of anti-Semitism have been manipulated to damage Jeremy Corbyn.

On Monday, protesters were joined by dozens of MPs and peers in Parliament Square to demand that Labour take action to clamp down on anti-Semitism.
The Labour leader acknowledged the party had an issue in a statement earlier this week. "We recognise that anti-Semitism has occurred in pockets within the Labour Party," he said, promising to crack down on perpetrators.
"This whole row is being stirred up to attack Jeremy, as we all know," Shawcroft wrote in a Facebook post published on Friday, accusing the press of misleading the public. "That someone who has spent his whole life fighting racism in all its forms should find himself being accused of doing nothing to counter it, absolutely beggars belief."
Shawcroft, who sits on Labour's National Executive Committee, stood down as chair of Labour's disputes panel on Wednesday after an email leaked to the Times revealed she had argued against the suspension of Alan Bull, a Peterborough council candidate who shared an article on Facebook which claimed the Holocaust was a hoax.
She initially claimed the suspension was politically motivated, and said she had sent the email before being aware of the full information about this case.

In her Facebook post, which has since been deleted, Shawcroft added: "I am not a Holocaust denier. I have been trying to support members who have been affected by all the shenanigans around Council selections, and thought this case was just another one of those.
"I had not seen the appalling and abhorrent post which was shared, and if I had seen it I would not have sent the supportive email."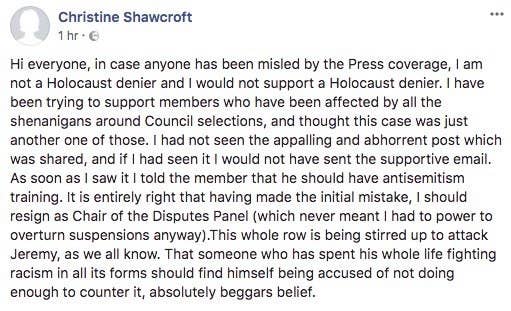 Shawcroft remains on the disputes committee, but not as the chair, and is still a member of Labour's NEC. Moderate Labour organisations Progress and Labour First have set up a petition demanding she resign from the NEC.

Wes Streeting, a Labour MP who has been demanding Labour take tougher action on anti-Semitism, told BuzzFeed News: "Even when confronted with example after example of ugly anti-Semitism within the Labour Party, even having been caught red-handed defending a Holocaust denier, Christine Shawcroft still dismisses genuine concerns about anti-Semitism. Enough is enough. Christine Shawcroft must resign from the NEC immediately. She has no shame."
Richard Angell, director of Progress – Labour's centre-left movement added: "Christine Shawcroft trying to blame her disgusting defence of a Holocaust denier on the press shows how little regard the Momentum leadership of the party have for Britain's Jewish Community and that the party's words on 'zero-tolerance on anti-Semitism' are not worth the paper they are written on.
"Worse, the fact they thought the recourse for a Holocaust denier was 'training' shows her true colours. Holocaust deniers should be out of the Labour Party and Christine Shawcroft should be too. The fact she is still on the Disputes Panel and the NEC is an insult. Thousands of members have signed a petition calling for her to resign from the NEC – it's time Jeremy Corbyn ensured it happened."
Euan Philipps, spokesperson for Labour Against Antisemitism: "Christine Shawcroft's comments are offensive and discriminatory. She offers nothing but further proof that she should have no place either on the NEC or in the Labour Party.
"To try and defend her own defence of the Holocaust denier Alan Bull, and then to suggest that 'This whole row is being stirred up to attack Jeremy', really defies belief. She is attempting to gaslight the concerns of the Jewish community and deflect from her own actions, and it is cynical and insulting.

"What is also alarming is that Labour's NEC body saw fit to make put this person in charge of adjudicating on cases of racial discrimination in the Labour Party. The antisemitism crisis is institutional, and quite clearly out of control."
A Labour Party spokesperson said: "The Facebook comment that was posted has since been deleted and a new post has replaced it."
UPDATE
This post was updated to include the Labour Party's response. Christine Shawcroft's Facebook account is currently unavailable.