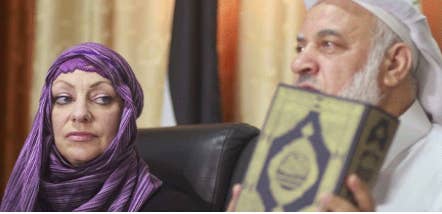 A Labour councillor who teaches in a pupil referral unit is alleged to have shared posts on Facebook comparing both the UK and Israel to Nazi Germany, and described Jews in Israel as "Hitler's bastard sons".

Anne Kennedy, a Labour representative on Dunstable Town Council in Bedfordshire, is alleged to have made the comments using a profile under the name Khadija Hasan, in which her occupation was listed as "a foot soldier fighting zionism". She denies the allegations.
BuzzFeed News understands that Kennedy has been suspended pending investigation by the party over the comments, which were flagged by @GnasherJew – a group of Jewish activists fighting anti-Semitism in the Labour Party.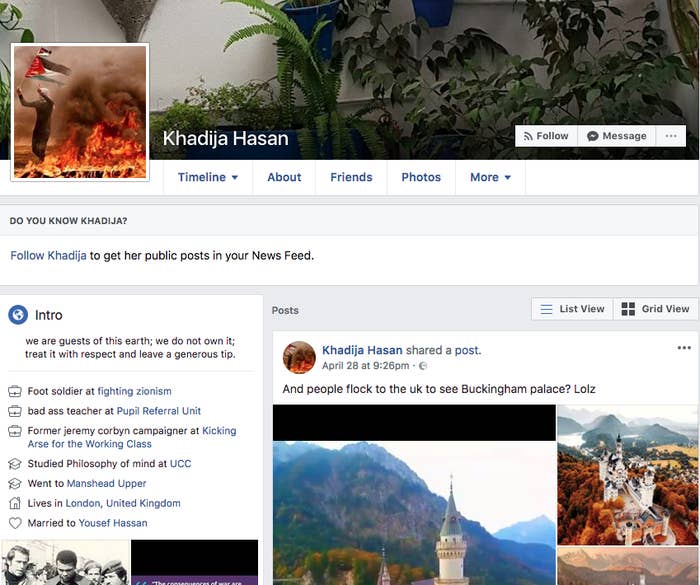 The posts in question span a period of several years, and include an article titled "Expel Palestinians, populate Gaza with Jews", which she shared with the comment, "The final solution, Hitler's bastard sons have come of age"; and posts referencing "Jewish corruption".

Another post said "you would be hard pushed" to find a difference between the actions of the UK's Conservative government and the treatment of Jewish people in Nazi Germany.
"There seems to be a current trend in Israeli hasbara [propaganda] that aims to close down arguments by saying 'Jesus was a Jew'", said one post in 2014, adding: "Er yh [sic] and he was so outspoken about Jewish corruption that they killed him for it." The same post goes on to describe Jews in Israel as "powerful corrupt thieves".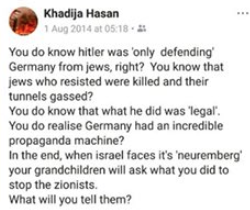 Another post, made a few days earlier, compares Israel to Nazi Germany, saying: "You do know Hitler was 'only defending' Germany from Jews right?.... In the end, when Israel faces its 'Nuremberg' your grandchildren will ask you what you did to stop the zionists."

The post describing "Hitler's bastard sons" was also shared in 2014, but some of the screenshots passed to BuzzFeed News date back to as early as 2010.
On April 24 this year, a post from the same account compared the UK government's austerity policies and hostile environment policy to Nazi Germany's treatment of Jewish citizens, saying: "You'd be hard pushed to find a big difference between the Tory party, the NF and the Nazis, if you took out the word Jew and substituted it for migrant, Muslim or disabled."
In 2012 Kennedy converted to Islam and announced her conversion at the headquarters of the Palestine Scholars Association in Gaza City. She was reported to have taken the name Khadija Hasan, Khadija being the name of the first wife and follower of the Prophet Muhammad.

The story was reported on the website of Al-Qassam, the military wing of Hamas, the militant group that controls Gaza.
Kennedy, who is married to a Palestinian man, sometimes refers to herself as Anne Hasan-Kennedy. She describes herself on LinkedIn as a former teacher and police officer, who now teachers in a PRU.
In a GoFundMe page, which has now been taken down, she was raising money to allow her to unite with her husband, Yousef Hasan, who at the time was in Gaza, having been denied a visa to the UK three times.
Last month, the account holder described the expulsion of activist Marc Wadsworth from Labour after he was accused of using an anti-Semitic conspiracy theory to criticise the MP Ruth Smeeth at the launch of a report into anti-Semitism as a "fuckinh disgrace [sic]". Wadsworth denied his actions were anti-Semitic, but was expelled for bringing the party into disrepute.
A spokesperson for the @GnasherJew twitter account accused Kennedy of anti-Semitism: "Her abhorrent views have been on full public view for many years, yet no one in the Labour Party thought to challenge them; this shows how tolerated anti-Semitism is in the party.

"Why did UK Labour select her when she has been featured and promoted on Hamas's website; Hamas are a terrorist organisation – this should have rung some alarm bells with the Labour Party, unless of course they tacitly support this?"
Euan Philipps from Labour Against Antisemitism told BuzzFeed News: "The levels of racial hatred contained in these posts are absolutely despicable. Councillor Kennedy must be suspended by the Labour Party immediately."
When approached by BuzzFeed News, Kennedy declined to comment on the allegation that she had written the posts shared by Hasan and said: "Legitimate criticism of Israel (which is what I do) is not anti-Semitism and the posts you are suggesting came from me did not."
A Labour Party spokesperson said: "Anti-Semitism has absolutely no place in the party and we are committed to challenging and campaigning against it in all its forms.
"Labour takes all complaints of anti-Semitism extremely seriously, which are fully investigated and appropriate disciplinary action taken in line with our rules and procedures."
Dunstable Town Council declined to comment.