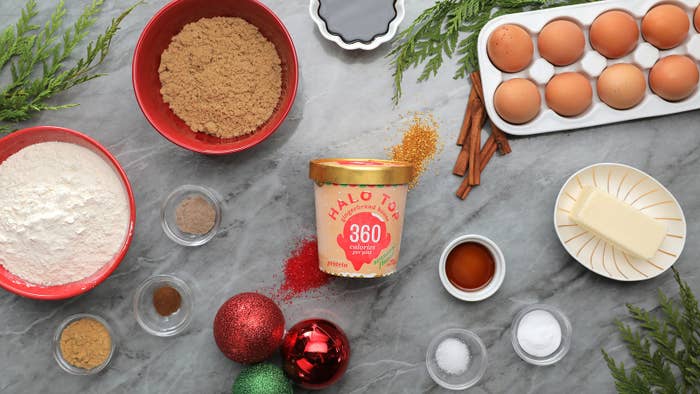 GINGERBREAD ICE CREAM PIES
Servings: 6
INGREDIENTS:
Gingersnap Cookies
2¼ cups all-purpose flour
½ teaspoon salt
1 teaspoon baking soda
1 tablespoon ground ginger
½ teaspoon ground cinnamon
½ teaspoon ground cardamom
¼ teaspoon ground cloves
¾ cup unsalted butter, softened
¾ cup light brown sugar
1 large egg
⅓ cup molasses
1 teaspoon vanilla extract

Cookie Pie Assembly
20 gingersnap cookies
⅓ cup melted butter
1 pint Gingerbread House Halo Top
Whipped cream, for garnish
Red and green sprinkles (optional garnish)
PREPARATION:
1. Preheat the oven to 375ºF. In a medium bowl, whisk to combine the flour, salt, baking soda, ginger, cinnamon, cardamom, and cloves. Set aside.
2. Using a hand mixer, cream the butter and brown sugar on medium-high speed until pale and fluffy, about 3 minutes. Add the egg and mix to incorporate, then mix in the molasses and vanilla, scraping the bowl as needed.
3. Reduce the mixer speed to low and add the flour mixture until just combined. Chill the dough in the refrigerator at least 1 hour.
4. Using approximately 1½ teaspoons of dough, shape small balls. Place cookie dough balls on a parchment-lined baking sheet and gently press down to flatten them slightly.
5. Bake cookies for 8 minutes. Let cool completely.
6. Set aside 4 cookies for garnish. Use a food processor to grind 20 of the cookies into crumbs. This should produce about 3¾ cups crumbs. Mix cookie crumbs with melted butter.
7. Spray a 6-cup muffin tin. Press cookie-crumb mixture into the bottom and sides of each cup to form a cup shape. Lower oven temperature to 350ºF. Bake cups for 10 minutes. (If crumbs rise up in the middle during baking, press gently back down to keep the cup shape.)
8. Remove from oven and cool for a few minutes before removing cups. Cool completely. Scoop Gingerbread House Halo Top into the cups. Top with a scoop of whipped cream and sprinkles. Crumble a bit of reserved cookies on top.
9. Serve!