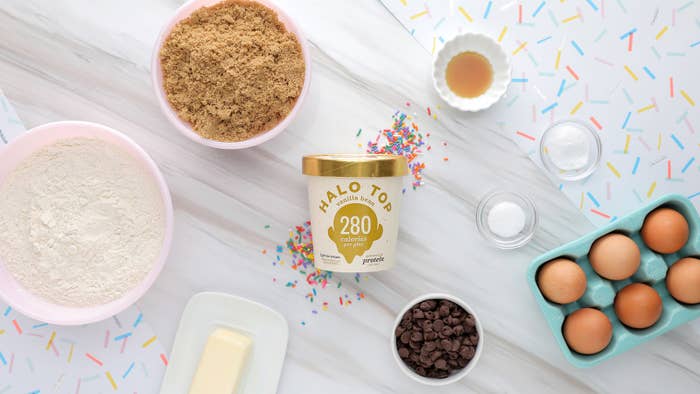 Servings: 24
INGREDIENTS:
6 pints Halo Top Vanilla Bean
1 cup butter, softened
2 cups packed brown sugar
2 eggs
1 teaspoon vanilla extract
3 cups flour
1 teaspoon baking soda
1 teaspoon salt
1½ cups semi-sweet chocolate chips
PREPARATION:
1. Defrost pints of Halo Top Vanilla Bean for 10–15 minutes. Line a 9x13-inch pan with parchment paper. Scoop the Halo Top out into the pan and use a spatula to spread the ice cream across the entire pan. Place in freezer for at least 3 hours to set up.
2. Preheat oven to 350ºF.
3. In the bowl of a stand mixer, place the butter and brown sugar. Using the paddle attachment, cream the butter into the sugar until fluffy and pale in color, 3–5 minutes. Add in eggs and vanilla extract and beat for another minute.
4. In a bowl, whisk together flour, baking soda, and salt. Add dry ingredients to the wet and stir until just combined, but streaks of flour still remain. Stir in chocolate chips.
5. Line a pair of 9x13-inch pans with parchment paper. Evenly divide cookie dough between the two pans. Press dough to evenly cover the pans in a thin layer.
6. Bake cookies for 10 minutes, until golden and edges are starting to brown. Remove from oven and let cool for a few minutes. Lift cookie sheets out using the edges of the parchment and place on a cooling rack. Place cooling rack with cookies in the freezer for 20 minutes.
7. Once cookies are very cold, remove the parchment paper. Lift the ice cream out of the pan and remove the parchment paper from the back of it. Layer the ice cream between the cookie sheets and freeze the whole thing for 1–2 hours. Slice into sandwiches and serve!