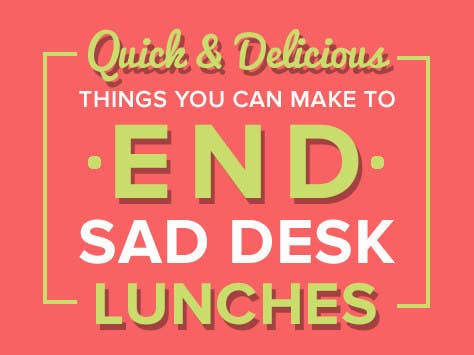 Mason Jar Salad
Prepare the night before for an easy, no-fuss, and absolutely delicious lunch. You can put just about anything you've got in your fridge in your concoction, which will save you precious pennies. The key to ensuring salad jar perfection is all in the assembly:
● Dressing
● Grain/protein/chunkier items
● Cheese/nuts/raisins – stuff you want to stay dry before gobbling
● Leafy greens
1.
Greek Salad Inspired Salad Jar
2.
Peanut Noodle Salad Jar
Wraps
Make these for you and and your other half, and switch it up in the lunchboxes so you have some of each.
6.
Turkey and Avocado Wraps
7.
Salmon and Cream Cheese Wraps
8.
Homemade Hummus and Dippers
9.
Courgetti with Creamy Avocado Sauce
10.
Toasted Banana and Peanut Butter Sandwiches
11.
Quick and Easy Stir Fry
12.
Asian-Inspired Quinoa Bowl
See? You can literally have your healthy, cheap and quick lunch "cake" and eat it too. With all the money you're about to save, now could be the time to open a Help to Buy: ISA with the Halifax, to get you started on the property ladder.
Available to UK residents, 16 years or over who are saving to buy their first home. ISA limits and rules apply.
Photographs by Lennon / Stone - Header by Ben Armson for © BuzzFeed