1.
Cult-fave Weleda Skin Food Ultra-Rich Body Cream that'll intensely nourish parched skin with chamomile, pansy, and rosemary so you'll get a much-needed moisture boost to help protect from The Cold™.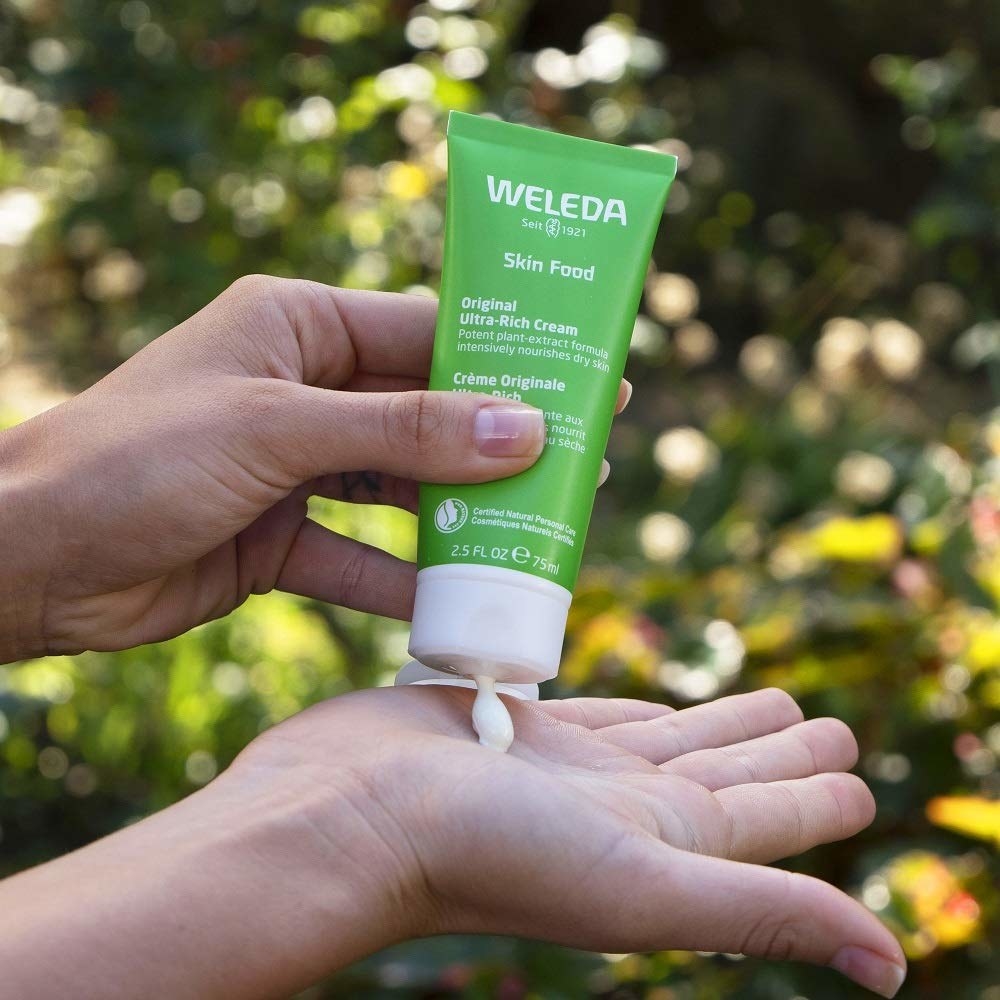 Use it on your body or face. It can also be used as a makeup primer.

Promising review: "After I tried a sample of this, there was no turning back! I've tried maybe three other popular moisturizers between repurchasing this one and absolutely nothing beats it. I use a pea-sized amount (sometimes a little bit more in the colder months) at night after my oil and retinol. It smells earthy and fresh during/after application, and I wake up the next morning with the glossiest, smoothest skin. Give this a try in the winter when your skin needs extra moisture and see the magic. I will be a forever user and will always suggest this!" —Pamela
Get it from Amazon for $10.99+ (available in two sizes and travel packs of 10).
2.
A set of 16 facial sheet masks packed with brightening vitamin E and plumping collagen when you could use a skin hydration reset (or some pampering!). Each mask features a different kind of moisturizing essence, like green tea, aloe, or pearl, so they'll each be their own experience.
Promising review: "I've been eyeballing these but was skeptical because for the price they seemed too good to be true, but I went for it and I'm glad I did. The winter is not been good to my skin so far and even with daily moisturizing I was getting a lot of dry flaky patches. After one mask for 15 minutes the dryness was 100% gone and my skin felt really soft! I think it got rid of some redness in my cheeks, too. Also, I don't know if it's the serum that's on these or the material they are made of, but this mask stayed on my face better than other sheet masks I have tried. I sat down but didn't have to hold my head back to feel like it was secure." —Michelle P
Get a set of 16 from Amazon for $11.99.
3.
A mini matcha-infused moisture stick that'll nourish dry skin on your face, cuticles, elbows, lips, and more. It also helps reduce under-eye circles and puffiness due to the caffeine naturally found in matcha! We love a multitasker.
Check out a TikTok of the matcha stick. 
Promising reviews: "I have always had at least two of these in use for the last 3 years. They are great for spot moisturizing anywhere - lips, under eyes, face. I get extremely dry hands in winter, and applying this after showering keeps my hands supple and smooth where my skin used to chap, crack, and bleed." —WelliesnWedges
"I suffer from dry cracked lips every winter. Sometimes my nose will chap and crack in the inner seams from all the tissue use. I've tried many different lip balms and healing ointments. Nothing comes close to how quickly this takes care of the dry and cracked areas. I also love the limited amount of ingredients and the size! It's a great value in my opinion. I will continue to purchase." —Liz

Cocokind is a San Francisco-based, Asian woman-founded small business that specializes in earth-friendly skincare.

Get it from Amazon for $8.99.
4.
A Cosrx snail essence because sometimes you just need a big ol' dose of hydration, and snail mucin is the only thing that can get the job done. This bb contains a whopping *96%* snail mucin, which is kinda nature's MVP for intense yet incredibly gentle skin repair. And the glow you'll get from this is unparalleled.
I've been using the COSRX snail mucin essence for years, and it's honestly a godsend for my dry, acne-prone, sensitive skin. Just like how snail mucin protects snails from damage when they move over and around gravel and other jagged things, mucin is like a heavenly layer of nourishing protection for skin that's navigating the effects of extreme weather (plus pollution, stress, and hormones). I don't care how weird it might sound — this ingredient is a dang star. 
Promising review: "I have very dry and peeling skin in winter -- and this product truly helped a lot. After putting this on after using cleanser and toner, I felt a 'baby soft' feeling on my face. When alone or paired with a good moisturizer, it really improves the look and feel of my skin. I have acne as well, and I noticed that after I started using this product my face cleared up. Honestly my skin is probably the best it has ever been and I'll for sure purchase this product again. There is no odor and though the texture may need a little getting used to, snail mucin is not nearly as gross or sticky as I thought it would be...in fact I don't find it gross at all!" —Carly Steiner
Get it from Amazon for $20.99.
5.
An organic, super nourishing turmeric and calendula soap that conditions and soothes dry, scaly skin so well that it's basically a must-have for the harsh winter months when your normal body wash is just not cutting it.

It can be used on the body and face.
I recently picked up this soap and it has floored me with how far it has exceeded my expectations. Many soaps promise to clean and moisturize your skin, right? For me, this is the only soap that has ever delivered on that promise. I literally feel the soap conditioning my skin as I use it, which I think is due to the fact that not all of the olive oil used in it is converted to soap, meaning that when you use it that extra oil is ~bequeathed~ to thirsty skin. I'm pretty sure it's the only reason my skin hasn't fully cracked off this winter, since I've been too lazy to use body lotion recently (I know) but my skin is still shockingly soft (and intact). Clearly Zatik is doing some heavy lifting, and we are grateful for this LOL. I'll be repurchasing this for a long time to come. The inclusion of brightening turmeric —one of my fave and IMO, most underrated ingredients — is an awesome touch, too!
Promising review: "Absolute favorite soap. I have had sensitive and dry skin for about the last 10 years and have tried about 30 or 40 different soaps. The first time I tried the Zatik olive oil soap I could feel a difference in how my skin felt. It didn't feel as dry and also felt softer. The soap does tend to get soft when it's wet so I keep it on a soap dish so it stays as dry as possible. Also appreciate that it's a handmade soap and feel it's worth every penny since it works so well for my skin. Love it!" —Good Thoughts
Zatik is an Armenian, family-owned small business based in California that makes all-natural body, skin, and haircare products. Everything is handmade and organic! "Zatik" means "ladybug" in Armenian, a nod to the regenerative power of the botanical ingredients that are the basis for their products.
Get it from Amazon for $10 (available in three formulas).
6.
A gentle yet hardworking CeraVe eye cream formulated with nourishing ceramides and hyaluronic acid to support hydration around your sensitive eye area during the winter months. (It also helps reduce puffiness and the appearance of dark circles!) This is basically the gold standard of under-eye creams, for less than $13. Sign 👏 me 👏 up.👏
Promising review: "My dermatologist recommended this cream for me to try to treat the eczema on my eyelids during the winter months. Little did I know that this miracle cream would do more than get rid of my eyelid eczema! I talked my sister-in-law into trying it and she is amazed at the results too and said I have saved her hundreds of dollars for the rest of her life lol because she had been buying super expensive eye creams that weren't helping her. You only have to use a little bit! I use it morning and night and it has made such a difference in my appearance and my dry skin!" —suzyb1

"I'm never one to believe that products like this work, but I was starting to get so self conscious about my dark circles and was desperate to find something. I always get them really bad in the fall and winter time due to lack of sunlight. This honestly blew me away on how well it worked! Only took about a week and a half to see results. I'm so impressed and will definitely be purchasing this product in the future." —Angel Kieslich
Get it from Amazon for $12.97.
7.
The CUTEST Tonymoly peach hand cream folks love for moisturizing the heck out of their hands, smelling amazing, and basically being the most adorable hand cream ever. One reviewer says they want a 5-gallon bucket of this stuff and TBH I think that about sums it up for all of us.
Promising review: "This is the nicest-smelling, lightest, best-moisturizing hand cream I have tried in my LIFE. My hands get miserably dry from being washed really often and PEACH TO THE RESCUE! The scent is very appealing but not super heavy. The packaging is very cute. I don't feel greasy at all. There is literally nothing to improve other than making more sizes so I can keep these EVERYWHERE." —Joselle Stark
"Listen, I've tried how many hand creams over the years I've had access to the internet, and this has got to be one of the best ones I've had. The scent is better than anything else, and if there was ever anything known as the "quintessential peach scent", this would be it. Not to mention it's super moisturizing and not overly oily, so you won't have trouble picking up your phone or anything else. Not sticky either, so if you have sensory issues like me, you'll love it." —Cat C.
Get it from Amazon for $12.
8.
Or O'Keeffe's nourishing hand cream that hundreds of reviewers call magic for healing even the most intense dry, cracked skin — making it a must-have for folks who spend a lot of time outdoors or who work outside in the winter.
Promising reviews: "The best on the market. I have issues year round because of yard work or the cold winters. This is the best product you can buy, and believe me, I've tried dozens. I use it daily and now have soft and crack-free hands. I also use a little before bedtime so it softens while I sleep. Take a chance, you'll never buy anything else." —Ellen
"A winter must-have for my man. He works outside and does labor with his hands. In Chicago it's been below 20 degrees and his hands usually chap and bleed for the season, but with this magic stuff he has been able to pull through unscathed." —Rebecca L. hebding
Get it from Amazon for $8.48+ (available in packs of 1, 2, or 12).
9.
A brightening SPF 30 moisturizer because even though the sun feels like it's gone right now, you need to wear sunscreen every day! This SPF was meticulously formulated with melanin-rich skin in mind, and promises to leave no white cast. It also contains vitamin C to diminish sun damage and hyperpigmentation, plus nourishing shea butter and glycerin to hydrate thirsty winter skin.
Promising reviews: "My skin has been super dry, especially as we move into cooler months. Within a week of using this product I'm noticing my skin feels more conditioned and a noticeable dewiness has returned. I did not notice any scent/perfume, which was a positive for me." —Mallory Strange

"I love this moisturizer. Being a dark-skinned African American, I find that often times sunscreen leaves a residue. This is the first sunscreen I've ever used that doesn't leave any weird discoloration, feels great on my skin, and it aids in reducing hyperpigmentation. I even have sensitive skin and haven't had any breakouts while using Bolden's sunscreen. A pump and a half is all I need for my face and neck. I highly recommend it and will be buying more for my family." —Missy D
Bolden is a Black woman-owned small biz that makes sulfate- and paraben-free skincare products that are never tested on animals. 
Get it from Amazon for $27.99. 
10.
Belif True Cream Moisturizer to quench winter skin with calming oat extract and ultra-moisturizing comfrey leaf for skin that's so nourished that one reviewer's skin looked dewy even in the literal Canadian winter.
Promising reviews: "AMAZING product! I have super dry skin and in Canadian winters, it's a million times worse. This is the only product out of dozens of moisturizers that has done anything significant for my skin. Not only does it hydrate during the winter, it actually makes my skin dewy, which like I said, was unthinkable with any other product. I use the product morning and night. Highly recommend." —anniebanannniie

"I live in New England, winters can be harsh. I have dry skin to being with and the cold just makes it ten times worse. I've never been able to find a moisturizer that actually works all day on my skin. I'm so glad I found this product, it's been life changing for me!" —CLChampagne10
Get it from Sephora for $22+ (available in three sizes).
11.
A bottle of Tower 28's SOS Daily Rescue spray to help repair your parched skin barrier, which often suffers in winter's dry cold, using simple but powerful antibacterial, hydrating ingredients. TL;DR: Come join the struggle bus, 'cause *there is help for you here!*
Spritz on your skin morning and night, or whenever your skin needs a little extra TLC.

I finally bought a bottle of this, and I'm so glad I did. It soothes my parched skin, and I can tell it's calming irritation, too — I recently noticed an incoming perioral dermatitis breakout (an acne-rosacea hybrid that's notoriously difficult to treat), and after a few days of using this, the bumps and redness on my face were completely gone. It saved me from needing to scramble for an expensive treatment, which is kind of unbelievable. It also makes my skin feel more hydrated and more balanced. This thing is understated but mighty, and has a permanent place in my skincare collection, especially during these winter months when my skin is extra sensitive and vulnerable to damage.
Promising reviews: "Winter is the worst because my forehead and cheeks get very dry and flaky while the sides of my face and my nose become oily. This spray, when used after cleansing and before moisturizing, maintains my skin's natural defense barrier, which helps. I'm also prone to blackheads, and I've noticed my pores giving them up more readily since using this spray. I have patchy redness on the sides of my face and those are considerably less noticeable now, too. With my sensitive skin, I was worried about taking the risk, but it's a fantastic toner, and I highly recommend it." —rvrwldng
"Love this product. It's my favorite addition to my skincare regimen and I'm currently on my second bottle! I use it morning and night after cleansing, and skin feels refreshed and hydrated afterwards, which has been especially beneficial during the long dry winter." —VeniVidiVisa 
Tower 28 is an Asian woman-owned business designed for sensitive skin. Their products are free of any sensitivity-causing ingredients, and are also vegan and cruelty-free.

Get it from Tower 28 or Sephora for $12+ (available in mini or full size).
12.
A Laneige sleeping mask packed with squalane oil to hydrate and fermented forest yeast extract to soothe and strengthen stressed winter skin ~all while you sleep.~ Reviewers LOVE how moisturizing this thing is in the winter — one calls it "one of the beauties of this world," and TBH I've never heard such a glowing skincare recommendation, so I am taking HEED.

Promising reviews: "Must-have and in love, like, seriously. One of the beauties of this world. Is your skin stressed? Soothe it with this mask, seriously. It helps my skin survive the Canadian cold, and soothes my rosacea and dry skin. A very nice addition to my skincare routine that will stick with me for a long time!" —queenaboutlips

"When the elements destroy your skin, use this. I live in a frozen tundra and my skin gets absolutely wrecked in the elements. The wind, snow, and frigid temperatures give me awful, red, dry patchy skin. This mask helps repair the skin barrier, and it's so lovely to wake up with soft, hydrated, and even-toned skin again. This will be a winter staple in my skincare kit." —imavancitygirl
Get it from Sephora for $34.
13.
A tub of Vanicream Moisturizing Cream to provide deeeep hydration and soothe itchy, inflamed skin all over your bod. Free of fragrance, parabens, and formaldehyde releasers, this baby even has a seal of approval from the National Eczema Association. Hallelujah.
Promising reviews: "I have super sensitive skin. I have tried every 'clean' product that was supposed to be non-acne causing and safe for sensitive skin and have broken out every time. Milk, Glossier, INN Beauty, Clinique, The Ordinary, True Beauty, Sunday Skin, First Aid Beauty, and more. I decided to give Vanicream a try, and wow. Immediately fixed my super dry winter skin, immediately cleared up a stubborn breakout I had, hasn't caused me any irritation, and is so affordable. My skin feels amazing and looks bright and refreshed. Never using anything but this." —Ash
"My skin is sensitive to everything - I've tried every face cream I could find that said it was for sensitive skin from all price ranges. They all made my face red. When winter rolls around I either deal with dry pealing face which stings or I use a facial moisturizer that turned my face red like a tomato. Until I found this. This cream is what I have been looking for for years. After four days of using this on my face 3x a day my face has lost 90% of the redness. It moisturizes, doesn't turn my face red and is very easy to wash off with just lukewarm water. If you have sensitive skin definitely give this a shot." —AB
Get it from Amazon for $13.56.
14.
A bestselling yet affordable cool mist humidifier with over 55,000 5-star ratings to add moisture to dry winter air, which helps hydrate and support parched, itchy skin. Your thirsty epidermis will thank you!
Reviewers especially recommend using this if you're prone to eczema or other skin conditions.

Promising reviews: "Quiet and great for fighting against dry winter skin. I live in New York and the winters are brutal on one's skin. Between the bitter cold and the warm air from the heater making you feel like a dried prune, it's rough! The cost is extremely reasonable for such a great humidifier, it's a nice size, and best of all its very quiet. It's been a big help preventing dry winter skin." —Kindle Customer
"I'm used to having extremely dry skin in the colder months so I try to have a humidifier on when I get out of the shower, or just have a very dry day. This humidifier is amazing! I feel so much more comfortable in my space with the air not sucking the moisture out of my skin! You notice the moisture right away upon turning it on! It's easy to use, you can't even hear it on, and easy to clean and refill! Thank you for giving me a less crusty winter season!" —Taylor B
Get it from Amazon for $29.97+ (available in 2.2L or 6L versions).