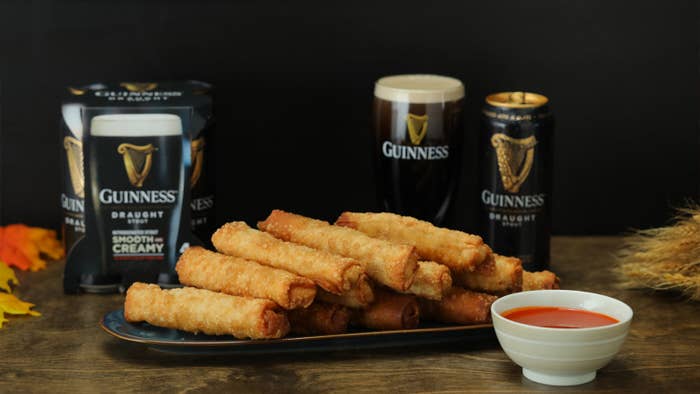 Ingredients
2 tablespoons butter
2 tablespoons flour
1 teaspoon garlic powder
1⁄8 teaspoon cayenne
1 teaspoon salt
1⁄2 teaspoon pepper
1 cup milk
1 cup shredded smoked gouda
8 ounces cooked macaroni
12 egg roll wrappers Vegetable oil, for frying
Hot sauce, for dipping
Preparation
1. In a saucepan, melt the butter. Whisk in the flour, garlic powder, cayenne, salt, and pepper. Cook mixture for a minute or two, then pour in milk. Whisk until milk begins to thicken, then pour in cheese. Cook, while whisking, until sauce is smooth. Fold in cooked macaroni. Let mixture cool for about 10 minutes before continuing.
2. Place an egg roll wrapper on a cutting board. Near the bottom of the square, lay out a 1 inch thick line of mac 'n cheese, stopped about an inch short of the edges. Starting at the bottom, roll up the wrapper, covering the filling. At the halfway point, fold in the right and left sides, then continue rolling. Wet the top edge with a bit of water to seal.
3. Heat 2-3 inches of vegetable oil in a high-walled saucepan to 350oF. Working in batches, fry the eggs rolls until they are golden brown on both sides. Drain on paper towels. Serve with hot sauce for dipping.