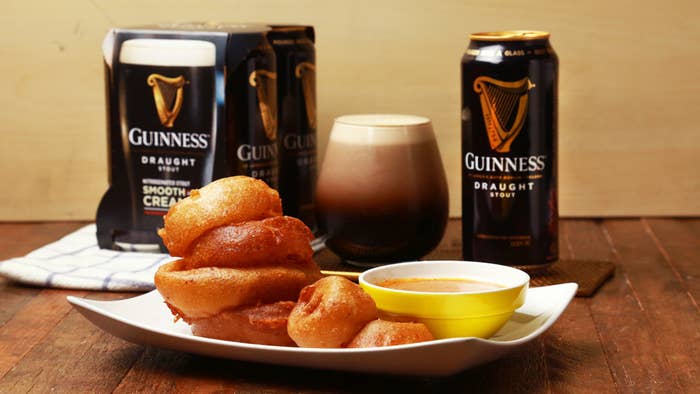 Ingredients
Guinness Honey Mustard
1⁄4 cup Guinness Draught Stout
1⁄2 cup stone-ground mustard
1⁄4 cup honey
1 tablespoon curry powder
1⁄4 teaspoon cayenne pepper
1⁄2 teaspoon paprika
1 teaspoon kosher salt
1 tablespoon apple cider vinegar
1⁄4 cup mayonnaise
Guinness Onion Rings
3 vidalia onions
1 quart buttermilk
2 & 1⁄2 cups of all-purpose flour
1⁄3 cup cornstarch
1 & 1⁄2 teaspoons kosher salt, plus more for seasoning cooked onion rings
1 teaspoon baking soda
2 eggs
1⁄4 cup stone-ground mustard
2 & 2⁄3 cups Guinness Draught Stout
6 cups canola oil
Preparation
1. Honey Mustard: Mix together Guinness Draught Stout, dijon mustard, honey, curry powder, cayenne pepper, paprika, kosher salt, apple cider vinegar, and mayonnaise. Let rest while you make the onion rings
2. Onion rings: Peel vidalia onions and cut into 1 inch-thick rings. Separate rings and place in buttermilk and let sit at room temperature for 1 hour.
3. In a medium bowl, mix together flour, cornstarch, 1&1⁄2 teaspoons kosher salt, and baking soda.
4. In a separate medium bowl, mix together eggs, mustard, and Guinness Draught Stout.
5. Pour the wet ingredients into the dry ingredients and whisk until the batter is smooth.
6. Heat oil in a heavy bottomed pot to 350oF. Line a sheet tray with paper towels.
7. Drain the buttermilk-soaked onion rings in a colander. Working in batches and using tongs, coat onion rings in batter and carefully place them in the oil making sure the edges of the onion rings don't touch. Fry on one side for 3 minutes and then flip over and cook on the other side for another 2 minutes, until golden brown.
8. Remove onion rings from the oil and place on the prepared sheet tray. Sprinkle with salt.
9. Serve with Guinness honey mustard and enjoy with a pint of Guinness!