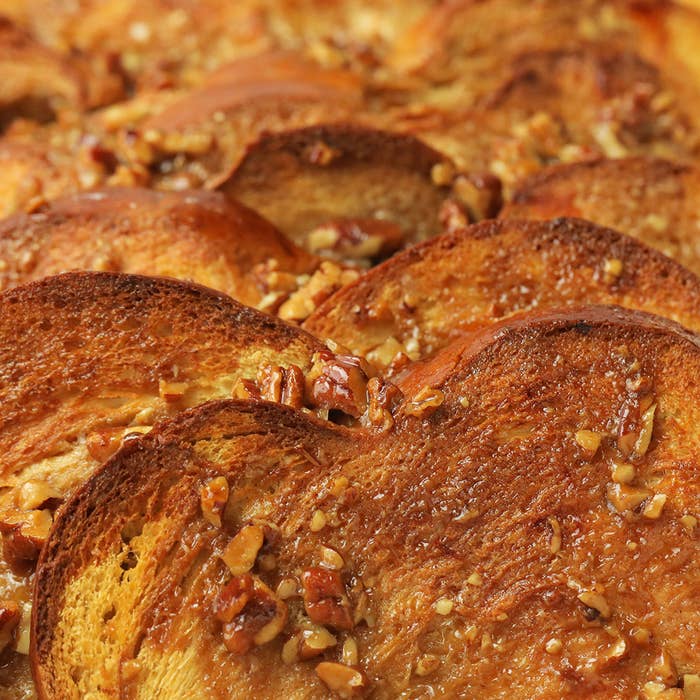 INGREDIENTS:
1 loaf challah or brioche bread, sliced
4 eggs
¾ cup milk
2 teaspoons vanilla extract, divided
¼ teaspoon salt
½ cup butter
¾ cup packed dark brown sugar
2 tablespoons light corn syrup
1 teaspoon flaky sea salt
¾ cup pecans, chopped
PREPARATION:
1. Preheat oven to 350ºF.
2. Grease a 9x13" baking dish. Layer the bread slices in the dish.
3. Whisk together eggs, milk, 1 teaspoon vanilla extract, and salt to make the custard. Evenly pour custard over bread. Set aside while you make sticky bun topping.
4. Melt butter in a saucepan over low heat. Add in dark brown sugar and light corn syrup. Whisk, then let mixture cook until bubbling. Turn off the heat and whisk in 1 teaspoon vanilla extract, flaky sea salt, and chopped pecans.
5. Pour sticky bun topping over the bread and use a spatula to evenly spread it out, so all the bread is covered.
6. Place in oven and bake for 35-40 minutes, until cooked and golden brown. Remove from oven and let rest for 10 minutes before serving.