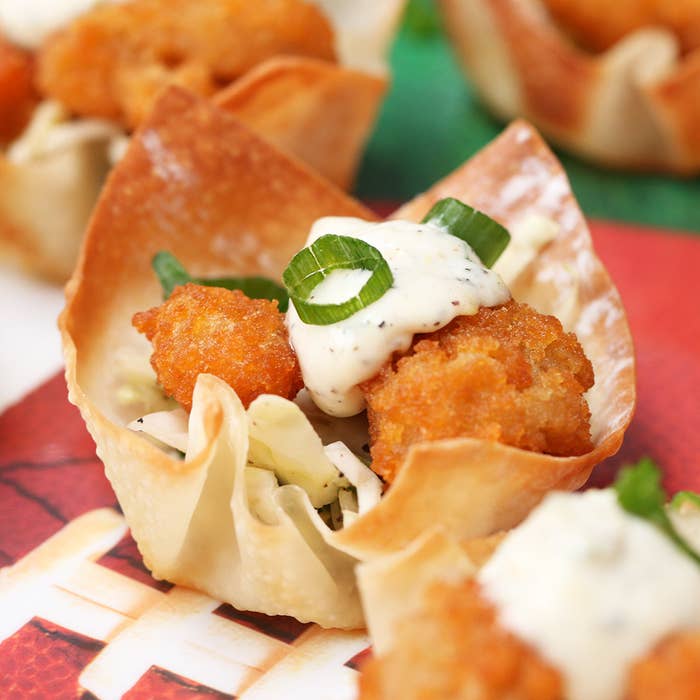 INGREDIENTS
Servings: 12
12 small wonton wrappers
1 ½ cup coleslaw mix
½ medium jalapeno, thinly sliced
2 tablespoons chopped green onion
2 tablespoons cider vinegar
1 teaspoon honey
1 teaspoon sesame seeds
¾ cup mayo
1 teaspoon fresh ground pepper
1 teaspoon lemon juice
½ teaspoon salt
Zest from ½ lemon
¼ teaspoon chopped fresh dill
36-40 pieces Gorton's Popcorn Shrimp
PREPARATION
1. Preheat oven to 425°F/220°C.

2. Mix coleslaw mix, sliced peppers and green onion, sesame seeds, add honey, vinegar, and salt and ½ teaspoon pepper (season accordingly). Set aside.

3. Mix mayo, ½ teaspoon pepper, lemon zest, lemon juice, and fresh dill. Set aside.

4. Lightly spray the cups of a 12-cup muffin pan. Carefully line cups with wonton wrappers. Bake for 5-7 minutes or until golden brown. Cool on a rack.

5. Bake shrimp uncovered for 14-16 minutes until the coating is golden brown and crunchy (be sure to turn the shrimp over after 8 minutes).
6. Using a teaspoon, carefully spoon a small amount of slaw/salad into the wonton cups. Place 2-3 shrimp and a small dollop of mayo sauce. Serve immediately.

7. ENJOY!