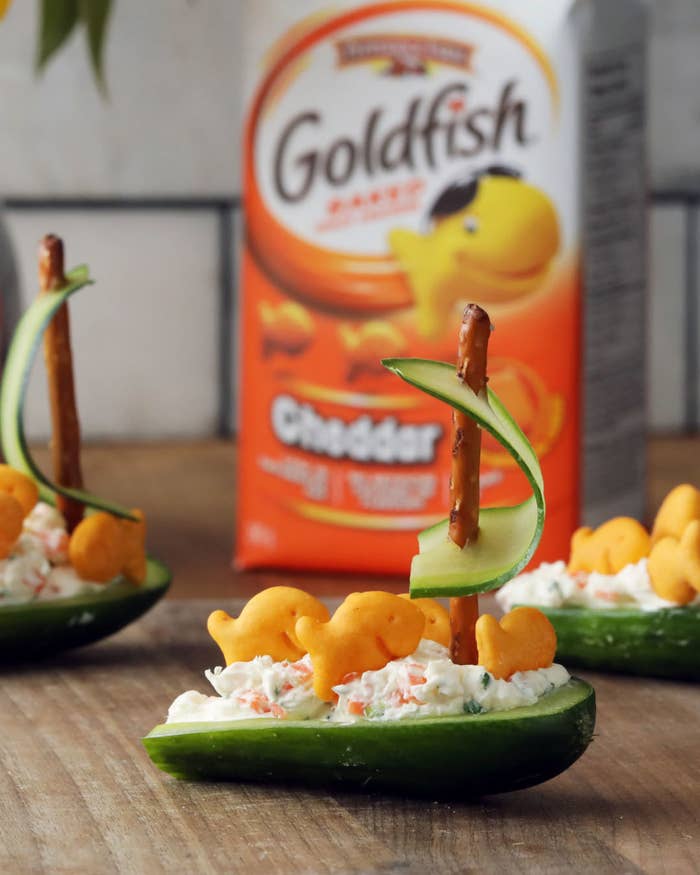 Servings: 12–14
INGREDIENTS
Veggie Cream Cheese Filling

230 grams low-fat cream cheese

1 tablespoon chopped chives

½ teaspoon dill

1 green onion, chopped

1 large carrot, peeled and diced very small

1 tablespoon lemon juice

¼ teaspoon salt

⅛ teaspoon pepper

Assembly

6 small cucumbers

14 pretzel sticks

Goldfish® Cheddar Crackers

PREPARATION
Combine all of the veggie cream cheese ingredients in a large bowl.

Cut 4 of the cucumbers lengthwise, then cut each half again widthwise so you have 4 equal pieces from each cucumber.

Scoop seeds out of center of each piece to make boat.

Use other 2 cucumbers to make boat sails. Use mandoline or peeler to cut very thin cucumber slices and skewer each side of slice on pretzel stick to resemble sail. **Tip: Pieces farthest from seeds will be most sturdy.

To assemble, fill each boat with veggie cream cheese. Stick pretzel mast in one side and place Goldfish® Cheddar Cracker sailors into position aboard boat.

Play with snack until you can't resist, then serve and enjoy!