Figuring out what types of products to use for your skin can be a longgg process. So it's totally understandable why you might be skeptical when adding new steps to your beauty routine. But if you've been on the hunt for something that'll take your complexion to a whole new level, then it's time to add in a retinoid. And not just any retinoid — Glossier's new Universal Pro-Retinol.
Whether you've never tried retinoids before or you've been using them for years, you're going to want to try this magic in a bottle. It's beneficial for all skin types and does pretty much everything! It helps improve the appearance of uneven skin tone and texture, pores, fine lines, blemishes, and discoloration.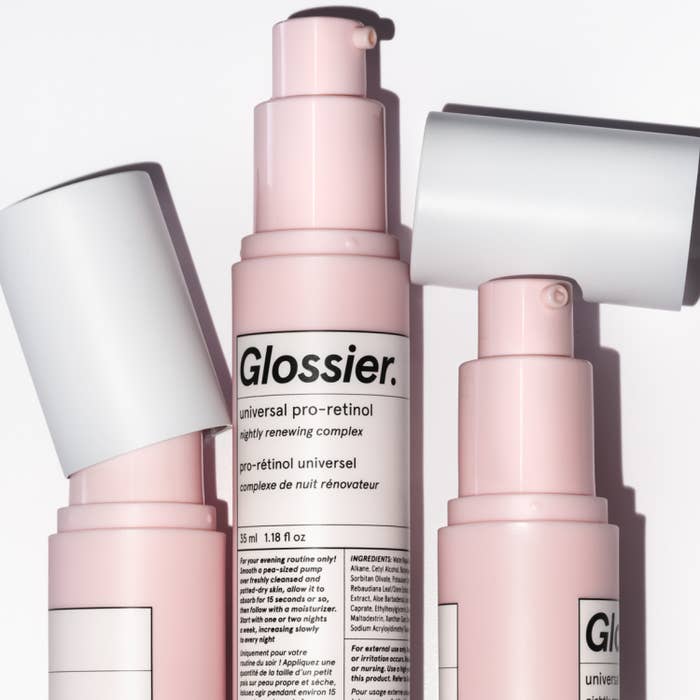 Just apply it every night after you cleanse and before you moisturize, and you'll start to see results.
The creamy texture is formulated with a plant-based power complex of 0.5% Retinyl Sunflowerate and Stevia Leaf Extract. The formula also contains soothing Mondo Grass Root Extract.
The non-irritating formula is gentle and helps to visibly improve your complexion, but with a fraction of the typical drawbacks, such as peeling and dryness.
Check out the difference it can make in just four weeks.
And, of course, the sleek packaging in Glossier's signature pink color is perfect for taking with you on the go.
Now is the time to add this to your beauty routine. It'll be a game changer for your complexion, without the harshness of other retinoids. Basically, you and your skin will love it! You can get the new Universal Pro-Retinol from Glossier for $35.