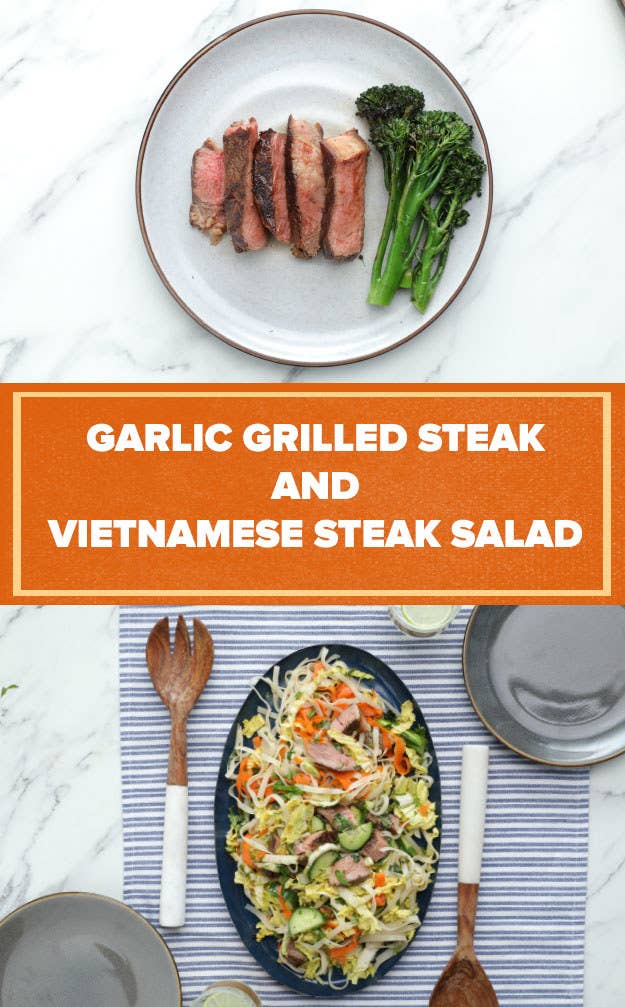 GARLIC GRILLED STEAK
Servings: 3–4
INGREDIENTS:
2 tablespoons brown sugar

2 tablespoons olive oil

2 tablespoons soy sauce

1 teaspoon salt

½ teaspoon pepper

3 large cloves garlic

20-ounce steak

1 pound fresh broccolini

PREPARATION:
In a large baking dish, combine brown sugar, olive oil, soy sauce, salt, and pepper for marinade.

Mince the cloves of garlic and add those to the marinade.

Place steak in dish and cover with Glad Press'n Seal.

Toss steak in marinade and let rest for at least an hour or up to 12 hours.

Heat a grill or cast iron pan over high heat. Add steak and let sear on each side for 3 minutes, or to desired doneness.

Remove steak from pan and let rest for 5–10 minutes before slicing. Be sure to slice against the grain. (Reserve 2 ounces.)

Lightly grill broccolini about 4–6 minutes. (Reserve one-third.)

Serve with broccolini.
VIETNAMESE STEAK SALAD
Servings: 8
INGREDIENTS:
Salad
Half a head of napa cabbage

1 English cucumber

3 carrots

4 scallions

Leftover garlic steak

Leftover broccolini (chopped)

4 ounces cooked rice noodles

1 cup mixed chopped herbs (basil, cilantro, mint)

Sriracha
Dressing
¼ cup fish sauce

Juice of 3 limes

6 tablespoons brown sugar

1 tablespoon minced garlic

6 tablespoons coconut milk

PREPARATION:
Prepare salad: Remove core from the napa cabbage leaves, then slice into thin strips. Slice cucumber in half and scrape out seeds with a spoon. Slice each cucumber slice into thin half-moons. Peel the carrots, then keep using the peeler to peel off thin carrot strips. Slice the scallions on the bias.

Toss the vegetables (including leftover broccolini) together with the steak, rice noodles, and herbs in a big bowl.

Make dressing: Whisk together all ingredients.

Pour dressing over salad and toss well. Drizzle with Sriracha and serve!