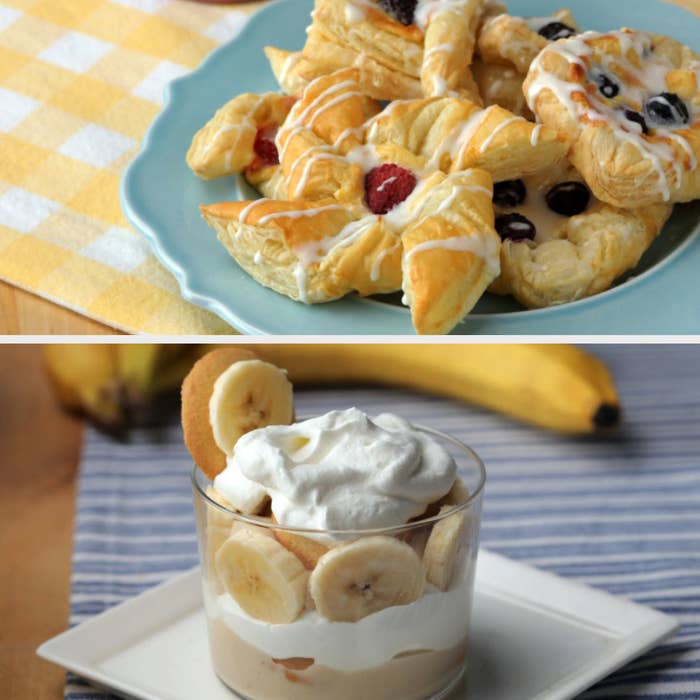 BANANA CUSTARD
SERVES 8–10
INGREDIENTS
1 banana, very ripe

½ teaspoon lemon juice

2 cups of milk

2 eggs

¼ cup sugar

1 ½ tablespoon flour

⅛ teaspoon salt

1 teaspoon vanilla

PREPARATION
Blend ripe banana and lemon juice in a food processor until smooth. Set aside.

Heat milk over medium heat in saucepan until hot but not boiling. Remove from heat.

Crack eggs in a large glass bowl and blend with a hand mixer until frothy.

Mix sugar, flour, and salt in a separate bowl. Gradually add mix to the eggs and beat until thick.

Slowly stir half a cup of the hot milk into the egg mixture and stir until eggs are tempered, then add the rest of the milk.

Fill a saucepan halfway with water and place the bowl on top of the saucepan. Bring water to a boil and then reduce to low.

Cook for 25–30 minutes, or until desired thickness, stirring occasionally.

Remove from heat, and incorporate vanilla extract and banana puree.

Cover with Glad® Press'n Seal® and place in the fridge for an hour.

Serve with whipped cream and enjoy!

BANANA BERRY TARTS
INGREDIENTS
⅓ cup banana custard (see recipe above)

⅓ cup cream cheese

1 egg yolk

1 cup fresh berries of your choice

1 package puff pastry

½ cup powdered sugar

3 tablespoons heavy cream

PREPARATION
Combine custard with softened cream cheese beat until smooth and creamy. Add egg yolk and mix well. Set aside.

Cut puff pastry into various shapes and fill the centers with custard/cream cheese mixture. Add fresh berries.

Place on a baking sheet and bake at 400˚F for 15–20 minutes or until browned.

Make glaze by mixing powdered sugar and cream.

Let pastries cool and drizzle with glaze.

Enjoy now, or wrap in Glad® Press'n Seal® to save for tomorrow's breakfast!