1.
A portable charger you'll probably sing praises for, because it doesn't require any cords. When your phone battery is running low, plug it into the dock and it'll instantly charge it up. The dock also powers up while it charges your phone, so both will be ready whenever you need them on a flight or vacation stay.
Note: This small gadget can charge an iPhone 8 1.5 times and an iPhone X one full time on a single charge.
Check it out on TikTok here. 
Promising review: "The holy grail of portable chargers!!! I was traveling to Disney for vacation, and knowing me, I would drain my battery with just taking pictures alone. I wanted a portable battery but didn't want to carry a cord either, so I was excited when I found this little baby! It does exactly as described and I get one full charge of battery for my phone. Get it: You will not be disappointed!" —Meghan Doble
Get it from Amazon for $29.99+ (available in six colors).
2.
Or! A 3-in-1 foldable magnetic wireless charger to keep all your tech devices (iPhones, AirPods, and Apple Watches) powered up on the go. This gem folds out into a rectangular charging station, so you can charge multiple electronics at the same time. Plus, it takes up minimal space in a carry-on or suitcase. BRB, adding this to my wishlist before my next trip!
See it in action on TikTok here. 
Promising review: "I use this product to charge my iPhone 13, AirPods, and Apple Watch. Prior to this 3-in-1 compact purchase, I have purchased three different kinds of 3-in-1 chargers — I frequently travel between school and home with carry-on bags on airlines and all of the previous stand version chargers doesn't fit well in my bags or I am always worried I would break. This is compact and folds so well that I can fit in my carry-on or in any zipper pockets without having to worry about breaking anything. Charger works really well and it is the best compact one you can find in market. Love it and been using it for two months now and no issues!!" —SBREDDY
Get it from Amazon for $39.99 (available in nine colors). 

3.
A luggage-mounted cup caddy that'll make it so easy to travel through a terminal with drinks and snacks. Two slots fit water bottles, paper cups, and wrapped up food, so you can wheel your luggage and check texts without spilling anything. 
Check it out on TikTok here.
Promising review: "This cup holder is perfect! It helps me a lot! Last time I took a plane with a suitcase and a cup of coffee, I dropped and spilled my drink everywhere when it was my turn to check my passport and ticket. It was a nightmare! This time, I bought this cup holder to do me a favor! I don't have to worry about where my cup and phone are! I can free my hands to do other things. I love it so much! Hope you love it too." —Philip
Get it from Amazon for $15.99+ (available in 31 colors and patterns). 
4.
A Trtl neck pillow because you can finally rest in a plane seat without feeling uncomfortable. This cozy cocoon is adjustable, gently wraps around your neck, and prevents your head from bobbing side to side. Plus, it's space-saving, lightweight, and attaches to any luggage handle.
Check it out on TikTok here. 
BuzzFeed editor Ciera Velarde owns this comfy pillow and said: "I've used this for the past few years and swear by it! Before this, I always found traditional neck pillows uncomfortable and would end up ditching them halfway through the flight and getting frustrated. The Trtl pillow is adjustable — you wrap the pillow around your neck and secure it with Velcro, and if you find it's too loose, just make it a bit tighter! I've truly never slept better on a plane than with this pillow." 

Promising review: "Used it for a 14-hour flight to Japan last week, and it helped tremendously. This was the first time I was able to sleep on the plane so this helped tremendously. Definitely a must have for travel. It is very light so I was able to easily pack it in my under-the-seat wheeled trolley. I want to emphasize how much the light warmth of the fleece (and I don't like being hot) was just right to help me nod off to sleep. Since this is primarily for sitting upright in the seat or someone in the middle or the aisle seat, this was ideal for me. I just got back yesterday. Again I used it — this time for a 12-hour flight." —Ambience
Get it from Amazon for $59.99 (available in three colors).
5.
And a pair of Mack's Earplugs that'll help you say, "buh-bye noise" if you're trying to catch up on some sleep. These little babies comfortably contour to the shape of your ear and help block out sounds, plus they stay in place. Even if the plane is taking off and your seat buddy is talking a little too loud, you'll still drift off to dreamland. 
Check them out on TikTok here.
BuzzFeed editor Emma Lord swears by these and raves: "The moldable silicone of Mack's Earplugs contours easily to the shape of your ear to block out noise much more effectively than other foam or plastic varieties, and the noise reduction is so good that if I pair them with a white noise machine (or just like a white noise loop on Spotify) I genuinely don't hear noises from outside my room. Not only that, but once they're in place, they stay locked there until you decide to pull them out.
Granted, I can still hear my alarm and like, if the fire alarm went off or something, I'd definitely wake right up. But noises that are distant and loud are pretty easily canceled out by these.
I've also *loved* these for traveling — if you put these babies in on a plane not only does it help reduce some of the YIKES factor when the plane takes off (it's loud!!), but it cancels out the murmuring noises of passengers on the flight and makes it easier to get some shuteye." 
Get 12 pairs from Amazon for $12.99.
6.
An RFID-blocking travel wallet to hold your passport, IDs, credit cards, cash, and boarding tickets in a safe place. You won't have to worry about holding up the line at security because everything you need will be organized and ready to take out.
The wallet comes with a boarding pass compartment, a passport compartment, three credit card slots, an ID slot, a slim card pouch, a ticket slot, a slim pocket, a cellphone pouch, a coin zippered pocket, a key holder, and a place to put your pen.
Check it out on TikTok here.
Promising review: "I needed a new travel wallet, and this holds everything I need all in one place, and it still closes nicely and stays flat! I can fit my boarding pass, passport, ID, credit cards, money, checked baggage tickets, receipts, and more in it, yet it doesn't bulk up or look like an overstuffed mess. It's just amazing. The description says it only holds US money, but I just used the boarding pass flap to hold all my Japanese Yen, which are larger. I didn't use the zippered pocket for coins as I much prefer a separate coin purse for that sort of thing. I definitely recommend to anyone who travels a lot!" —Anthony Luu
Get it from Amazon for $13.99+ (available in 41 colors).
7.
A large Béis suitcase you'll want to bring on every trip, because it's basically what travel dreams are made of. This 29-inch piece of luggage is very spacious with lots of pockets (go ahead, add in those packing cubes!) and comes with optional expansion if you need it. Added bonus? Its weight limit indicator that'll alert you if your baggage is too heavy, so no need to stress when you check it in!

Reviewers also love this suitcase because it's easy to wheel around if you're walking through a terminal or hotel!
Check it out on TikTok here.
Béis is a woman-owned travel accessories brand founded by actress and entrepreneur Shay Mitchell. You'll find carry-on rollers, weekender bags, packing cubes, and more practical goods for your next trip!

Promising review: "Flawless! I am obsessed with this luggage. I ordered the three piece set and the weekender bag! The zipper slot to slip the bag over the luggage handle makes loading and trekking through the airport so much easier. The interior of all pieces are great quality and I love the small touches (pockets, laundry bags, etc.) Zippers are all sturdy and the locks are very easy to use. A++!" —Lisa B. 
Get it from Beis for $298 (available in six colors and also in two smaller sizes). 
8.
Or a three-piece luggage set because you'll be prepared to pack for weekend adventures *or* week-long vacations. You'll get a 28-inch large suitcase, a 24-inch medium suitcase, and a carry-on 20-inch suitcase for your travel needs. Each piece of luggage has a secure TSA lock and 360-degree wheels that'll make moving through the airport so darn easy.
Check it out on TikTok here. 
Promising review: "I bought this a few months ago when I knew I'd be flying across the country (more or less) twice this past spring/summer; it was the first new luggage I had bought in about 25 years. I've taken the set on several trips now -- two round-trip flights with plane changes, a couple of two-night road-trip hotel stays, a six-day 1,800-mile road trip, and a mandatory wildfire evacuation, and I really, really like it.
It rolls like a dream on hard floors, sidewalks, and parking lots -- makes it easy for two people to manage three suitcases, each with a laptop bag or duffel attached. The bright red color (my favorite shade of red) really pops and makes it easy to pick out of a luggage carousel. It's lightweight and goes in and out of a hatchback with ease. This set truly makes travel even more fun. Well worth the money." —Rachel
Get it from Amazon for $189.99+ (available in 19 colors).
9.
And a stylish and durable travel belt that'll securely attach a large tote to your suitcase handle and keep it in place while you move through the airport. It'll be so nice to not have to stop, readjust your bags, and worry about anything falling out if you're already pressed for time.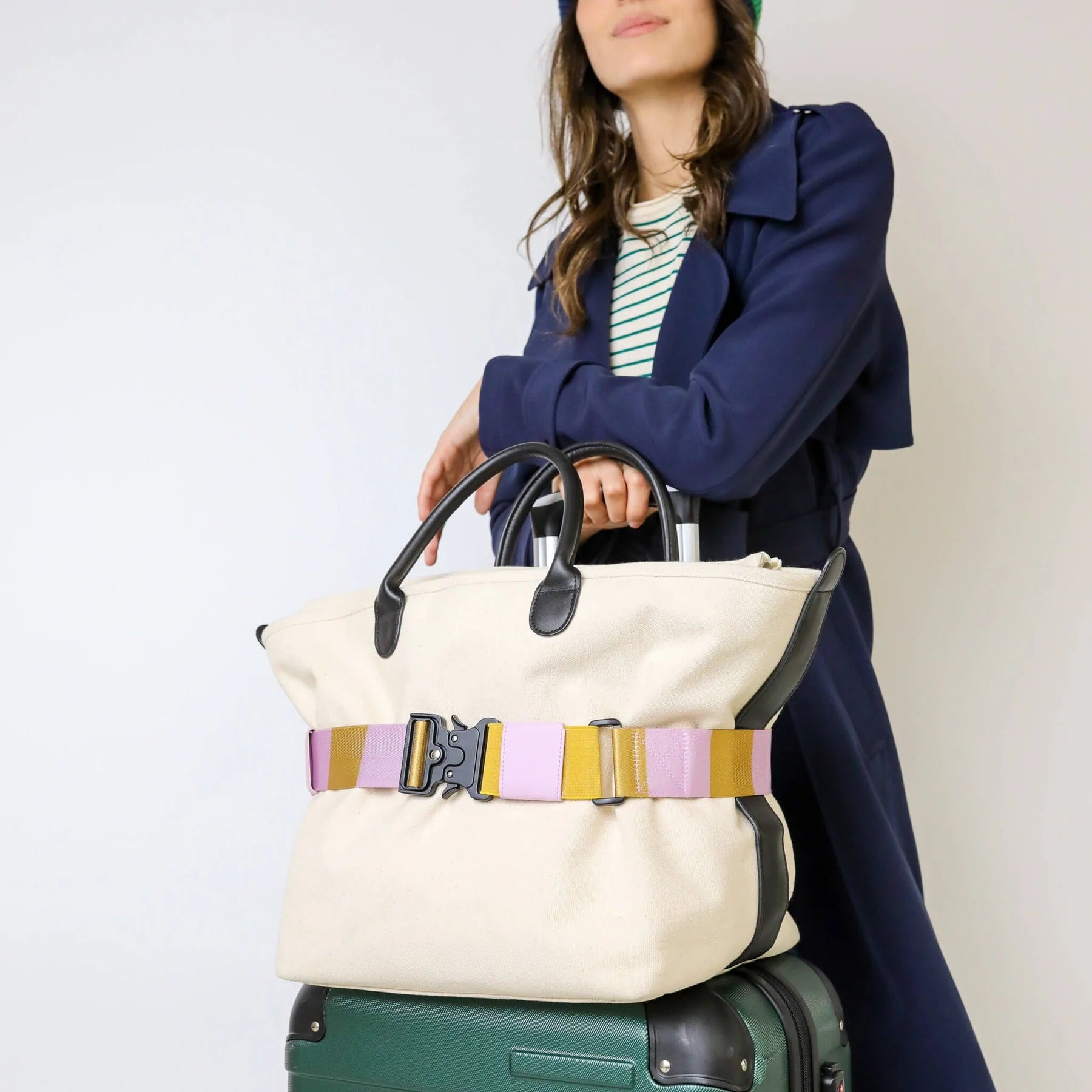 Cincha Travel is a small business based in Oakland, California that designs adjustable vegan leather travel belts. The brand, which is run by a BIPOC couple, donates 100 airline miles for each purchased travel belt to help reunite migrant families.
Check it out on TikTok here.
Promising review: "Such a simple yet brilliant solution for the ever falling bag when trying to juggle all your luggage. It definitely made traveling less stressful." —Samantha
Get it from Cincha for $40 (available in 13 colors).
10.
A pack of three compact pill organizers, each with eight compartments for your vitamins and medications. They're made with moisture-proof material and have a double lock, so nothing will fall out while you're traveling. Plus, you can clearly see where each item is, thanks to included labels.

Check it out on TikTok here.
Promising review: "I browsed several options for pill containers to use while traveling. I was looking for more than four compartments while still being compact. This container worked perfectly! The side with the two bigger compartments was necessary for my large daily multivitamin, while the smaller compartments held several doses of OTC medications to be used as needed. The container is very durable and I really like the security of the outside clasp. The standard weekly pill container I had been using was too long for my purse and the slots popped open on occasion. Not with this guy! I plan to use another one of the three containers for a first aid kit." —Melissa

Get a 3-pack from Amazon for $9.97 (it comes with a blue, green, and khaki case).
11.
A set of packing cubes to help you organize everything you packed in your suitcase. Pants, shirts, dresses...whatever you're wearing, these compact containers will hold them all without taking up a ton of space. 
This set comes with an extra large cube, large cube, medium cube, small cube, roomy shoe bag, and a laundry bag for dirty clothes!
Promising review: "I found out about the packing cubes on TikTok from a woman that travels all over and she mentioned these travel cubes and knew I had to get them. I travel and usually stay in one spot for more than a month so packing gets tricky. I can now pack more neatly and have more room for all the clothes I travel with." —Magen Vaughn
Get a six-piece set from Amazon for $21.99+ (available in 12 colors).
12.
And a luggage scale because it can easily weigh your suitcase (up to 110 pounds) to make sure it doesn't go over the limit. This handy gadget fits in a bag or pocket, so you can pull it out and check your luggage on the spot. You'll be relieved you didn't have to pay an overweight baggage fee at the airport.
Check it out on TikTok here.

Promising review: "This was a great buy! It's saved me and my family time and money when we travel! I've even given it to friends to borrow so they don't have to worry about the weight of their luggage when they get to the airport. It can be tricky to be accurate if you don't hold it properly and stay still but even so, it's possibly a pound or a few ounces off if you can't hold it upright for too long. Definitely recommend this tool especially for the low price!" —Annette M.

Get it from Amazon for $11.99 (available in six colors).
13.
A hands-free (rotating!) phone mount to turn your phone into a mini TV while you're traveling. It can mount on multiple surfaces, including tray tables, the arms of terminal seats, and luggage handles. Now you can stream Netflix or view videos whenever and wherever you want.
See it in action on Tiktok here. 
Promising review: "I bought this nifty gadget about six months ago for a multi-leg, ultra-long-haul trip, and it more than held up the entire duration. I was able to finagle it to fit the tray tables on different planes, and like others, I find the height just nice when clamped onto a stowed tray table. It also works on my roller carry-on handle during layovers. However, I find myself using it a lot outside of travel too! Work-wise, I've clamped it onto my office desk shelving to hold my phone at eye level beside my computer. At home, I simply clamped it to a deck of cards, and it turns into a versatile stand that I can place on any flat surface. Heck, I've been using it to hold my phone comfortably at eye level while watching videos in bed. It's extremely well built, and I find myself fidgeting with it all the time. Thus far it still feels solid, and I don't anticipate breaking it any time soon. Even if it does break, I'll be happy to buy another one or two of it!" —Earendil
Get it from Amazon for $12.97 (available in three colors).