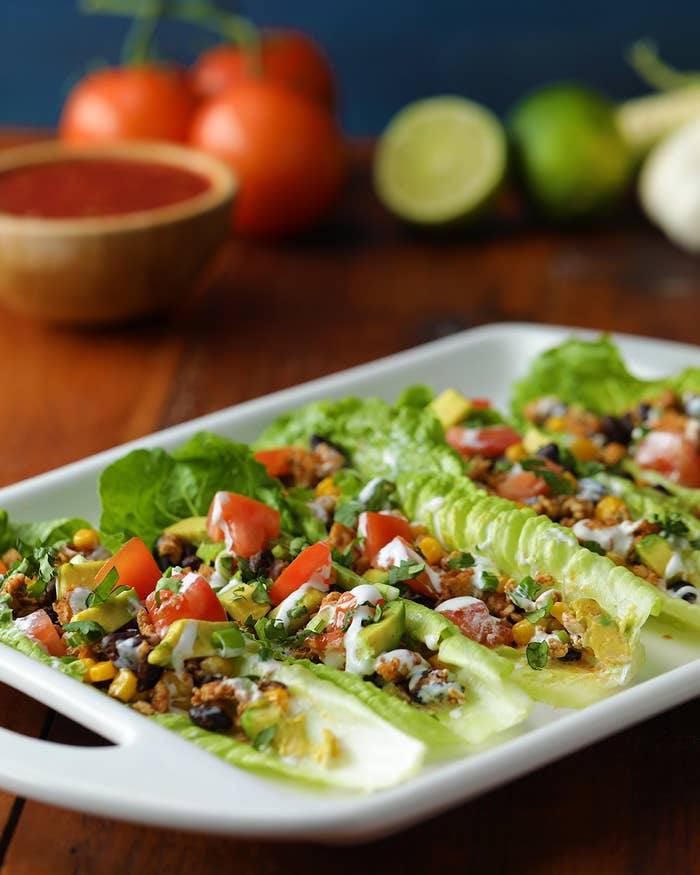 Servings: 8

INGREDIENTS:
Taco Filling
2 teaspoons salt
1 teaspoon chili powder
1 teaspoon paprika
1 teaspoon oregano
½ teaspoon cumin
½ teaspoon garlic powder
½ teaspoon onion powder
¼ teaspoon pepper
2 teaspoons olive oil
1 pound ground chicken
1 can black beans, drained and rinsed
1 cup frozen corn
1 scallion
1 avocado
1 tablespoon minced cilantro
Romaine hearts
1 small tomato, diced
Salsa (serve on the side)
Yogurt "Crema"
1 large clove garlic, minced
½ cup yogurt
1 lime, juiced
1 tablespoon olive oil
¾ teaspoons salt
PREPARATION:
Heat olive oil in large pan.

Make the taco seasoning: stir together salt, chili powder, paprika, oregano, cumin, garlic powder, onion powder, and pepper.

Add ground chicken and taco seasoning to the heated pan. Saute for about 5 minutes, stirring regularly, until cooked through.

Meanwhile, prep toppings: Slice scallions thinly. Dice avocado and tomato. Pull leaves off of romaine hearts.

Add black beans and corn to the ground chicken mixture. Cook an additional 1–2 minutes until warm. Remove from heat and set mixture aside.

Make yogurt crema: whisk together all ingredients until smooth.

Fill romaine "boats" with chicken and bean mixture. Sprinkle scallions, avocado, tomato, and cilantro on top. Drizzle with yogurt "crema" and serve with salsa. Enjoy!