1.
A highly portable small power bank charger because having a quick and easy way to get a charge on your phone is a MUST when traveling anywhere. (Especially when you know you'll be out all day!) Oh, and it has over 57,000 5-star ratings!

Check it out on TikTok here. 

Promising review: "This little gem is amazing! This year we were fortunate enough to do some local traveling and attend quite a few concerts this year. I take a ton of videos and pictures, often draining the battery. This power-packed product charged not only my phone when it was low, but my boyfriend's AND the girl next to her!! Since you can only take small bags into venues, this slipped right into the pocket behind my phone! We had numerous comments on it because of the little paw charge indicator. The flashing came in handy a few times when we found ourselves in the dark! I will be buying more and giving them as gifts this year!" —Annetastic
Get it from Amazon for $17.99+ (available in five colors).
2.
And a compact 3-in-1 foldable magnetic wireless charger that'll take care of charging up your iPhone, Apple Watch, and AirPods all at once without having multiple cables spread across your hotel nightstand. No more having to make a checklist of allll the chargers you'll be needing – just take this baby and you're all set!
See it in action on TikTok here. 
Promising review: "I use this product to charge my iPhone 13, AirPods, and Apple Watch. Prior to this 3-in-1 compact purchase, I have purchased three different kinds of 3-in-1 chargers — I frequently travel between school and home with carry-on bags on airlines and all of the previous stand version chargers doesn't fit well in my bags or I am always worried I would break. This is compact and folds so well that I can fit in my carry-on or in any zipper pockets without having to worry about breaking anything. Charger works really well and it is the best compact one you can find in market. Love it and been using it for two months now and no issues!!" —SBREDDY
Get it from Amazon for $33.99+ (available in nine colors). 

3.
A luggage drink caddy for anyone who considers Starbucks as essential as going through TSA when it comes to the airport. This sticks right on top of your wheeled luggage and has two pockets so that you can place your drink, phone, snacks, or whatever else you need out of your hands but within easy reach!
Reviewers say it's ideal for a suitcase that can roll on four wheels! If you have a suitcase that has to tilt while it rolls, just be careful if the drinks are open at the top.

Check it out on TikTok here.
Promising review: "This cup holder is perfect! It helps me a lot! Last time I took a plane with a suitcase and a cup of coffee, I dropped and spilled my drink everywhere when it was my turn to check my passport and ticket. It was a nightmare! This time, I bought this cup holder to do me a favor! I don't have to worry about where my cup and phone are! I can free my hands to do other things. I love it so much! Hope you love it too." —Philip
Get it from Amazon for $11.99+ (available in 27 colors and patterns). 
4.
A Trtl neck pillow with soft fleece support that might actually make a restful nap on a plane possible. (Imagine that!) Its ergonomic design keeps your head from nodding back and forth to help avoid aches and strains. Plus, it's a lot more stylish than a bulky neck pillow.
Unlike the regular U-shaped pillows, Trtl Pillows are machine-washable and fast-drying.

Check it out on TikTok here. 
BuzzFeed Shopping editor Ciera Velarde owns this comfy pillow and says: "I've used this for the past few years and swear by it! Before this, I always found traditional neck pillows uncomfortable and would end up ditching them halfway through the flight and getting frustrated. The Trtl pillow is adjustable — you wrap the pillow around your neck and secure it with Velcro, and if you find it's too loose, just make it a bit tighter! I've truly never slept better on a plane than with this pillow." 

Promising review: "Used it for a 14-hour flight to Japan last week, and it helped tremendously. This was the first time I was able to sleep on the plane so this helped tremendously. Definitely a must have for travel. It is very light so I was able to easily pack it in my under-the-seat wheeled trolley. I want to emphasize how much the light warmth of the fleece (and I don't like being hot) was just right to help me nod off to sleep. Since this is primarily for sitting upright in the seat or someone in the middle or the aisle seat, this was ideal for me. I just got back yesterday. Again I used it — this time for a 12-hour flight." —Ambience
Get it from Amazon for $59.99 (available in five colors).
5.
And a set of super-comfy wax earplugs because they'll let you finally be able to nap on your car or plane ride (despite your friend's constant snoring). They block out noises by comfortably molding to the shape of your inner ear! Perfect for when you're sharing a hotel room and you just. need. some. sleep.
Check them out on TikTok here.
BuzzFeed Shopping editor Emma Lord swears by these and raves: "The moldable silicone of Mack's Earplugs contours easily to the shape of your ear to block out noise much more effectively than other foam or plastic varieties, and the noise reduction is so good that if I pair them with a white noise machine (or just like a white noise loop on Spotify) I genuinely don't hear noises from outside my room. Not only that, but once they're in place, they stay locked there until you decide to pull them out.
Granted, I can still hear my alarm and like, if the fire alarm went off or something, I'd definitely wake right up. But noises that are distant and loud are pretty easily canceled out by these.
I've also *loved* these for traveling — if you put these babies in on a plane not only does it help reduce some of the YIKES factor when the plane takes off (it's loud!!), but it cancels out the murmuring noises of passengers on the flight and makes it easier to get some shuteye." 
Get 12 pairs from Amazon for $12.99.
6.
A handy RFID-blocking travel wallet that can store so many of your usual travel and wallet contents, you'll think Hermione cast an undetectable extension charm on it. It can store your passport, boarding pass, three credit cards, a slim card, your ID, a ticket, your phone, your coins, a key, a pen, and...I think that's it? This is great for keeping everything together, especially for a multidestination trip!
Check it out on TikTok here.

Promising review: "I needed a new travel wallet, and this holds everything I need all in one place, and it still closes nicely and stays flat! I can fit my boarding pass, passport, ID, credit cards, money, checked baggage tickets, receipts, and more in it, yet it doesn't bulk up or look like an overstuffed mess. It's just amazing. The description says it only holds US money, but I just used the boarding pass flap to hold all my Japanese Yen, which are larger. I didn't use the zippered pocket for coins as I much prefer a separate coin purse for that sort of thing. I definitely recommend to anyone who travels a lot!" —Anthony Luu
Get it from Amazon for $12.99+ (available in 38 colors).
7.
A large Béis suitcase you'll soon consider the luggage piece of your dreams. This spacious 29-inch suitcase features lots of pockets and can be expanded if you need that extra space (aka always). You won't even have to stress about its weight — it has a weight limit indicator that'll let you know if your baggage is too heavy! Be ready to look down on everyone else's ~basic~ luggage as you grab your super chic suitcase at baggage claim.

Reviewers also love this suitcase because it's easy to wheel around if you're walking through a terminal or hotel!
Check it out on TikTok here.
Béis is a woman-owned travel accessories brand founded by actress and entrepreneur Shay Mitchell. You'll find carry-on rollers, weekender bags, packing cubes, and more practical goods for your next trip!

Promising review: "Flawless! I am obsessed with this luggage. I ordered the three-piece set and the weekender bag! The zipper slot to slip the bag over the luggage handle makes loading and trekking through the airport so much easier. The interior of all pieces are great quality and I love the small touches (pockets, laundry bags, etc.) Zippers are all sturdy and the locks are very easy to use. A++!" —Lisa B. 
Get it from Béis for $328 (available in 10 colors and also in two smaller sizes). 
8.
Or a lightweight three-piece luggage set that comes with a 28-inch large suitcase, a 24-inch medium suitcase, and a carry-on 20-inch suitcase. They each have a TSA-accepted lock and 360-degree spinner wheels that'll make it super easy to rush from Starbucks to your gate when your realize your plane started boarding five minutes ago.
Check it out on TikTok here. 
Promising review: "I bought this a few months ago when I knew I'd be flying across the country (more or less) twice this past spring/summer; it was the first new luggage I had bought in about 25 years. I've taken the set on several trips now — two round-trip flights with plane changes, a couple of two-night road-trip hotel stays, a six-day 1,800-mile road trip, and a mandatory wildfire evacuation, and I really, really like it. It rolls like a dream on hard floors, sidewalks, and parking lots — makes it easy for two people to manage three suitcases, each with a laptop bag or duffel attached. The bright red color (my favorite shade of red) really pops and makes it easy to pick out of a luggage carousel. It's lightweight and goes in and out of a hatchback with ease. This set truly makes travel even more fun. Well worth the money." —Rachel
Get it from Amazon for $179.99+ (available in 22 colors).
9.
And a stylish and durable travel belt to make sure your tote bag stays attached to your suitcase handle as you walk (or in my case, run) to your gate.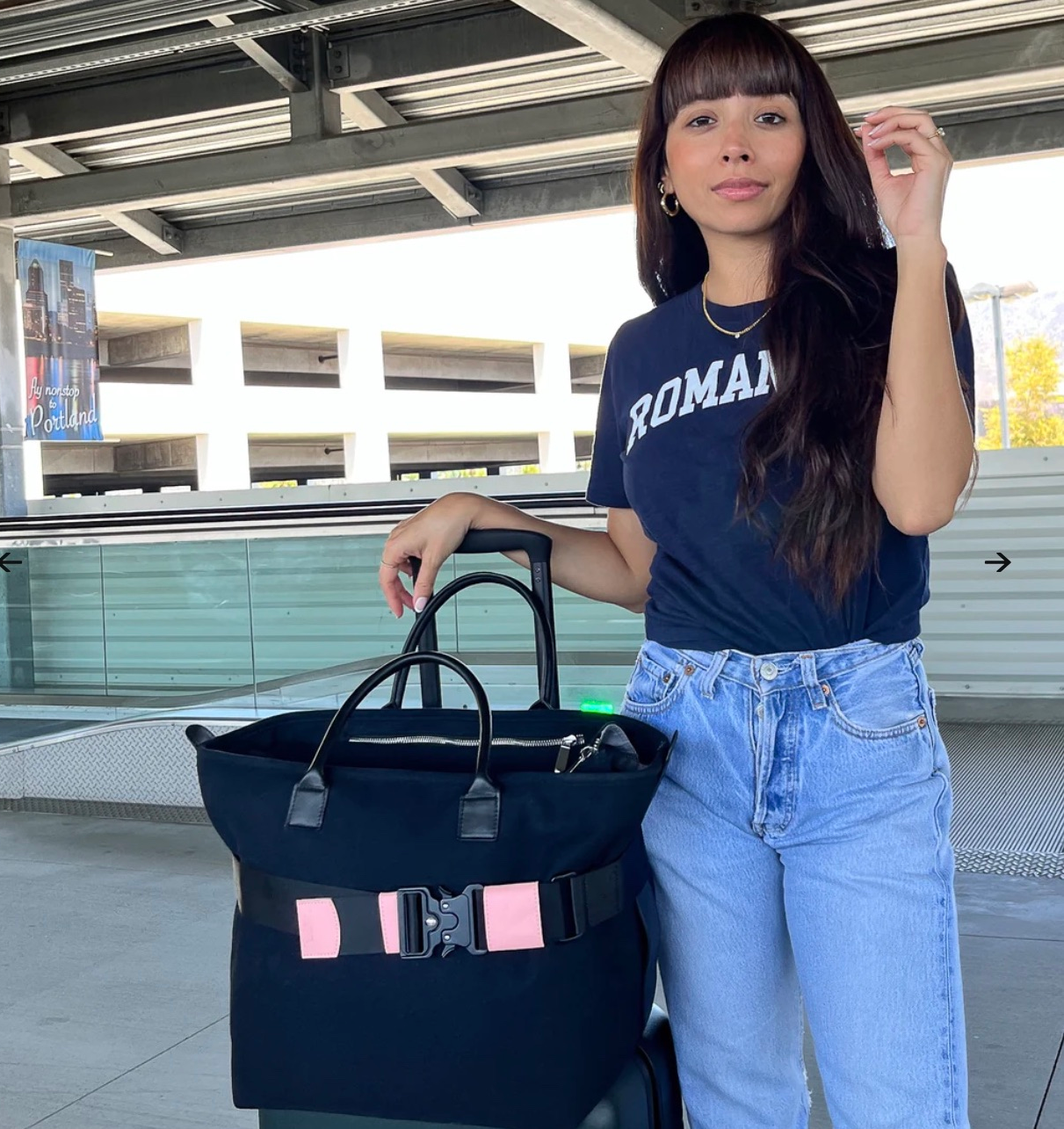 Cincha Travel is a small business based in Oakland, California that designs adjustable vegan leather travel belts. The brand, which is run by a BIPOC couple, donates 100 airline miles for each belt purchased from their site to help reunite migrant families.
Check it out on TikTok here.
Promising review: "Such a simple yet brilliant solution for the ever falling bag when trying to juggle all your luggage. It definitely made traveling less stressful." —Samantha
Get it from Cincha for $39.99 (available in 17 colors) or from Amazon for $35.99 (available in 10 colors).
10.
A pack of three compact pill organizers that make taking your daily vitamins and pills as easy as if you were home. They each have eight moisture-proof compartments, a double lock so that every pill stays in its place, and they come with handy labels.

Check it out on TikTok here.
Promising review: "I browsed several options for pill containers to use while traveling. I was looking for more than four compartments while still being compact. This container worked perfectly! The side with the two bigger compartments was necessary for my large daily multivitamin, while the smaller compartments held several doses of OTC medications to be used as needed. The container is very durable and I really like the security of the outside clasp. The standard weekly pill container I had been using was too long for my purse and the slots popped open on occasion. Not with this guy! I plan to use another one of the three containers for a first aid kit." —Melissa

Get a three-pack from Amazon for $6.62+ (available in three color combinations).
11.
A set of packing cubes if traveling thrills you, but the packing process that comes with it...doesn't. These compact containers will let you maximize the amount of space in your luggage and the number of outfits you're taking. It's a win-win!
This set comes with an extra large cube, large cube, medium cube, small cube, roomy shoe bag, and a laundry bag for dirty clothes!
Promising review: "I found out about the packing cubes on TikTok from a woman that travels all over and she mentioned these travel cubes and knew I had to get them. I travel and usually stay in one spot for more than a month so packing gets tricky. I can now pack more neatly and have more room for all the clothes I travel with." —Magen Vaughn
Get a six-piece set from Amazon for $21.99 (available in 13 colors).