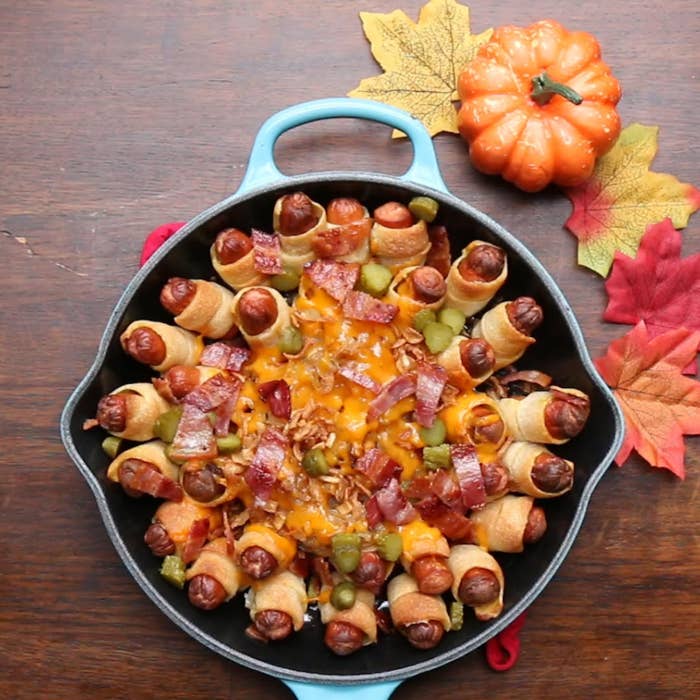 French's Mustard Hot Dog Ring
INGREDIENTS
1 packet pizza base dough
1 tablespoon (approx.)French's Mustard
1 packet 10 Frankfurters
1 tsp vegetable oil
150g caramelised onion
3 tablespoons Ketchup
3 slices cooked smoked streaky bacon
5 small cornichons chopped
50 grams Red Leicester cheese, grated
A handful of crispy onions
PREPARATION
1. Pre heat your oven to 180°C.
2. Roll out the pizza dough. Spread liberally with the French's mustard.
3. Cut the dough in half width ways and then cut into 15 rows lengthways.
4. Brush the pan with the vegetable oil
5. Cut the Frankfurters into 3rds and roll them in the dough.
6. Spread out in two rows around the rim of the pan, leaving some space in between one another. Bake in the oven for around 20mins until the dough is cooked and lightly browned.
7. Remove from the oven, add the ketchup and caramelized onions to the middle of the pan.
8. Top with the grated cheese and pop back in the oven for a further 5 minutes.
9. Once cooked garnish with the crispy shallots, chopped bacon and cornichons.
To make the onions:
10. Melt 30g unsalted butter in a frying pan on a medium heat.
11. Add the 2 large sliced onions, thyme sprigs and salt. Leave to cook, stirring occasionally until they are caramelised. Removed the thyme one cooked.
12. In another pan fry off the bacon until it is nice and crispy.