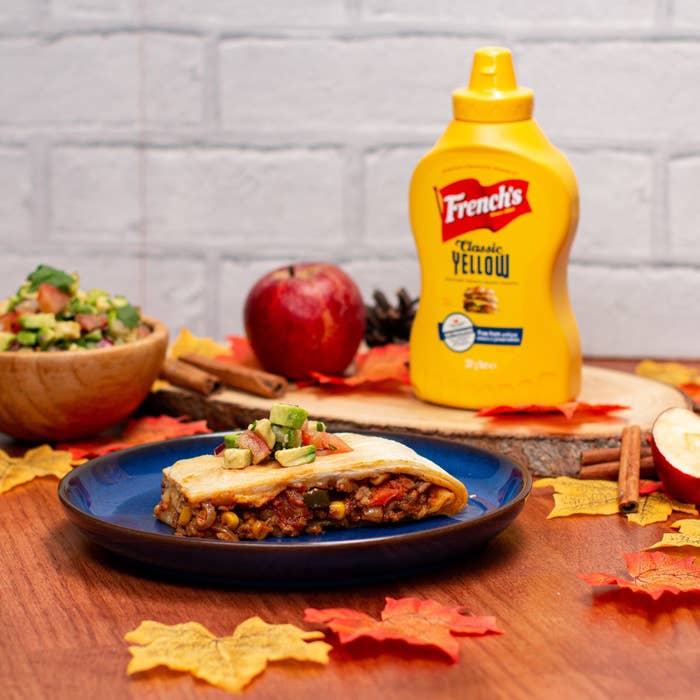 SERVES: 6–8
INGREDIENTS
300g beef mince
1 onion
2 cloves garlic
½ red chilli
1 red pepper, sliced
1 green pepper, sliced
150g sweetcorn
1 tablespoon olive oil
1 ½ teaspoon chilli powder
1 teaspoon cumin
1 teaspoon smoked paprika
1 400g tomatoes
200g kidney beans
8 tablespoons French's Original Mustard
12 flour tortilla wraps
400 grams cheddar cheese, grated
Salt and pepper, to taste
Handful coriander
Salsa
3 ripe avocados, diced
½ red onion, chopped
2 tomatoes, diced
¼ cup fresh cilantro(10 g), chopped
2 limes, juiced
2 cloves garlic, chopped
salt, to taste
pepper, to taste
3 tablespoons red wine vinegar
PREPARATION
Start by making the chilli. Finely slice the onion, garlic, red pepper, green pepper, sweetcorn and chilli. Fry in the olive oil over medium heat for around 7–8 minutes or until soft.



Add the chilli powder and cumin, smoked paprika, and oregano and fry for a further minute.



Add the mince to the pan and cook until all the mince is browned.



Add the chopped tomatoes, kidney beans, 3 tablespoon of the French's Original Mustard, and a good pinch of salt and pepper and continue cooking for around 15 minutes, until you have a thick, saucy chilli.



Take a flat baking tray and lightly grease. Lay 8 tortilla wraps on the tray, overlapping each other and hanging over the sides of the tray.



Sprinkle on half of the grated cheddar cheese, and then spread the chili over the top, leaving space around the edges.



Sprinkle the rest of the grated cheese over the chilli and then drizzle the remaining 3 tablespoons of French's Original Mustard.



Put the last 4 wraps overlapping each other on the top of the chilli, and then fold the edges of the wraps underneath around to seal the edges. Use dollops of French's Original Mustard as a glue to stick the wrap edges down.



Bake in an oven at 160°C for 25–30 minutes, until the top wraps are golden brown and going crispy.

Meanwhile, prepare the salsa. In a medium bowl, combine all ingredients and gently mix together. Set aside.

Flip the quesadilla tray bake over onto a serving board, cut into thin strips, and garnish with an extra drizzle French's Original Mustard your fresh salsa of some coriander leaves.