Bacon Cheeseburger Mac And Cheese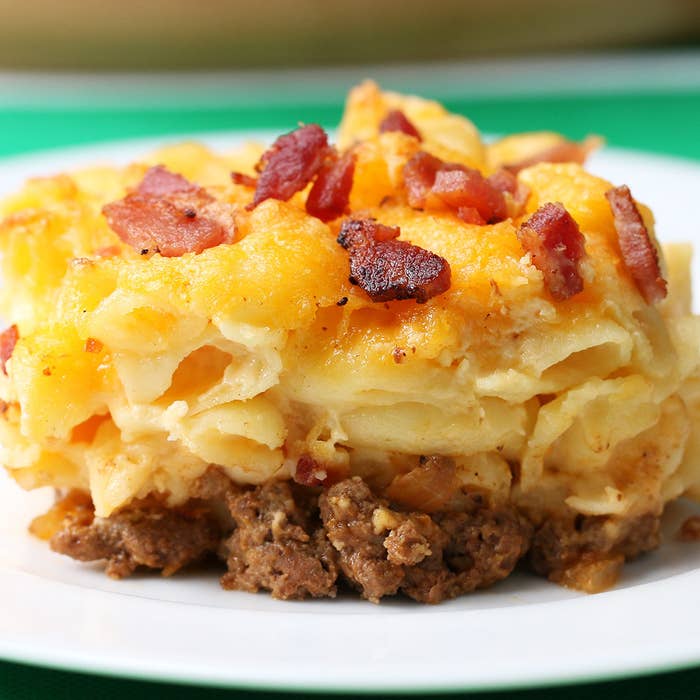 INGREDIENTS
Servings: 12
½ pound bacon
1 pound lean ground beef
Salt, to taste
Pepper, to taste
¼ cup finely chopped onion
2 tablespoons French's Ketchup
1 tablespoon French's Mustard
4 cups whole milk
¾ pound large elbow macaroni
1 cup American cheese, chopped
2 cups shredded cheddar, plus 1 extra cup for topping
PREPARATION
1. Preheat oven to 400ºF/200ºC.

2. Cook bacon in a cast iron skillet until crispy. Then remove the bacon and set aside. Reserve 1 teaspoon of bacon fat in the pan. (Chop the bacon once it's cooled.)

3. In the same pan, cook beef until browned. Break apart while cooking and add salt and pepper. 

4. Once the beef is browned, add onion and continue cooking until the onions are translucent, then add ketchup and mustard. Stir until slightly thickened. Set aside, but keep in the skillet.

5. Simmer milk in a large pot, then add pasta and some salt, and cook until slightly underdone. Add cheeses and stir until thick and creamy.

6. Pour the macaroni and cheese over the beef in the cast iron skillet and top with the extra shredded cheese. Bake 15-20 minutes, or until bubbly, then top with chopped bacon.

7. Enjoy!