Cheese-Stuffed Slow Cooker Jalapeño Meatballs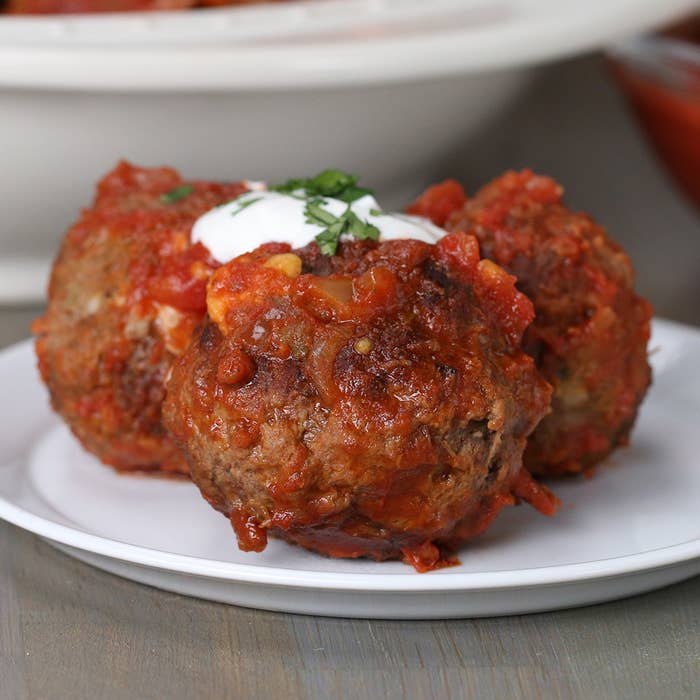 INGREDIENTS
Servings: 12-14 meatballs
1 5-ounce container French's Crispy Jalapeños
1 pound ground beef
2 cloves garlic, minced
1 teaspoon onion powder
1 teaspoon garlic powder
Salt, to taste
Pepper, to taste
1 egg
3 ounces jack cheese, cubed
2½ cups salsa
Vegetable oil
Optional Garnish
Sour cream
Cilantro
PREPARATION
1. In a bowl, combine all ingredients except the cheese, salsa, and vegetable oil. Stir until fully incorporated.

2. With your hands, grab about a golf ball-sized amount of the ground beef mixture and slightly flatten it in your palm. Take 1 cube of cheese, place it in the the middle, and press the beef around it so the cheese is fully covered and in the center of the meatball.

3. Heat a thin layer of vegetable oil in a pan over medium to medium-high heat.

4. Once the pan is hot, brown the meatballs. Rotate them a few times to brown several sides. 

5. Pour 1 cup of salsa in the bottom of the slow cooker and place the meatballs on top. Cover meatballs with the remaining salsa and cook on high for 1 hour and 15 minutes.

6. Top with a dollop of sour cream and cilantro.

7. Enjoy!