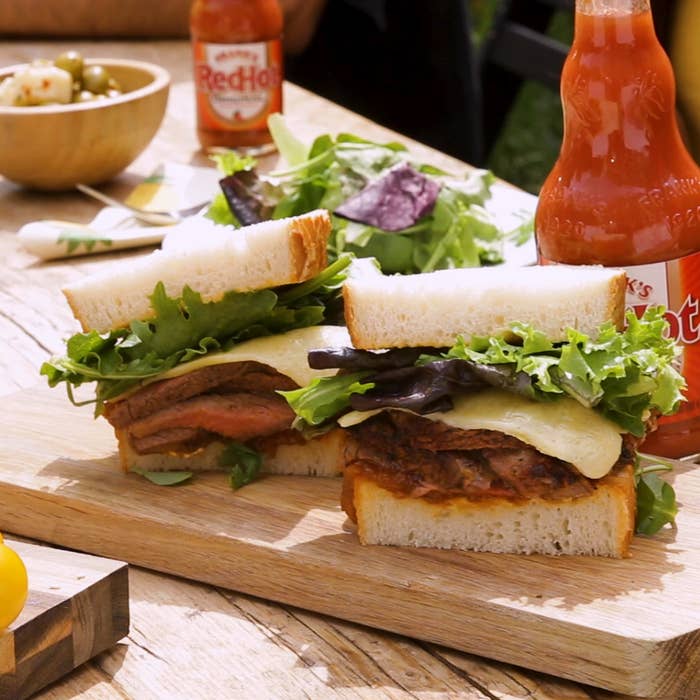 Serves: 2
INGREDIENTS
70 grams Frank's RedHot Sauce
10g fresh Rosemary, chopped finely
2 tablespoons olive oil
1 tablespoon salt
1 tablespoon pepper
2 sirloin steaks (225 grams each)
250g shallots
2 tablespoons sugar
60g Butter
330ml dark ale
X4 thick slices tiger bread
100g provolone cheese
PREPARATION
Place a frying pan over a low medium heat, add 2 tbsp butter, once foamy, add the shallots, stirring constantly until soft and golden.

2.Add 1 tbsp butter and the sugar to the onions. Stir over low-medium heat for 2 minutes.

3. Next Increase the heat, stir in the beer and bring to a boil. Reduce the heat and simmer, stirring occasionally, until onions are golden brown and all the beer has evaporated.

4. Remove from the heat and pour in 20g Frank's RedHot Sauce and stir to combine and set aside.

5.Next make the marinade by mixing 50 grams Frank's RedHot Sauce, rosemary, olive oil, salt + pepper in a small bowl.

6. Rub Your hot sauce marinade all over the steaks.

7. Carefully lay the steaks on the BBQ and cook for 2-3 minutes a side for medium rare or 4-5 miniutes for medium to well done. Once cooked, remove from the BBQ and rest for 4 minutes then thinly slice the steaks.

8.Generously butter the bread, top with baby leaf lettuce, slices of beef, cheese, and beer caramelised spicy onions.