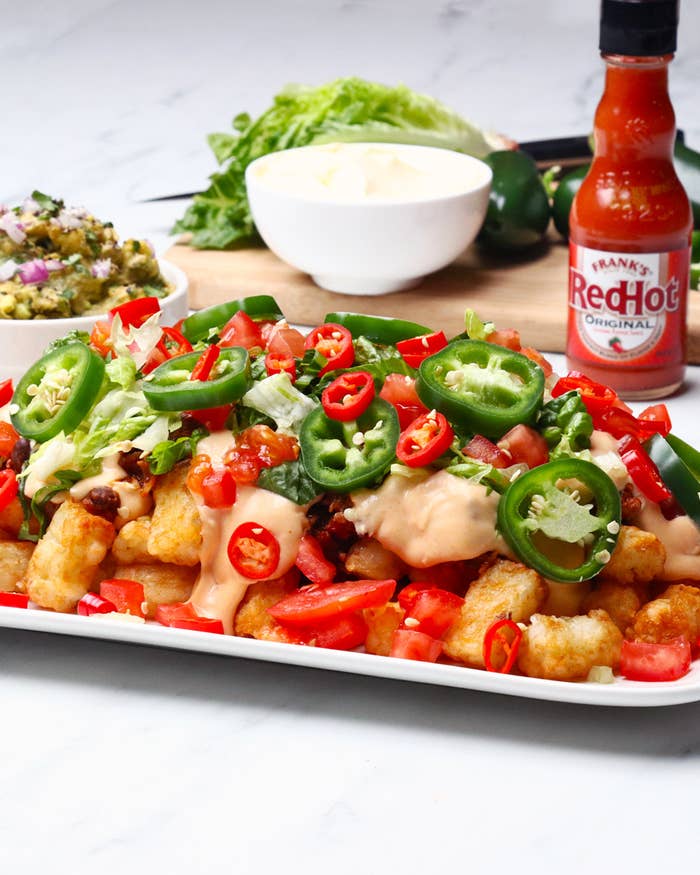 Ingredients
- 1kg potato gems
For the chilli beef
- 500g minced beef
- 2 tbsp olive oil
- 1 onion
- 3 garlic cloves
- 2 tsp chilli flakes
- 2 tsp cayenne pepper
- 2 tsp cumin
- 1 tbsp paprika
- 1 tbsp salt
- 1 tbsp pepper
- ½ cup beef stock
- 1 tbsp tomato paste
- 200g diced tomatoes
- 400g black beans
- 3 tbsp Franks Hot Sauce
For the queso
- 375ml evaporated milk
- 1 ½ cups tasty cheese, grated
- 1 tbsp corn flour
- 3 tbsp Frank's Hot Sauce
Toppings
- 4 leaves cos lettuce, finely chopped
- 3 jalapeno, diced
- 1 red chilli, diced
- 1 tomato, diced
- Frank's Hot Sauce to drizzle
- Guacamole to serve
- Sour cream to serve
Preparation
STEP 1: In a large pot add olive oil, diced onion and garlic, and cook until soft. Add beef mince and stir to break up. Once the meat has browned add chilli flakes, cayenne pepper, cumin, paprika, salt, pepper, and tomato paste, then stir until combined. Add beef stock, crushed tomatoes, black beans, and Frank's Hot Sauce, and gently stir. Allow the chilli to simmer for 45 minutes, stirring occasionally.
STEP 2: Evenly spread potato gems on a baking tray and bake for 25 minutes at 220C.
STEP 3: To make the queso add the evaporated milk to a small saucepan. Combine corn flour with grated tasty cheese and add to the saucepan. Stir constantly until the cheese has completely melted and the sauce starts to thicken, then add Frank's Hot Sauce.
STEP 4: To build the Taco Tots lay cooked potato gems on a large plate. Top with chilli beef mix, then layer with queso sauce, cos lettuce, diced tomato, jalapeños, red chilli, and drizzle with Frank's Hot Sauce.
STEP 5. Serve with guacamole and sour cream. Enjoy!