Buffalo Chicken Bombs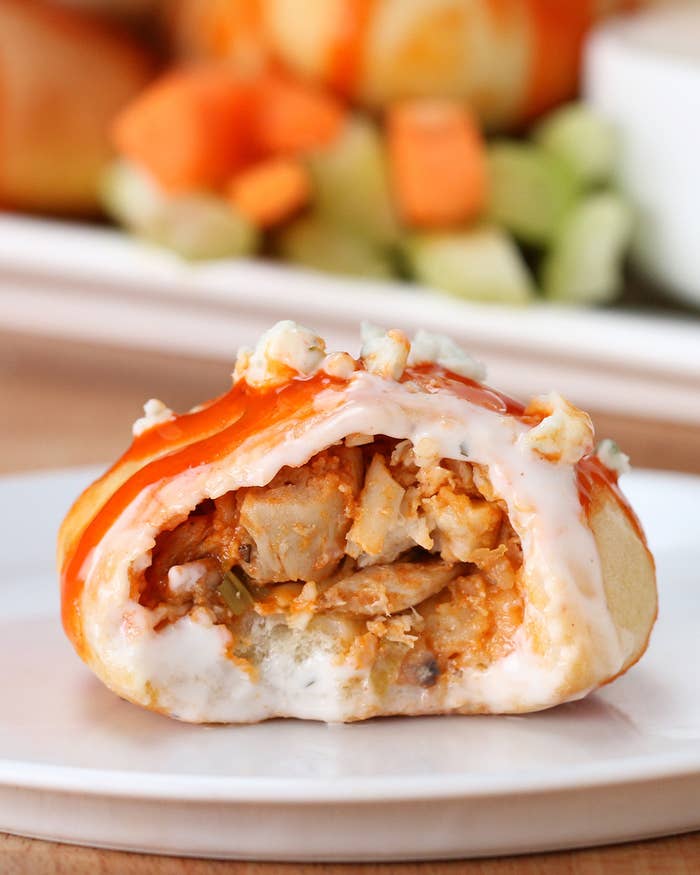 INGREDIENTS
1 cup rotisserie chicken, chopped
¾ cup Frank's RedHot Buffalo Sauce
½ cup mozzarella, shredded
¼ cup green onion, chopped
1½ pounds pizza dough
2 tablespoons olive or vegetable oil
3 tablespoons blue cheese crumbles
Extra Frank's RedHot Buffalo Sauce for garnish
Blue cheese dressing for dipping
PREPARATION
1. Preheat oven to 425ºF/220ºC.
2. Mix the chicken with Frank's RedHot Buffalo Sauce, green onion, and cheese.
3. Gently flatten a small piece of dough in your palm (slightly smaller than a golf ball) and put approximately 1 teaspoon of the chicken mixture into the dough. Pinch the dough together to form an enclosed ball and place on a nonstick baking sheets (or line your baking sheets with parchment paper if they're not non-stick).
4. Brush bombs with oil and bake for 20-25 minutes or until golden brown.
5. Top with blue cheese crumbles and drizzle with additional Frank's RedHot Buffalo Sauce. Serve with blue cheese dressing, celery sticks, and carrots.
6. Enjoy!