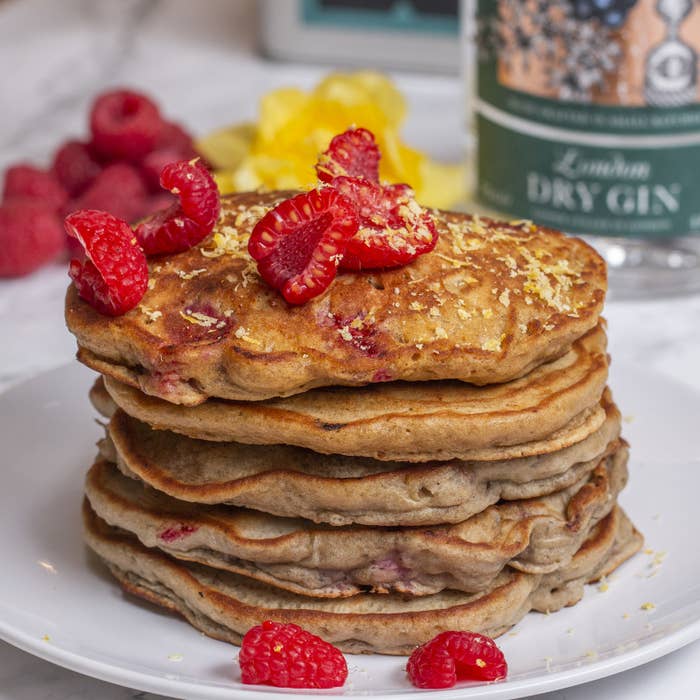 Makes 6 pancakes
INGREDIENTS
7 ounces whole milk
2 Earl Grey tea bags
1 teaspoon vanilla bean paste or vanilla extract
1 cup self-rising flour
1/2 teaspoon baking soda
1/4 cup super-fine sugar
1 egg
1/4 cup London Dry Gin
5 ounces raspberries, halved, plus extra to serve
Oil or butter, to fry
Zest of 1 lemon
English Meadow Honey, to serve
PREPARATION
1. Add the milk, Earl Grey tea bags, and vanilla to a small saucepan. Place over a medium heat and bring to a simmer.
2. Take off the heat and leave to infuse until cool, stirring regularly.
Once cool, squeeze the tea bags against the side of the pan and remove, ensuring all liquid has been strained.
3. In a large bowl, mix the self-rising flour, baking soda, and super-fine sugar.
4. Add the cracked egg, gin, and cooled infused milk to the dry ingredients and stir until fully combined — do not worry about lumps, as it is best not to overmix the batter.
5. Gently fold in the halved raspberries.
4. Preheat a large frying pan over a medium heat.
5. Add a dash of oil or butter to the pan; then immediately spoon the batter in.
(Remember to re-grease the pan in between batches.)
6. After a minute or so, when the pancake batter bubbles and the bubbles pop
leaving holes in the top of the pancake, flip the pancake and cook for another minute.
7. Stack the pancakes on a plate, with a garnish of lemon zest, honey, and additional raspberries.
8. Enjoy!