1.
Caramelized Pork Bánh Mì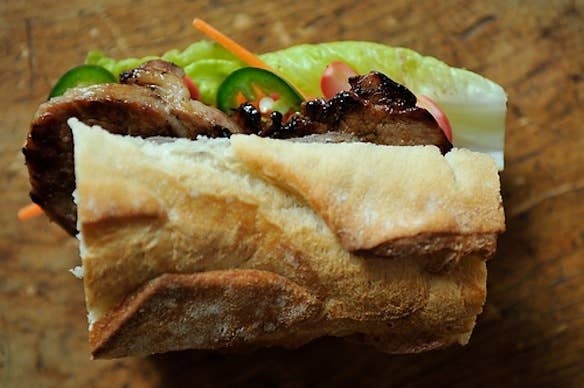 Serves 4-6
For the caramelized pork:
1-1.5 lbs. pork tenderloin
3 Tbsp. fish sauce
2 Tbsp. maple syrup
1 Tbsp. brown sugar
2 Tbsp. soy sauce
1/2 tsp. sesame oil
2 garlic cloves, minced
1 slice ginger, minced
1 green onion, sliced thinly
1/2 tsp. black pepper
2 Tbsp. vegetable oil
Cut tenderloin across the grain of the meat into ½-inch pieces. Flatten each piece to an even ¼ inch between two pieces of plastic wrap using a meat pounder, rolling pin, or large bottle.
Mix ingredients from fish sauce to black pepper. Taste and adjust seasoning – it should be sweet and savory, so add more soy, salt, or sesame oil to taste. Add marinade to the meat, and use your hands or large spoon to make sure all pieces of meat are coated in marinade. Marinate for 10-30 minutes.
You can cook the pork on the grill outdoors (best) or indoors using a grill pan or cast-iron pan, something that you can get very hot. Heat grill or grill pan to high and turn on that vent fan! Add vegetable oil to meat and stir to coat. Sear first side of meat until very dark brown on one side, then flip and sear on the second side. Be careful not to overcook it. The meat is thin, so it cooks quickly, one or two minutes on each side.
For the pickled carrots and radishes:
1/4 lb. baby carrots, peeled
1 bunch red radishes, preferably breakfast radishes (daikon are more traditional; I just think red radishes are beautiful)
1/2 cup water
1 cup apple cider vinegar
1 Tbsp. salt
2 Tbsp. sugar
Slice carrots and radishes into quarters (or sixths for thicker guys) lengthwise. Mix all ingredients together. Taste for seasoning. Let stand as little as an hour or as long as overnight. They keep for several days.
For the bánh mì assembly:
1 loaf sweet French baguette (thin) or French bread sandwich rolls (try to get the kind of French bread with a crisp crust and tender light center)
red leaf lettuce
caramelized pork (see above)
pickled carrots and radishes (see above)
sliced jalapeño chili peppers
cilantro
pâté (optional, but recommended)
mayonnaise
To assemble sandwiches, slice baguette and spread mayonnaise on one side, pâté on the other. Add lettuce, meat, pickled vegetables, cilantro, and peppers. Dig in!
2.
Ginger Spiced Molasses Sugar Cookies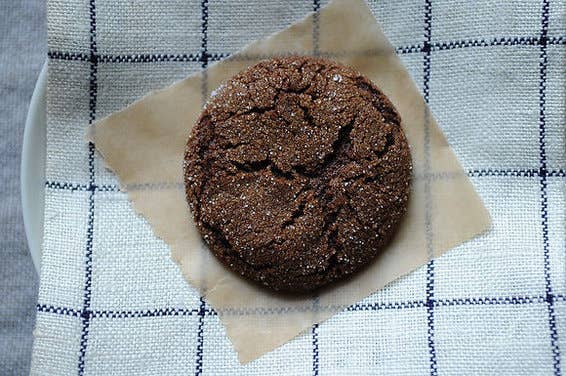 3.
Roasted Carrot Soup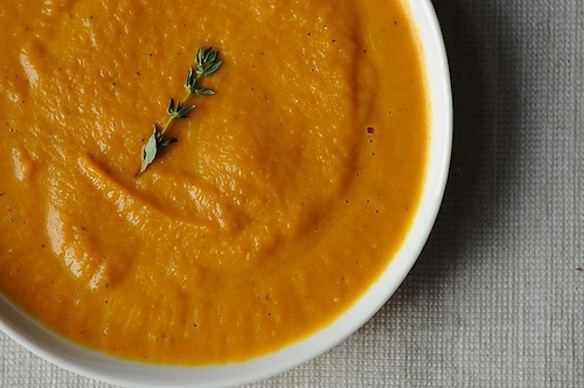 4.
Ginger Apple Torte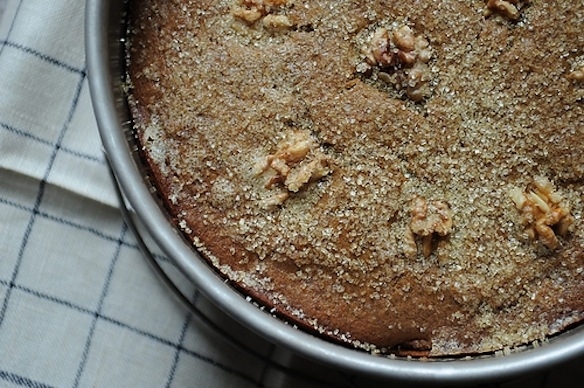 5.
Ginger Molasses Pumpkin Bread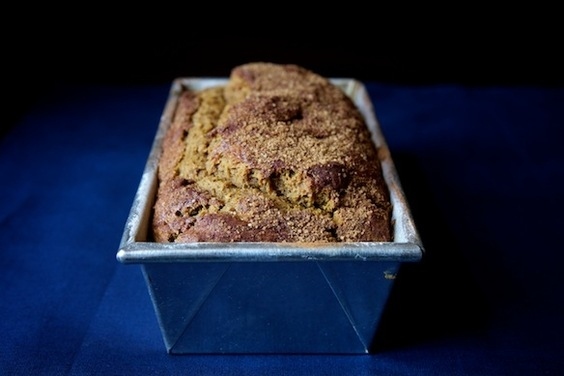 6.
Salmon Papillotes with Red Peppercorns, Lime, and Fresh Ginger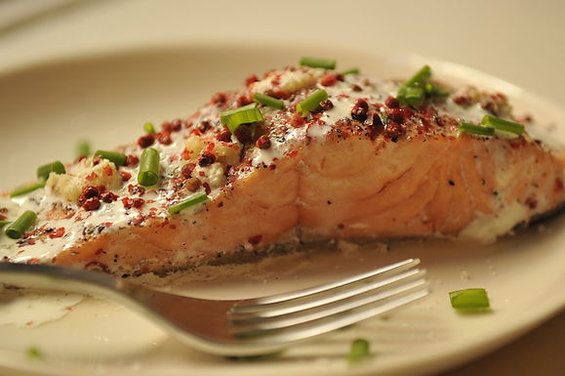 7.
Tuna Burgers with Wasabi Ginger Mayo