For the first time women in the UK can self-administer a contraceptive injection at home.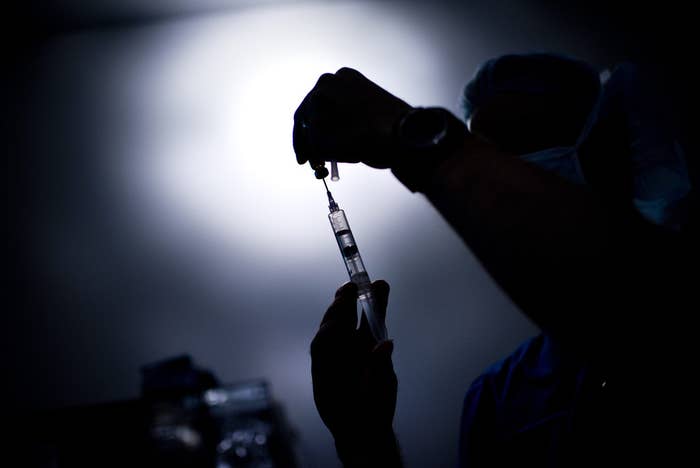 Sayana Press, a long-acting reversible contraceptive, has been available in the UK since 2013. However, it has now been launched under a new licence giving women the option to self-administer at home instead of having to go to a GP surgery or clinic for repeat injections every two to three months.
Anatole Menon-Johansson, the clinical lead for sexual and reproductive health at Guy's and St Thomas' NHS Foundation Trust, told BuzzFeed News that the new licence should make the contraceptive more effective, since a lot of women had failed to come back in time for their follow-up injections.
"This is the fourth-best [of all contraceptives] in terms of efficacy with typical use," he said.
"The failure rate with typical use is about 3 per 100 a year, and that's because a lot of women don't come back in time for their injection, or can't get access to the injection.
"So the innovation about having a self-injectable depo is that, in theory, she's not going to have any break in contraceptive cover, therefore it should be more effective."
After an initial training session by a medical professional, women can receive a 12-month supply of Sayana Press, with each jab providing contraception for at least 13 weeks. Women will also be required to have yearly check-ups.
In a statement, Pfizer medical director Selma Patel said the new option could offer a convenient alternative for some women.
"With around 5 million women in the UK choosing a hormonal contraceptive," Patel said, "self-injectable Sayana Press could offer an alternative to women who are short on time yet still want to take control of their family planning."
The contraceptive injection is available on the NHS.
Menon-Johansson said it was important for women to be aware of the contraceptive's side effects, such as change in mood, change in bleeding patterns, and increased appetite.
"Seven out of ten women's periods stop after a year on it," he said. "There's nothing wrong with that – for some women that's a great benefit. But it's an important side effect they need to know about.
"You might notice a change in your mood, sex drive, skin, and appetite. There has been no evidence of change in weight for any of the other contraceptive methods, but there has been with this, so that's just one thing to note."
Menon-Johansson added that "all contraception is an experiment for the woman".
"She needs to know what's going to work for her," he said. "What's nice is we have many options available."