A Student Is Being Investigated For Racism Over A Facebook Post That Said Black People Are Full Of Hate
A spokesperson for the University of East Anglia told BuzzFeed News it has a zero-tolerance approach to incidents of this nature.
The University of East Anglia has launched an investigation after a student posted a racist comment on Facebook describing black people as "violent" and "full of hatred, vengeance, and prejudice".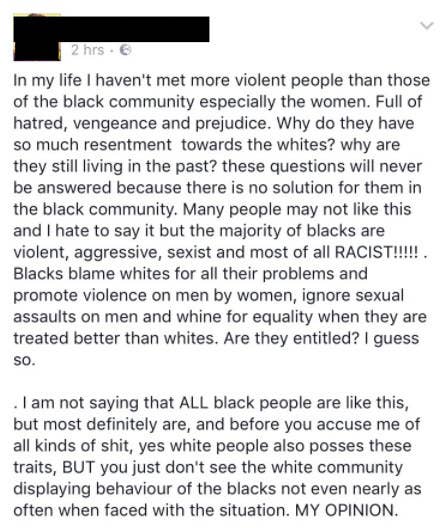 In the Facebook post, which has since been deleted, the student said they had never met more violent people than those in the black community. The student also described black women as being among the worst.

Here is the post in full:
In my life I haven't met more violent people than those of the black community especially the women.

"Full of hatred, vengeance and prejudice. Why do they have so much resentment towards the whites? why are they still living in the past? These questions will never be answered because there is no solution for them in the black community.

"Many people may not like this and I hate to say it but the majority of blacks are violent, aggressive, sexist and most of all RACIST!!!!!


"Blacks blame whites for all their problems and promote violence on men by women, ignore sexual assaults on men and whine for equality when they are treated better than whites. Are they entitled? I guess so.


"I am not saying that ALL black people are like this, but most definitely are, and before you accuse me of all kinds of shit, yes white people also posses these traits, BUT you just don't see the white community displaying behaviour of the blacks not even nearly as often when faced with the situation. MY OPINION.
The student also posted in the Student Room forum, asking others for advice about whether he could be kicked out of university for the comments he made.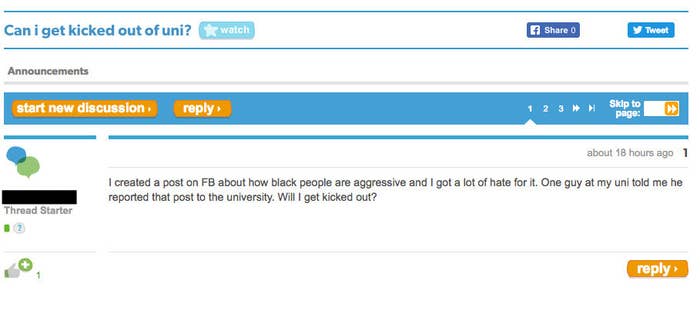 "I created a post on FB about how black people are aggressive and I got a lot of hate for it," the student said said. "One guy at my uni told me he reported that post to the university, will I get kicked out?"
In a statement to BuzzFeed News, Dr Jon Sharp, director of student support services at the University of East Anglia, said the university has a zero-tolerance approach to incidents of this nature.
"UEA has a diverse campus community and all students are expected to treat others with respect, according to our student regulations," he said.

"We take any incident of this kind extremely seriously and an investigation is already underway. If that investigation determined that our regulations have been broken then appropriate disciplinary action will be taken.
"It would be inappropriate to comment further until the investigation is concluded."
Quenelle Forbes, a blogger and English literature and philosophy student at the university, said she was shocked by the student's comments on Facebook and quickly reported them to the institution.
She also said the post has made her and many others students feel uncomfortable and fear for their safety when they go back to university in September after the summer break.
Shortly after it was reported to the university, the entire Facebook post was deleted.
The UEA Twitter account also replied to Forbes letting her know they were looking into the matter.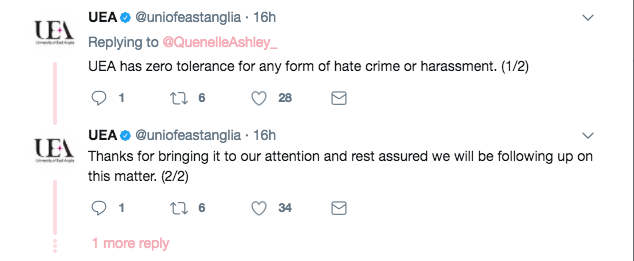 Forbes, 19, who is the ethnic diversity officer for UEA's African and Caribbean Society (ACS), said she first came across the racist Facebook post when it was shared in the ACS committee's WhatsApp group chat.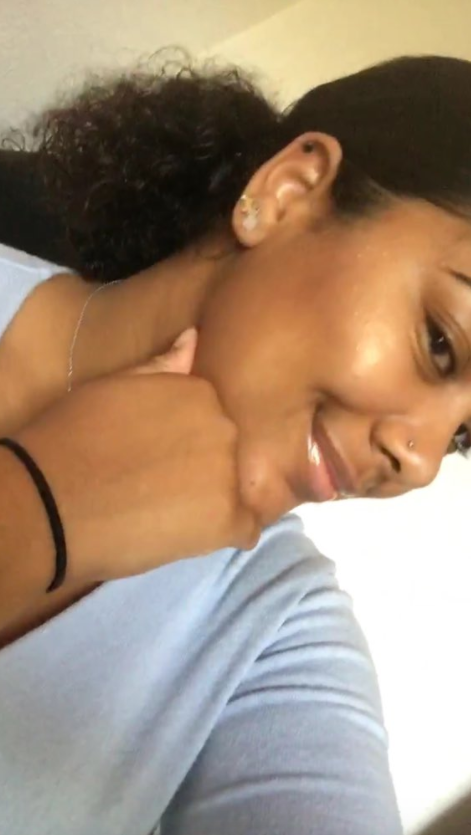 "At first we just thought it was something from Twitter, but when we found out it was someone from our uni we were outraged and disgusted," she said.

"Most people don't know that UEA has a thriving black community, which is why ACS took responsibility on not letting this type of behaviour slide at our university."
Forbes decided to reply to his comments, but said the student quickly deleted it so no one could read her reply. "This is why I decided to tweet about it," Forbes added. "Because I didn't want him to get away with deleting what I said."
Forbes said that she wants the university to take further action.
"I want the university to properly investigate and take proper action to send a message to other people within the university that racism is not ok," she said.
"I feel uncomfortable, and I'd have to think about my safety whether I'd feel safe on campus around someone who has these racist feelings towards black people."
Shortly after deleting the offensive post, the student posted an apology on their Facebook page.
Here is the apology in full:

Hello everyone. Recently I have created a highly offensive post, which shown people of the black community as being violent and although I did not mean to offend anyone or target certain individuals, certain people, and friends at UEA took offence to the post.

Right now, after reading the post I realised that my post was quite racist and mean and I really regret posting it at this point.

I had no ill intentions behind the post and I did not target certain individuals at UEA as I respect everyone equally. I understand I acted stupidly and out of my emotions and some of my dear colleagues suffered therefore from my foolishness.

I really hope that this misunderstanding can be cleared as I made a post without thinking about the consequences.

I was blind and uneducated about how much people of the black community go through and I hope i will be given a second chance as I made a huge mistake and the people who know me know that it wasn't my true self.
BuzzFeed News has reached out to the student for comment.