In the wake of the mass shooting at a gay nightclub in Orlando, Florida, members of Britain's Muslim LGBT community expressed solidarity and shared their own fears and experiences.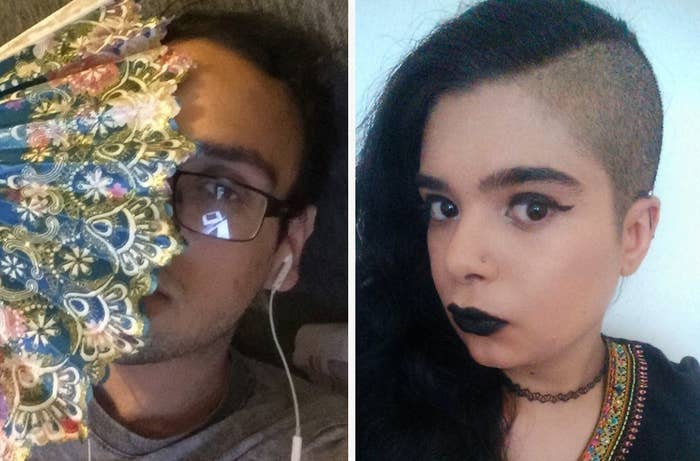 Gunman Omar Mateen opened fire with an assault rifle inside the Pulse nightclub on Sunday morning, murdering 49 people and wounding 53 others. The club was hosting a special Latin LGBT night.
Noorulann Shahid, a queer, trans Muslim from Manchester (who uses the pronouns "they/their/them"), gave their thoughts on Twitter.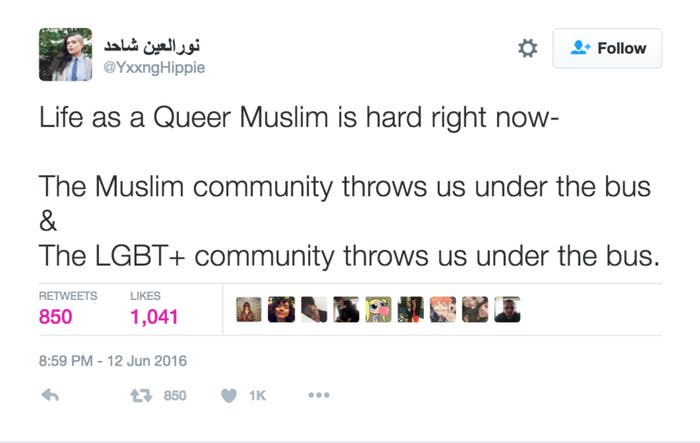 Shahid told BuzzFeed News that queer Muslims feel "absolutely torn and conflicted" following the recent tragedy, and fear that it will be used to "brand Islam as a hateful religion".
"We face racism and Islamophobia in the LGBT+ community, and while we want to denounce the attacks as nothing to do with Islam, there is [homophobic and transphobic rhetoric] within the Muslim community," they said.
"My message to the Muslim community is that before you say this attack was not in our name, think about the hatred and violence towards LGBT people that gets preached," Shahid said.
"[I want] to send all my love to the Latinx community, the queer community, especially fellow queer Muslims [who are] not out due to safety reasons – you are not alone."
Adam Dar – a trans nonbinary Muslim from Birmingham – told BuzzFeed News that on first hearing about the Orlando shooting they were "overcome with anger for the perpetrator and immense sadness for the victims and their families".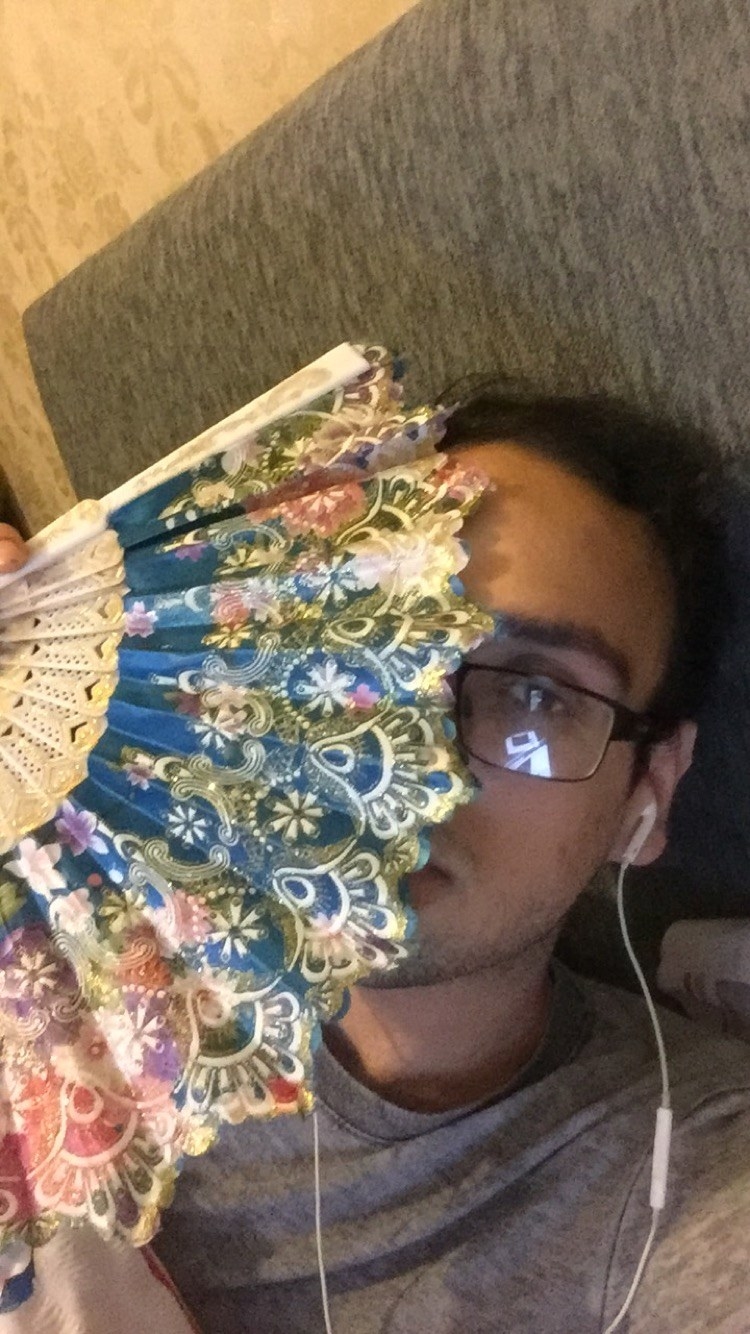 But the 25-year-old said their heart sank further when news broadcasters read out the shooter's Muslim name. Dar said it was like "both worlds" – the LGBT community and Muslim community – had clashed in a horrific way.
"Someone from the Muslim community – my own community – carried out [this] attack," Dar said. "I knew then [that queer Muslims] would be caught in the crossfire of discourses set to come."
Dar, a postgraduate international history student, said the impact of the tragedy was almost instant. "I began receiving messages asking me to choose between my sexuality, gender identity, and my faith."
Dar even received stories from people who had lost friends because they no longer wanted to be associated with people who shared the same faith as the shooter. Dar also heard people cursing the mainstream media that they viewed as giving "more time to a 'bunch of gays' than those in Syria, Iraq, and Afghanistan".
Queer Muslims, Dar added, often feel neglected, hardly acknowledged, and "trapped as the middle person having to tip-toe around such multifaceted identities".
Dar said they hope Muslim and LGBT communities will open up about these issues to help avoid further tragedies.
"I didn't know how to describe how I felt," a British 20-year-old pansexual of Iraqi descent told BuzzFeed News, after hearing about Orlando. "At first I felt numb and then the fear kicked in – the feeling that I won't be safe if I ever come out."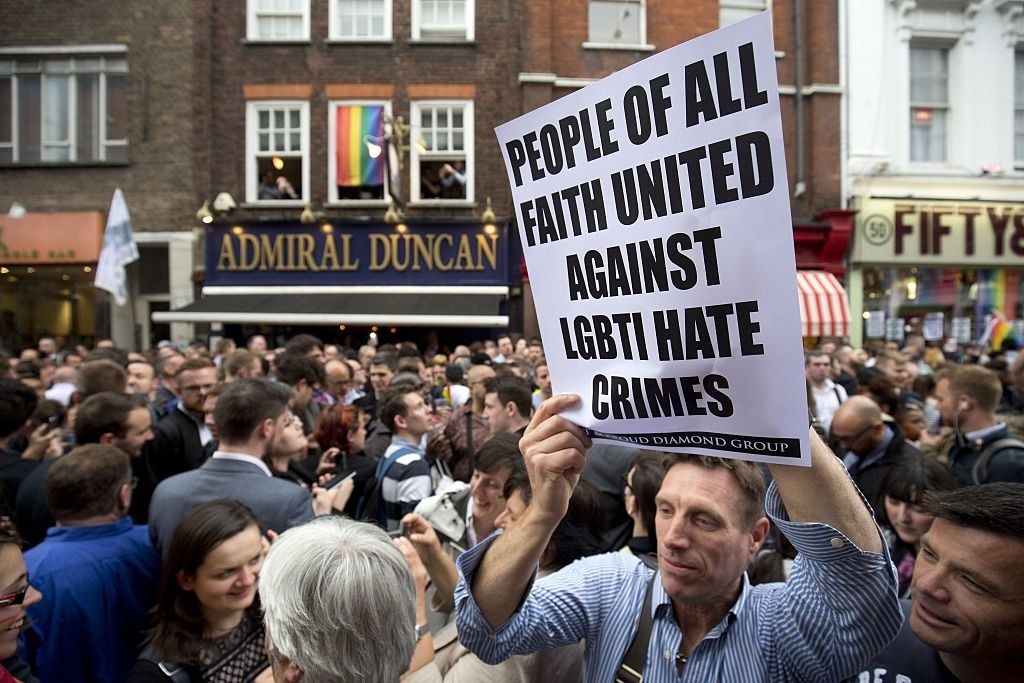 Zahra, not her real name as she wished to remain anonymous, said she "felt depressed, anxious, and secretly wondered why Allah couldn't have just made me straight".
She told BuzzFeed News of the tension that exists for queer Muslims: Islamophobia deems Muslims as too "evil, old-fashioned, [and] backwards" to accept homosexuality, and many in the British Muslim communities do view homosexuality as a sin.
"Overall, both communities essentially deny that queer Muslims exist," Zahra said. "Being a queer Muslim is exhausting and since this tragedy it will be even more so."
As well as not being openly queer, Zahra said that she is not visibly Muslim either, since she doesn't wear the hijab.
She also worries that many Muslim communities will "continue to pretend that [there] isn't a problem" with homophobia and simply "avoid the issue".
"Most Muslim scholars who apparently spoke out against the Orlando tragedy refused to mention the queerness of the victims, which in my opinion is also homophobic," she said. "And, at the same time, we fear for our lives and wellbeing as Muslims."
Zahra said that there aren't enough safe spaces for queer Muslims in the UK, and the ones that are available are not well funded.
"LGBT Muslims need a platform where we can feel safe and not necessarily have to be out in the open about our identity if we don't feel safe enough [or] protected," she said. "We need the tools to be able to be critical of the fiqh [religious theory] from traditional Islamic scholars... We have been following the same fiqh for centuries."
On Twitter Maria Munir, the nonbinary student who came out to Barack Obama, said that "piety is not for us to decide".
On Facebook a trustee of the Inclusive Mosque Initiative – a voluntary organisation that provides a place of worship for Muslim LGBT people of all backgrounds in the UK – released this statement:
In the post, Tamsila Tauqir sent her condolences to all those affected by the Orlando tragedy. Tauqir also said it was important to show solidarity, but to also remember the everyday and systemic victimisation of LGBT+ communities.
"To truly protect LGBT+ people you can't simply see us as victims of one major attack carried out by one person," she said. "We are put through micro attacks all the time: poor healthcare systems that fail transgender people, poor financial systems that exclude LGBT+ family structures, erasure from sex education in schools which puts thousands of LGBT+ youth at risk every day.
"Showing solidarity at a time like this means opening your eyes to all these attacks on the existence of LGBT+ people."
LGBTQI Muslim charity Imaan condemned the "senseless act of violence" in Orlando and extended "love, solidarity, and condolences" to the Latinx LGBTQI community.
"Because we find ourselves at the intersection of faith, gender, and sexuality, we face daily abuse from Islamophobes, homophobes, and transphobes alike," the statement said.
"Hatred and violence has no place in any of the communities we belong to and we reject and resist all forms of bigotry. We extend our love, solidarity, and condolences to the Latinx LGBTQI community who have been directly impacted by this horror.
"We call on the wider Muslim and LGBTQI communities to support us in both words and actions."
UK imams sent their condolences and condemned the attack, saying it had no place in their faith.
While Shuja Shafi, secretary general of the Muslim Council of Britain, a national Muslim umbrella body of over 500 institutions, expressed his thoughts in this tweet: