The Number Of Victims Of The Grenfell Tower Tragedy May Be Lower Than Expected, The Police Said
"I still think it will be about 80, but it might be a little bit less than 80," Commander Stuart Cundy said.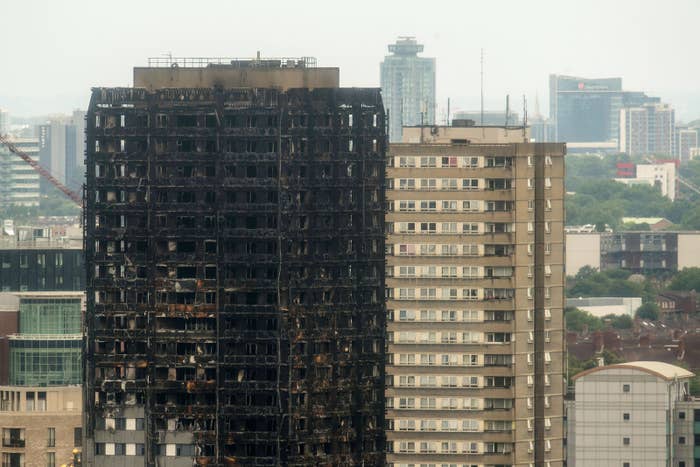 The final death toll of the Grenfell Tower tragedy may be lower than expected, the police said this morning.
At a briefing for journalists at Scotland Yard on Tuesday, Commander Stuart Cundy said his estimate of 80 victims might be higher than the real figure.
He said a definite figure won't be given until December, when the search operation is expected to end. "I still think it will be about 80, but it might be a little bit less than 80," Cundy said.
Police also revealed that several cases of fraud are being investigated in relation to the tower. Cundy said eight cases are being investigated involving people who claimed to be in the tower on the evening of the fire and tried to access the grants available to survivors and the families of victims.
Although Cundy would not reveal details of all the cases, he said two people have been charged, one person is currently on bail, and five others are under investigation.
Detective Superintendent Fiona McCormack, who was also present at the briefing, said police are halfway through their search of the flats in the tower.
She told journalists that the identification of bodies was a meticulous and time-consuming process. Forensic officers are scanning through every small piece of bone and tissue, and have even discovered small children's teeth.

"It is a really harrowing scene," she said. "A lot of the remains we are finding in there are really fragmented and mixed with other remains. ... Everyone we've identified we expected to find."
In addition to the allegations of fraud, McCormack also revealed that despite 24-hour security surrounding the tower, four suspected thefts from flats in the building have come to light in the last 10 days. One case involves a "significant amount of money" going missing from one flat.
The Met has taken steps to improve the security of the tower, McCormack added. There will be an extra police presence, additional lighting, and motion-detecting alarms placed around the scaffolding.
Detective Chief Inspector Matt Bonner said Grenfell was the biggest investigation the Met has ever conducted outside of counterterrorism operations.
Bonner said officers have more than 2,400 individuals to speak to, and the number is growing daily. Police have seized over 2,500 exhibits and are using specialist technology to search through 31 million documents.