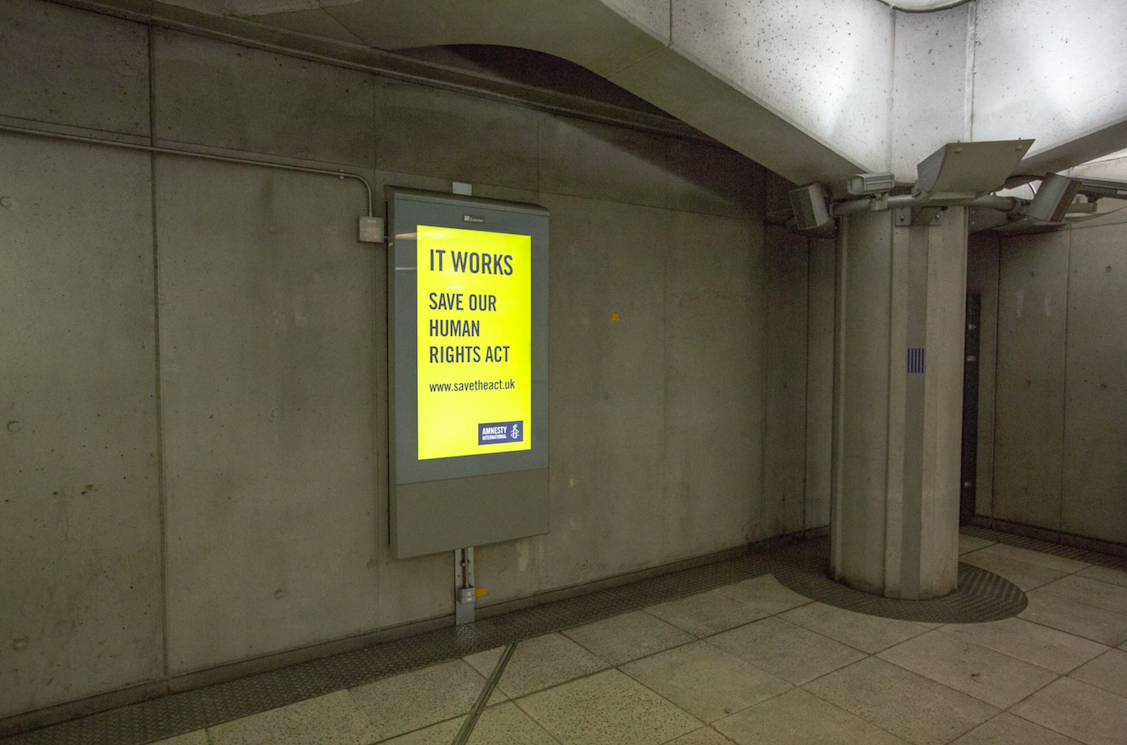 Network Rail has pulled Amnesty International's adverts in support of the Human Rights Act for being "too political", the charity announced on Tuesday.
The billboards formed part of an awareness campaign set to highlight the importance of the act for people including the families of Hillsborough victims, those involved in the peace process in Northern Ireland, and victims of unlawful police behaviour, such as Celia Peachey.
Amnesty is just one of more than a hundred organisations and charities that have warned the government and prime minister Theresa May not to follow through with plans to repeal the Human Rights Act and replace it with a British "bill of rights".
The billboards, which were set to run from today in train stations in Liverpool, Edinburgh, Glasgow, Manchester, and Birmingham, as well as in London's Waterloo and Victoria stations, were pulled at short notice, Amnesty said.

Network Rail told BuzzFeed News it first saw the adverts yesterday. "On inspection, they don't meet our rules on 'political' advertising'," the spokesperson said. "We aim to be fair and even-handed when deciding which adverts to accept in our stations and have a set of rules in place to ensure all advertising is treated equally."

A Network Rail spokesperson later told BuzzFeed News that Amnesty's advert directs people to sign an online petition, which is deemed political, and therefore goes against their rules.
Despite Network Rail's decision to drop the ad campaign, Transport for London carried the adverts in Westminster underground station as planned.
Amnesty's UK director, Kate Allen, said the charity was "very disappointed" with Network Rail's decision not to go ahead with the advertisement campaign.
"We simply don't accept that basic human rights are ever a political issue," Allen said.

She added: "The irony is that human rights cross party-political lines and so do failures, cover-ups, and abuses. Successive governments managed to let down the Hillsborough families, and their story demonstrates precisely why we need enduring human rights protections which aren't redrafted by the government of the day, on a political whim.
"It's vital to safeguard basic rights in these politically volatile times as constant protections relied on by ordinary people."
Earlier this year a spokesperson for the Ministry of Justice said the "government has a mandate to reform and modernise the UK human rights framework".

They said the new bill of rights would "protect fundamental human rights, but prevent their abuse and restore some common sense to the system", and added: "We will fully consult on our proposals."