A London venue has fired a doorman and issued an apology after a group of six friends were allegedly denied entry on Tuesday evening for being black.
The group of friends, who are all black and in their twenties, said they were unfairly refused entry to The Blues Kitchen in Shoreditch by a doorman who made racist comments.
Shortly after the friends had arrived at the venue, the doorman approached them and told them that "this was not their kind of scene", as they "looked like they liked hip hop, and not blues music", they said.
One member of the group, Chiko – who, like the others, was willing to give only a first name – told BuzzFeed News that when they walked into the restaurant they were immediately stopped by the doorman. "I asked why I was stopped and the security guard told me 'this is not your type of night'.
"I was shocked, because other people – who were not of colour – were walking straight into the restaurant no questions asked," he added.
Another member of the group, Ayo, told BuzzFeed News that after they asked the doorman what he meant by that, he responded by saying "because you're black, I thought you would like rap music".
The friends, who are all musicians, told BuzzFeed News that they had specifically chosen that venue for its genre of music. Shocked by the doorman's racist remarks they decided to complain to the venue's manager.
"No one else entering the venue was being questioned, and we wanted to know why were singled out," Ayo said. "We complained to the manager but his response was not what I was expecting, there was no sympathy."
Another member of the group, Abie, told BuzzFeed News that the manager "didn't take us seriously at all".
"He was rude and called us 'aggressive' when we complained. He said 'It's not that big of a deal' and denied his doorman would say such things."
Abie also claims that the manager later admitted that the doorman had an issue with their age. "But we are all 20 years of age," she said. "And the doorman did not mention IDs once. His problem was our colour."
Another member of the group, Temi, claimed on Twitter that he was offered a sweet by a manager to make up for the discrimination they had faced.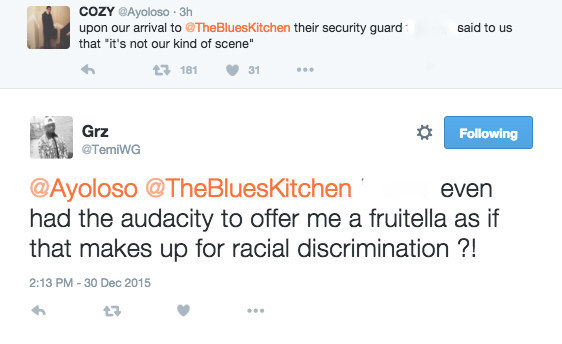 In a statement to BuzzFeed News, a spokesperson for The Blues Kitchen apologised for the incident and said that a doorman had been sacked following an internal investigation:
"Following a customer complaint received this morning The Blues Kitchen carried out an internal investigation which resulted in the dismissal of a doorman for making a racist comment to a customer.

"The Blues Kitchen is home to all colours, cultures, and sexes. This isolated incident saddens us immensely. We are desperately sorry and will ensure, through improved hiring and training procedures, that something such as this will never happen again."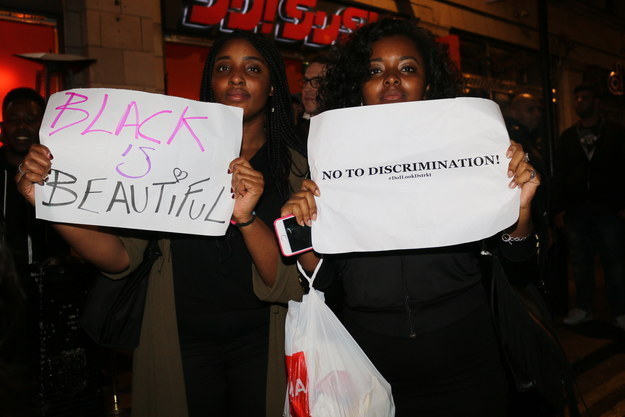 This is not the first time allegations of racist door policies have been made against London venues.
In October this year, a protest took place outside DSTRKT nightclub in the West End of London over allegations that women were refused entry because they were considered too dark-skinned or overweight.
Protesters stood along the so-called pick wall, where "the managers would check the girls out to see if they were hot enough", a protester told BuzzFeed News.
DSTRKT's management said it condemned "any type of racism or discrimination by customer or staff", and denied any staff members had been involved.