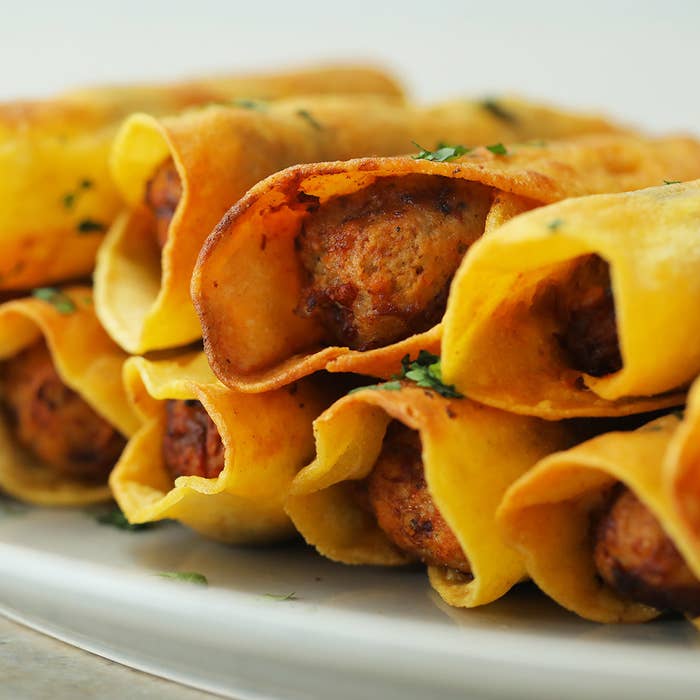 INGREDIENTS:
1 package Farm Rich HOMESTYLE meatballs
16–20 corn tortillas
¼ teaspoon salt
6 tablespoons of adobo sauce
2 tablespoons vegetable oil
1¼ cups shredded cheese blend
½ fresh avocado
½ lime, juiced
¼ cup mayonnaise
¼ cup sour cream
½ cup vegetable oil
Fresh cilantro
PREPARATION:
Heat oil in a skillet over medium-high heat and add meatballs. Cover and cook for 12 minutes.

Add adobo sauce (for a thinner consistency, add 2 tablespoons of water). Cover until meatballs are completely cooked (about 6 more minutes). Remove from heat and allow to cool completely.

Place 2 tablespoons of cheese on a corn tortilla, place 3 meatballs on top of cheese, and carefully roll over. Place seam-side down on a baking sheet. Place taquitos in the freezer for 10 minutes before frying.

Place ½ cup of oil in a skillet and heat over medium-high heat. Carefully fry taquitos (place in oil seam-side down; do not agitate so they remain sealed). Carefully turn after 4 minutes (or until lightly browned). Fry about 6 more minutes or until golden brown on all sides. Drain on paper
towels.

Sauce: Combine avocado, mayonnaise, and sour cream in a food processor. Blend until creamy and set aside.

Garnish with freshly chopped cilantro.

Serve immediately and enjoy!