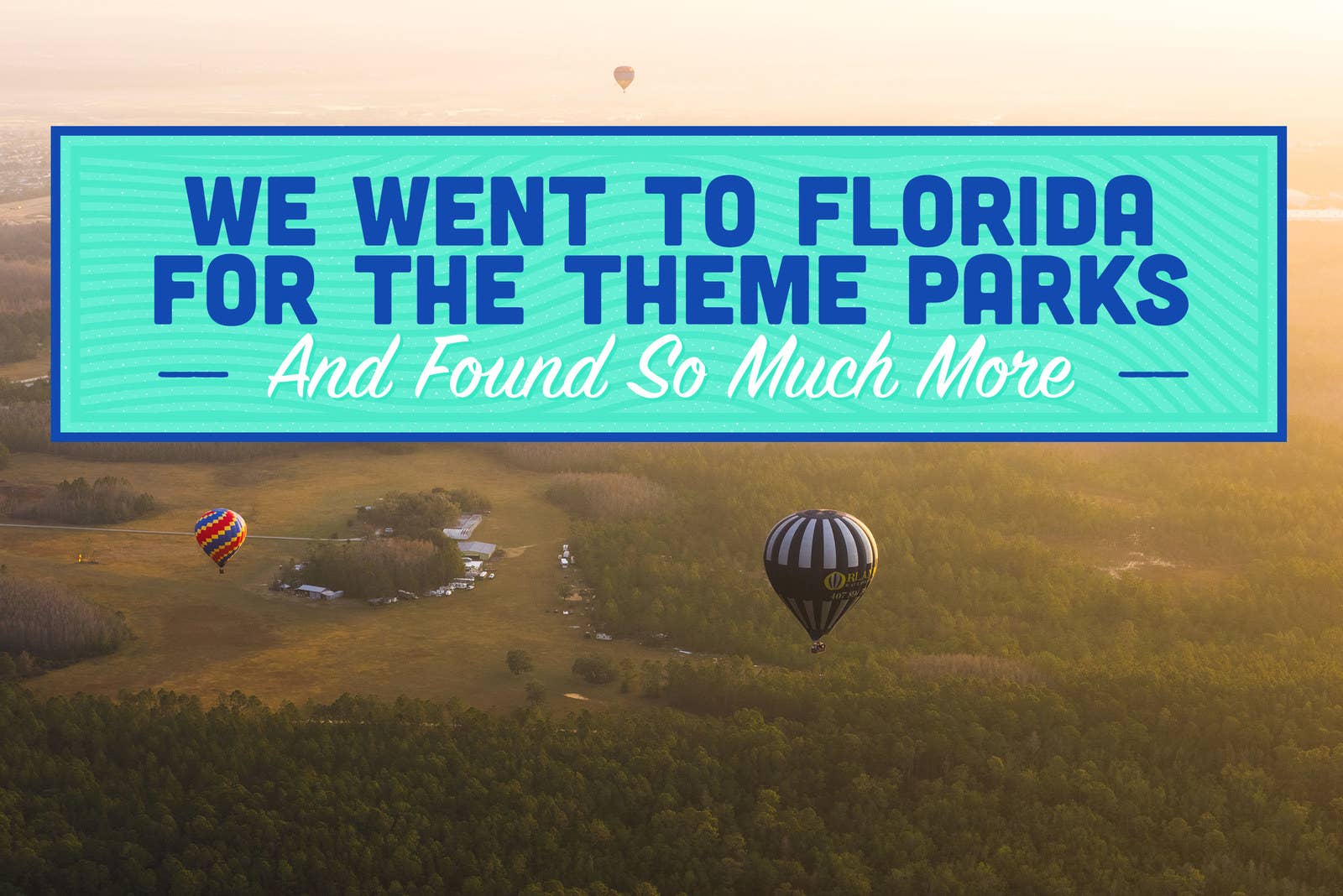 "Can I have a churro?" I asked my mother hesitantly. I didn't say "another" in order not to draw her attention to the fact that I had already eaten one earlier that day. This is a woman who didn't allow us to have soda (except when we were sick, as a last resort to get us to ingest more fluids) or multiple boxes of cereals to be open at once — "finish this one, then you can open another." One churro was already a rare, deep-fried, sugar-crusted privilege. I didn't expect her to say yes. I was asking to ask because it's what kids do. I was asking because we were at Disney World and I loved churros.
"Sure," she said, handing me a few dollars, seemingly without a second thought. I was shocked, so shocked that the flavor of Another Churro burned into my memory as one of my earliest clear memories. But I shouldn't have been so surprised. We were at Disney World, and anything was possible.
Since age 6, I hadn't returned to the most magical place on earth — not until this year, when my photographer, Lauren, and I headed down to Florida at the invitation of Experience Kissimmee. Not only could we eat as many churros as we wanted, we were able to do something that I never did as a kid: explore beyond the theme parks, where there was so much more than Disney.
Staying in a vacation home in Kissimmee ensured that Walt Disney World Resort was only minutes away but also kept a variety of other activities in reach that we never could have imagined, including heart-pumping thrills greater than coasters and the either oft-ignored or little-known stunning natural beauty of Florida.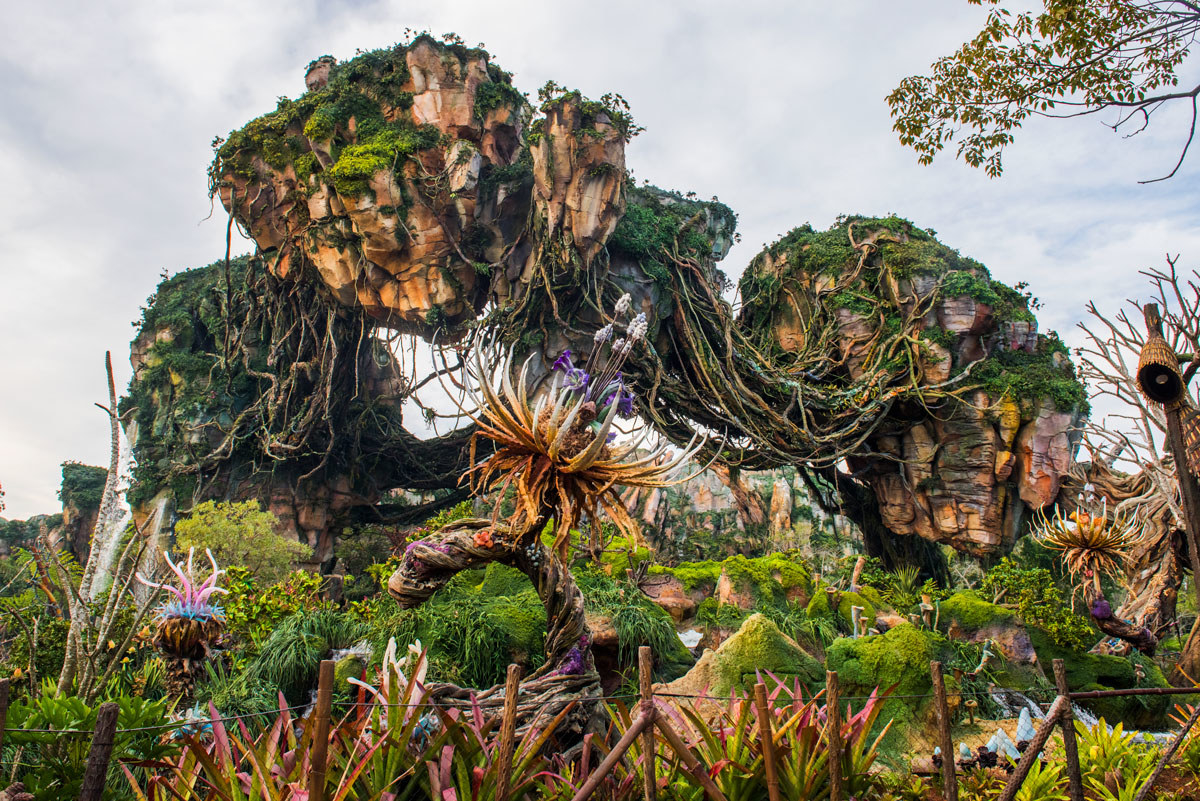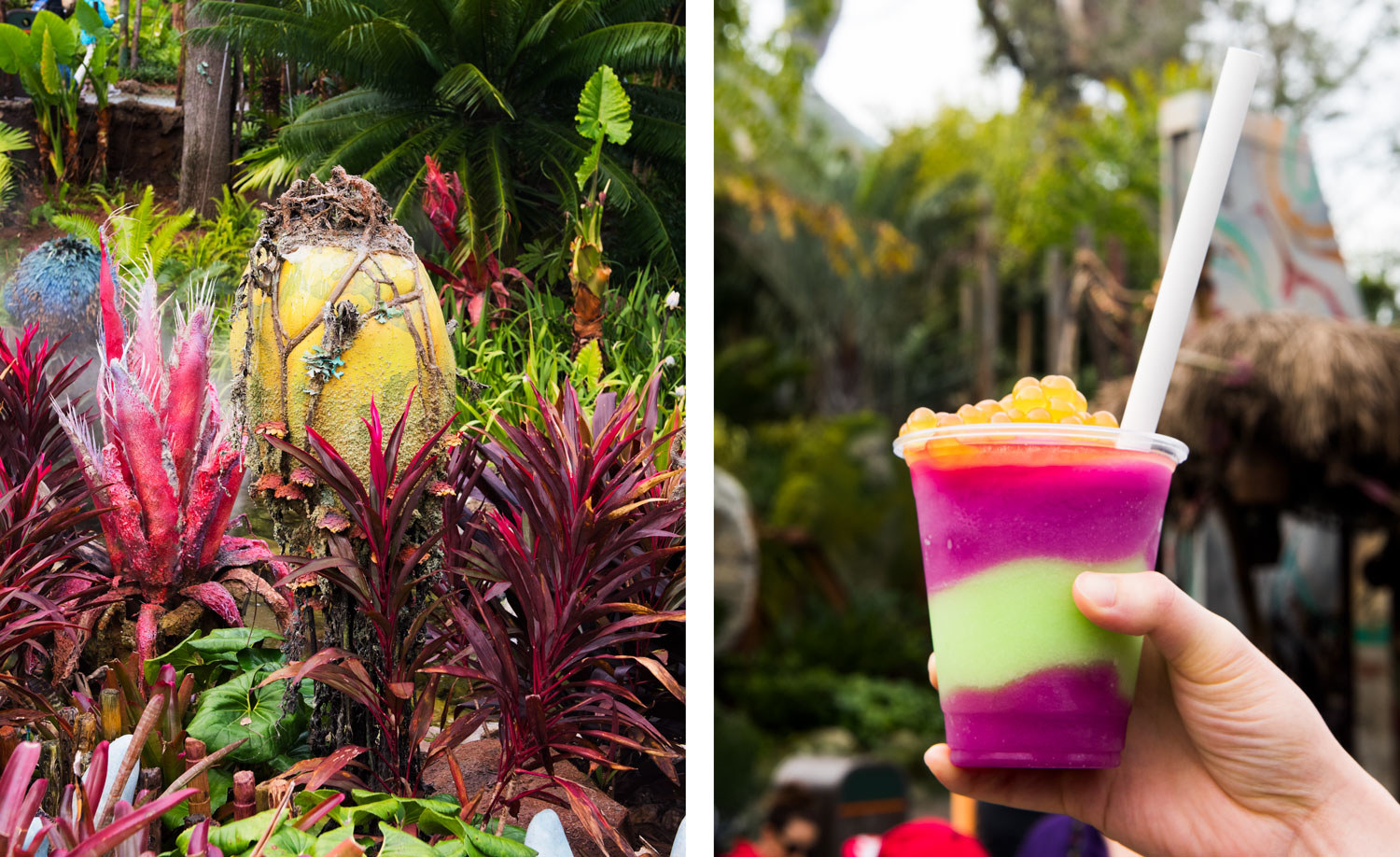 You can't talk about Florida without mentioning Walt Disney World Resort, so we began here on our first day. I once thought everything about Walt Disney World was magic​. But "real" magic is mystical and mysterious; by definition, it is unburdened by effort, a wonder and gift from beyond our understanding of the physical world. Walt D​isney World is a different kind of magic — one perfectly orchestrated and consistently oiled, a manual feat of innovation and engineering in complete immersion. It convinces you, and it never stops convincing you as long as you are there, whether you're visiting replicas of real destinations in Asia and Africa or the fictional moon of Pandora.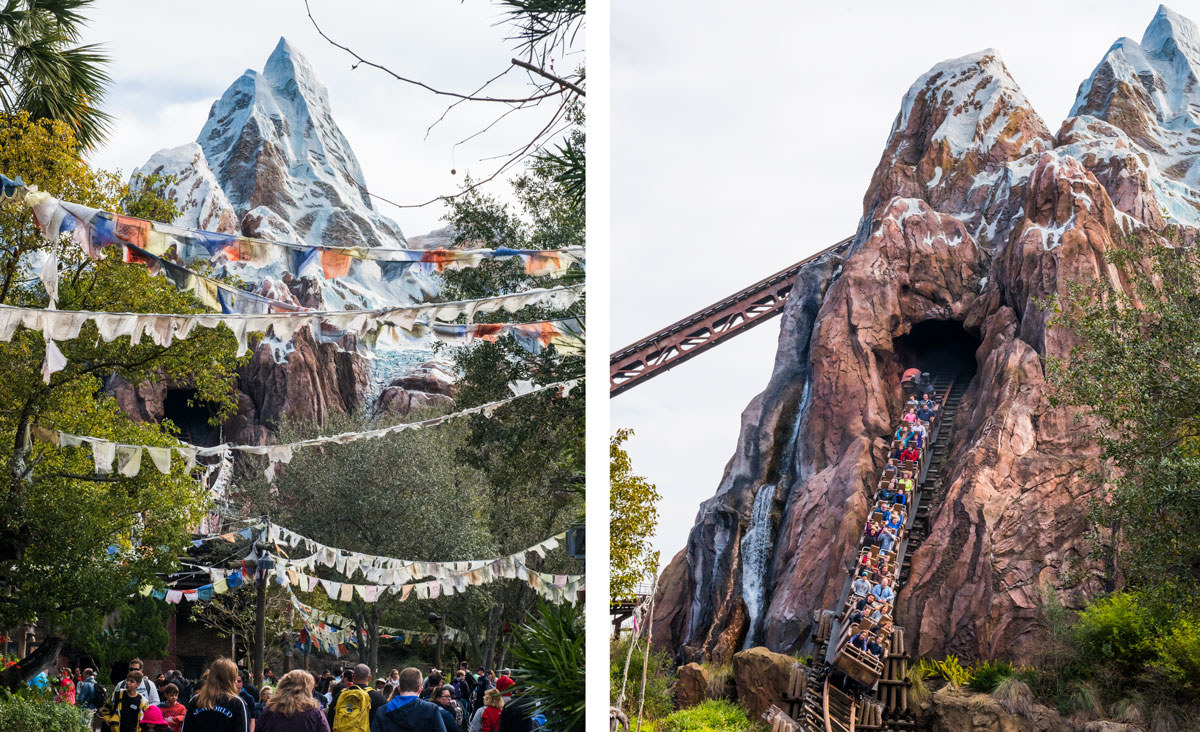 Even the most skeptical (read: me) will be taken with ​Disney's Animal Kingdom Theme Park's Pandora — The World of Avatar, an alien landscape, replete with life-size floating mountains and glowing, luminescent fictional plants. In the Avatar Flight of Passage attraction, you go for a 3D-simulated joyride on the back of a banshee, across the vast moon and its majestic waterfalls, wave-worn shores, and concealed caves. You feel the "breeze" on your face and the "spray" of a giant, crashing wave as you hurtle through its barrel; you smell the "flowers" — all artificial. Then your stomach actually drops when your banshee dives down, despite your rational mind telling you that you're mostly stationary. The feeling is real, though the rest of it is not. This is the magic.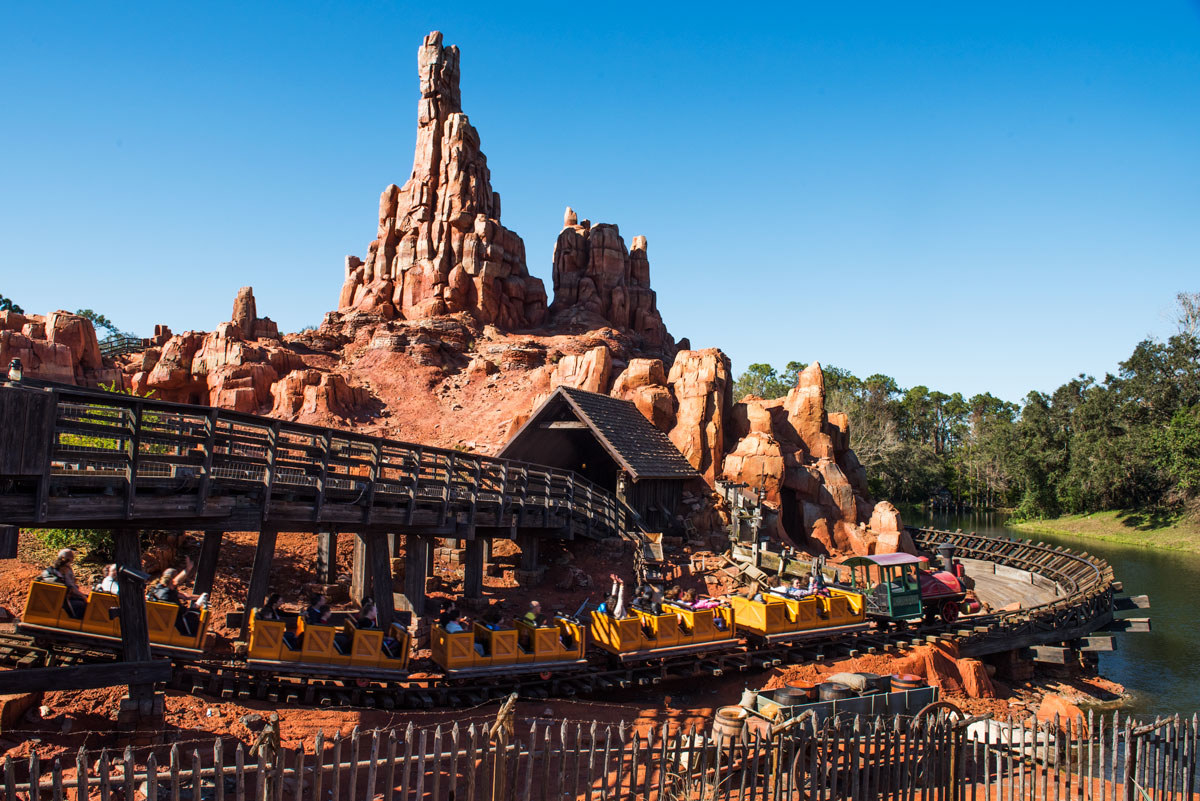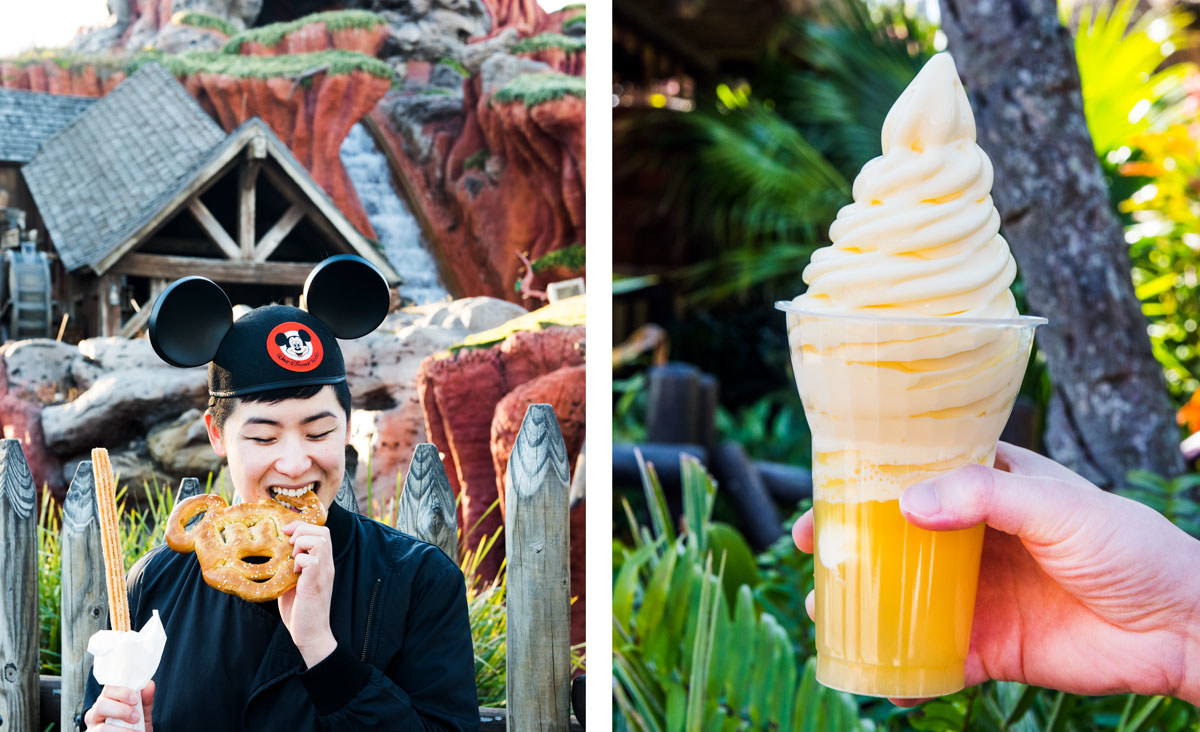 After spending the morning at Disney's Animal Kingdom, we visited the crown jewel and epitome of Walt Disney World – Magic Kingdom Park. Overtaken by nostalgia and the saccharine smell of churros, I could easily see how children and parents alike adore it. Despite us not being either, we channeled the former on rides like Space Mountain, a classic that I can honestly say has not aged at all with time. When we needed to recharge, we had the musical stylings of the kitschy, kooky animatronic parrots in Walt Disney's Enchanted Tiki Room and the not-a-sing-along, I repeat NOT-a-sing-along 3D presentation of Disney movie classics in Mickey's PhilharMagic. (I sang along.)
The day ended, as each day in Magic Kingdom does, with fireworks. However, Happily Ever After isn't just any fireworks show. Lasers, lights, projections, and a contemporary score of Disney favorites made this the most elaborately spectacular and dazzling fireworks display either Lauren and I had ever witnessed. Photos could not do the 18-minute-long sensory overload justice, but she took them anyway.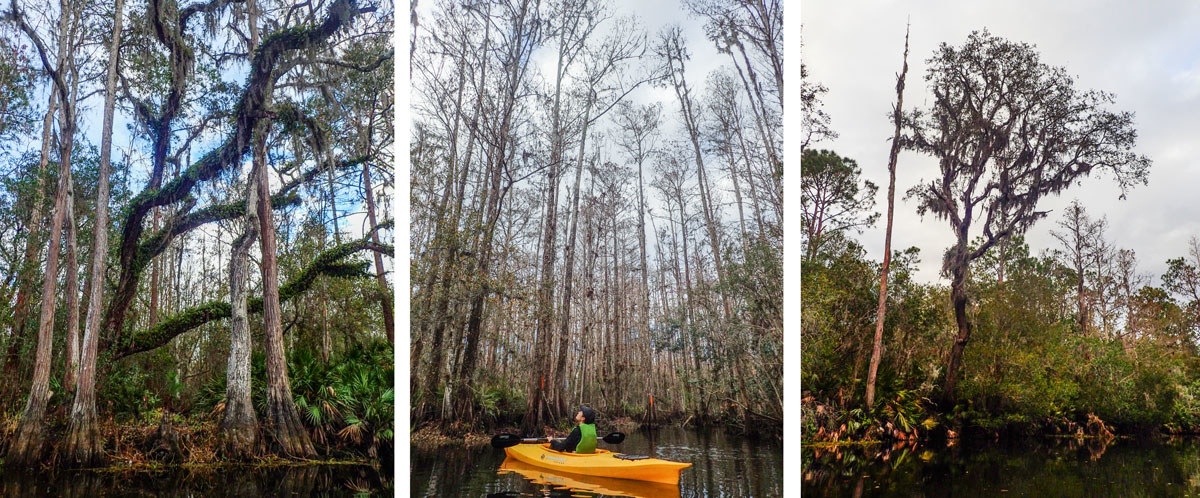 Seemingly worlds removed from Disney, but in reality merely a 15-minute drive away, this regional park in Kissimmee is a respite from civilization, let alone theme parks. Cruising down the headwaters of the Everglades in kayaks from The Paddling Center at Shingle Creek, our guide detailed the variety of ecosystems as we paddled through them: pinelands and scrub, river swamps and bay galls, tropical hardwood hammocks.
She pointed out a plethora of wildlife, including red-bellied turtles, great blue herons, ospreys, red-tailed hawks, limpkins, and a six-foot alligator. Donald Duck was nowhere to be seen, but a flock of Moscovy ducks hurried by, the yellow cotton balls of ducklings bobbing alongside our vessels as they foraged to a chorus of quiet chirps. This was as raucous as it got.
We marveled at felled trees and cypress knees in the stillness, with only the occasional calls of wilderness, the splash of our paddles, and the slick sound of our hulls skimming through the water to accompany the silence. It was nothing like the Flight of Passage; it was serene and physical (I have the blister to prove it), and it was real.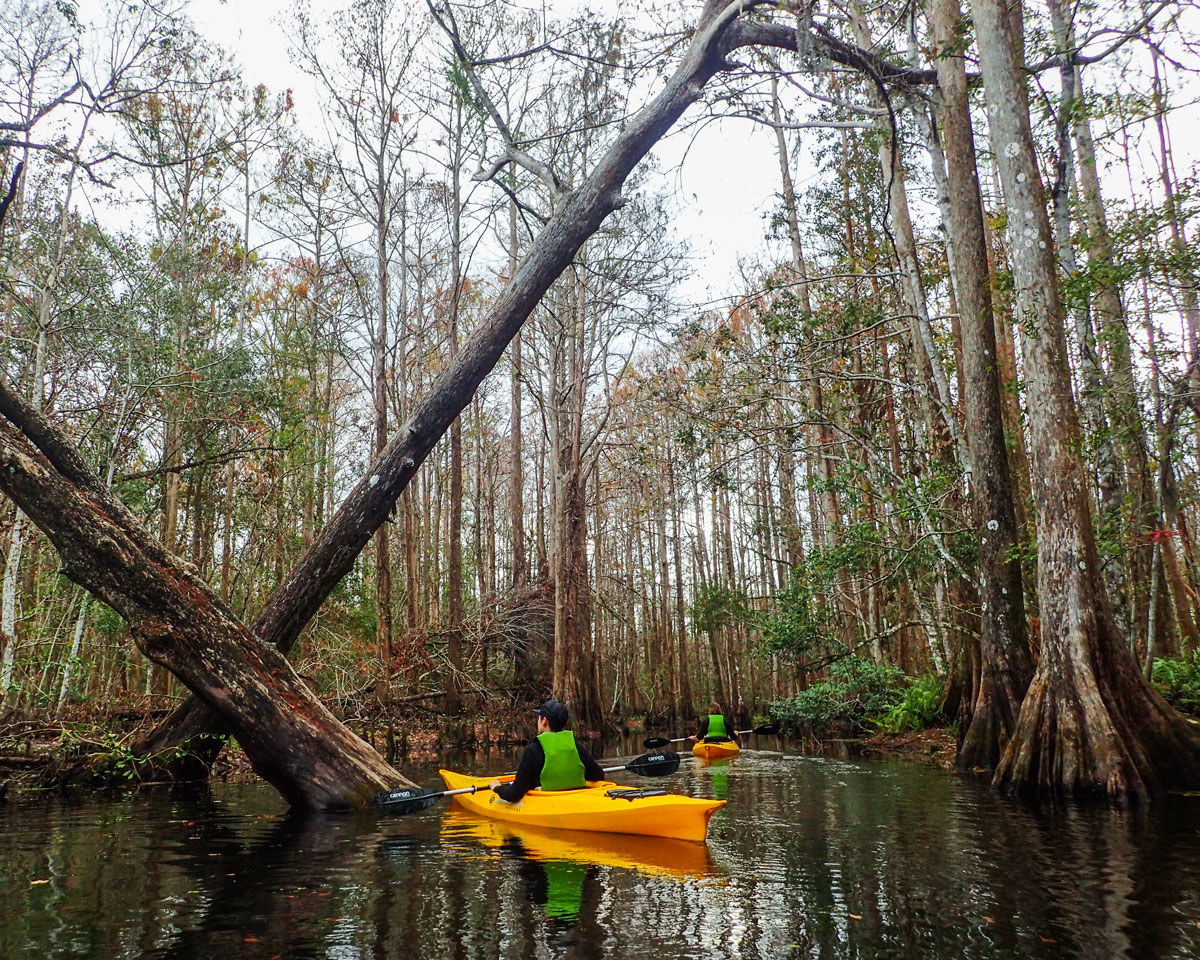 Gatorland opened its doors for the first time as the Florida Wildlife Institute in 1949 and quickly became the very first theme park in the area, preempting Walt Disney World. The establishment lives up to its name; it's home to over seven species of alligator, crocodile, and caiman combined, and over 2,000 total. The sheer number of gators is overwhelming, but they also have emus, flamingos, snakes, tortoises, and other assorted creatures on display and in their daily shows.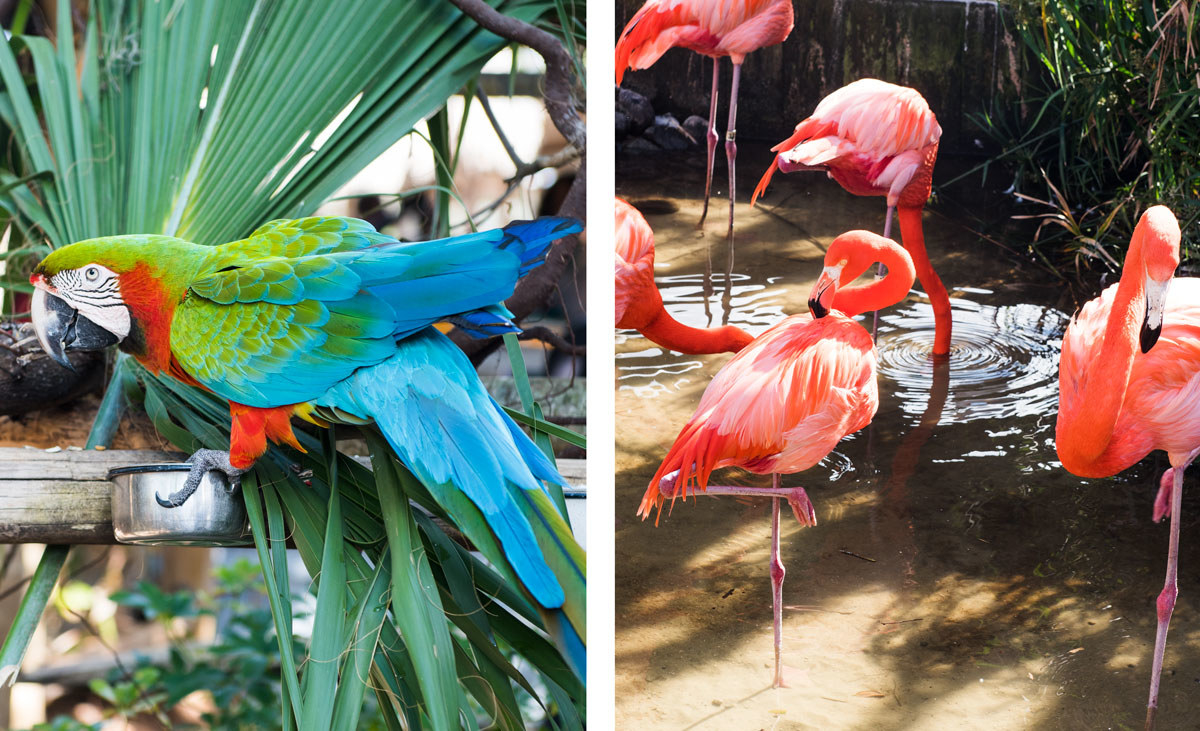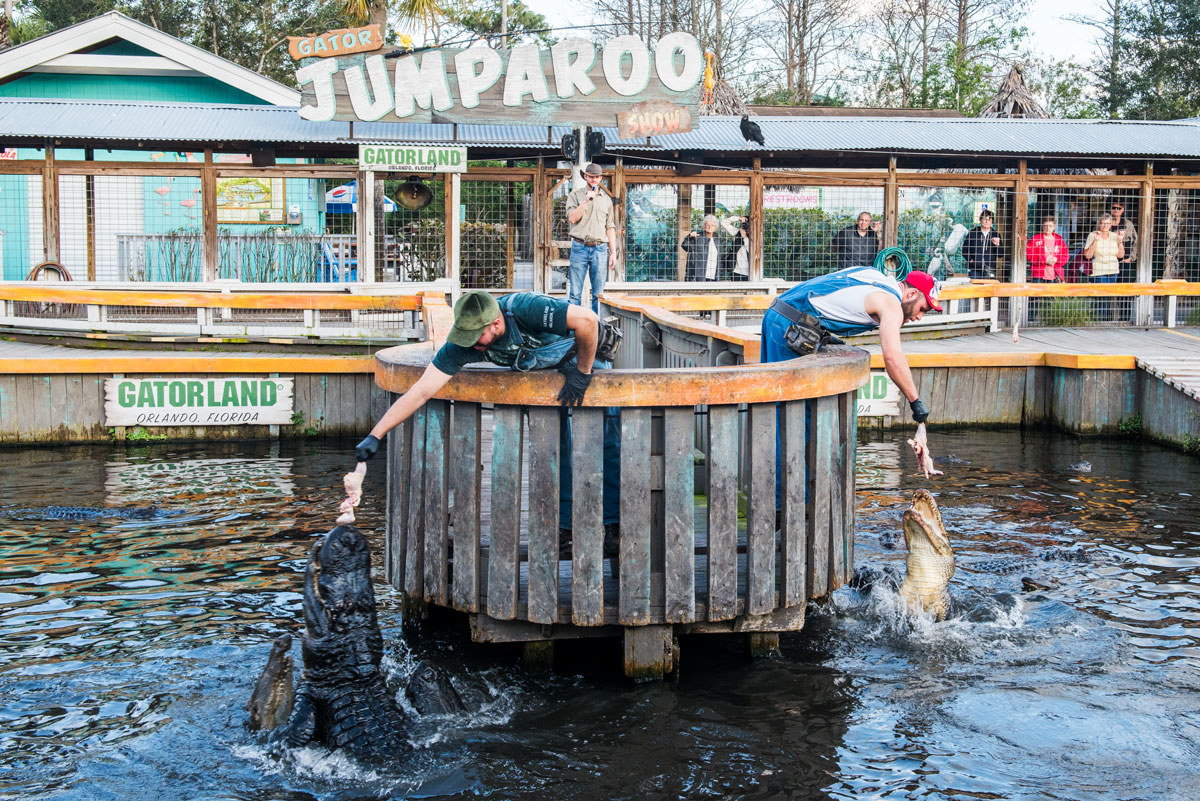 During their Up Close Encounters show, I was recruited from the audience to participate in a scene inspired by a common occurrence at the park — the literal unboxing of mystery "donations." Illegal exotic snakes that have grown too large for their owners to manage are popular contents of the boxes abandoned at Gatorland's doorstep on early mornings. But other creatures too.
"Close your eyes, hold your hands out, and keep still." I did what I was told, but not without apprehension. In minutes, something warm — strangely warm for its feathery weight — and soft as a puppy's ear being deposited in my left hand. Upon opening my eyes, my fears were confirmed: a tarantula. They deftly placed another upon my right shoulder before I had a chance to protest. I preferred the gator shows.


Never having attempted a ropes course but having once been a teen gymnast, I had the chance to complete a personal bucket list item at Orlando Tree Trek Adventure Park. Although I don't have a fear of heights and did have a very secure harness, balancing on pendant planks 50 feet above ground caused a bit of trepidation initially. But after timidly creeping across the elementary wooden ladders and rope bridges of the first course, I gained enough confidence to complete the other three courses, each progressively more difficult than the last.
In this 15-acre pine tree forest, I crawled through barrels, teetered across tight ropes, and hurtled into cargo webs. The unusual challenge of these courses is not just in the balance but in timing and speed, which I unfortunately didn't learn until halfway through the final course. Regardless of having unsteadily muscled through the brunt of the courses, the finish, which consisted of one long, last zip line, was ultimately satisfying. My gymnastics coaches would have been proud. (Here's looking at you, Penny and Kasmir.)

Just like Florida itself, Forever Florida contains multitudes. More than simply a gimmicky moniker, its name belies the goal of preserving Florida's wilderness and educating visitors on Florida's unique ranching heritage. The 4,700 acres of nine distinct and untouched ecosystems encompasses only 200 acres of development, a wildlife conservation area, and an 1,800-acre working cattle ranch. Crescent J Ranch works with three endangered livestock breeds, one of which is the Florida Cracker Horse, direct descendants of the steeds originally brought to Florida by the Spanish.
On horseback, journeying on narrow paths through cypress forests and dense thickets of saw and scrub palmettos with white-tailed deer darting before us, we saw a Florida that most visitors don't experience — an unspoiled, verdant paradise, bountiful with native flora. "Can you believe this is what Orlando used to look like?" our guide, Kiera, mused as she led us across a deep stream that my horse could not resist traipsing and splashing in. I could not. It was true, wild beauty, one which forever altered my perception of Florida.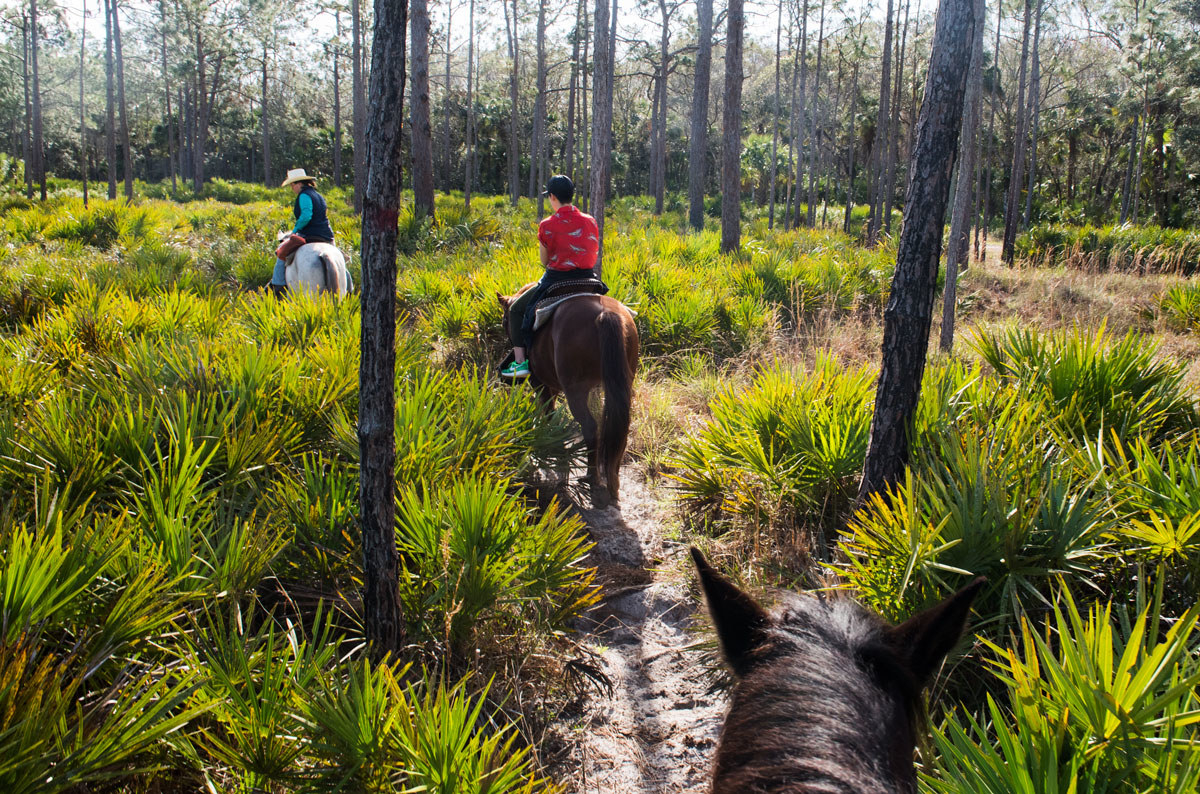 Aside from the ranch and untamed wilderness, Forever Florida also offers a summer camp (which we were unfortunately too old to participate in), an equine-assisted therapy program led by licensed psychologists (which we probably could have benefited from), and a small and unique collection of four zip line adventures. One standout is the US's first zip line roller coaster, by and large the best zip line I've ever ridden. It whipped us around wide turns and jolted us through four deeply thrilling dips.

But it couldn't compare to the one-two punch of fear-induced paralysis followed immediately by the rush of bypassing my own survival instinct to willingly step off a 78-foot-high platform into a controlled free fall. The Panther Pounce is a mental hurdle I'll never forget, mostly because of the deep, inordinate sense of accomplishment over having done little more than take a single, trembling step out of an involuntary semi-squat that my buckled knees had forced me into.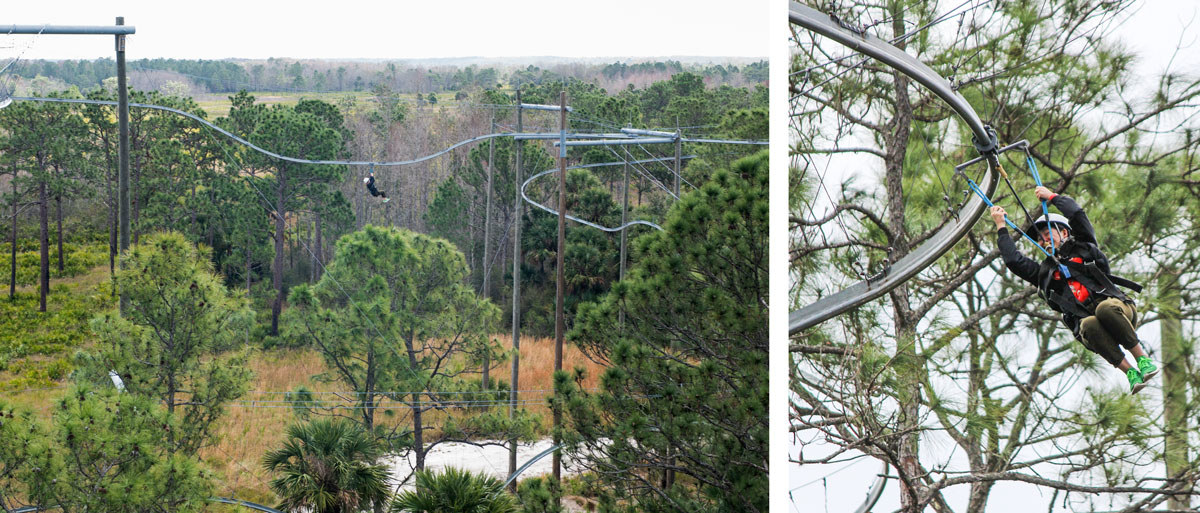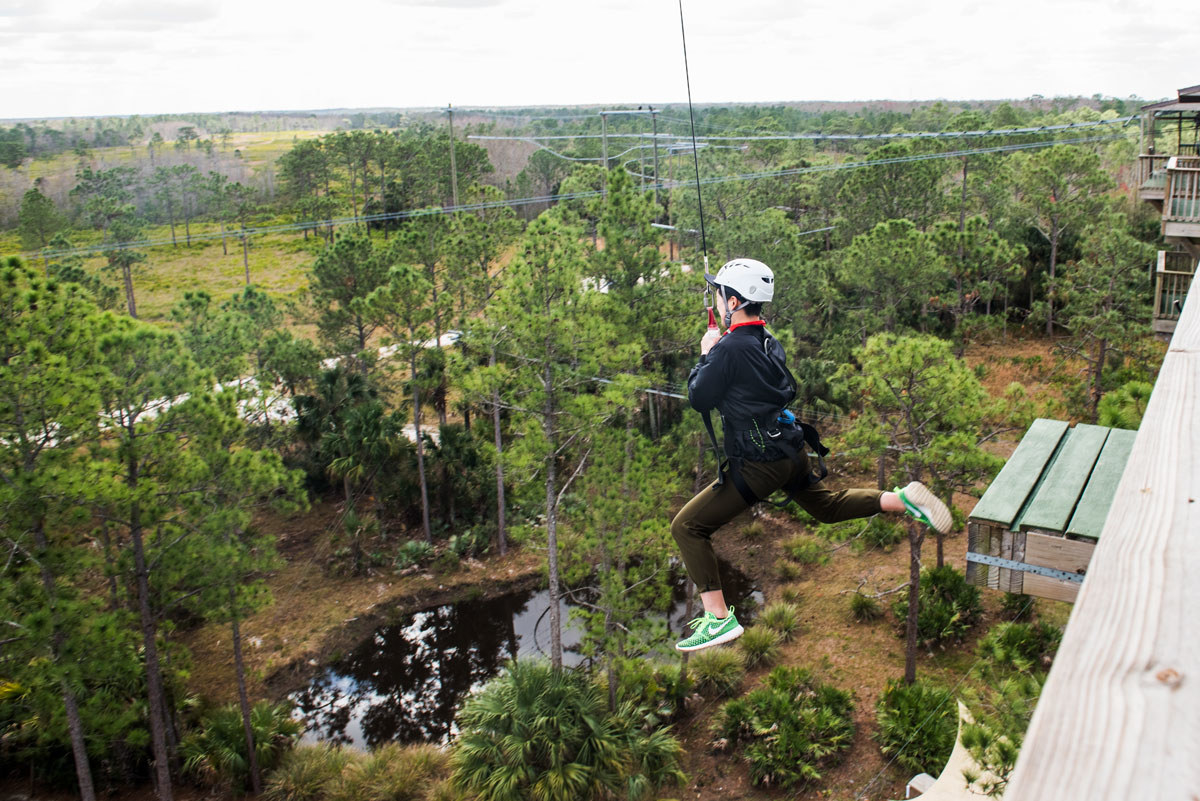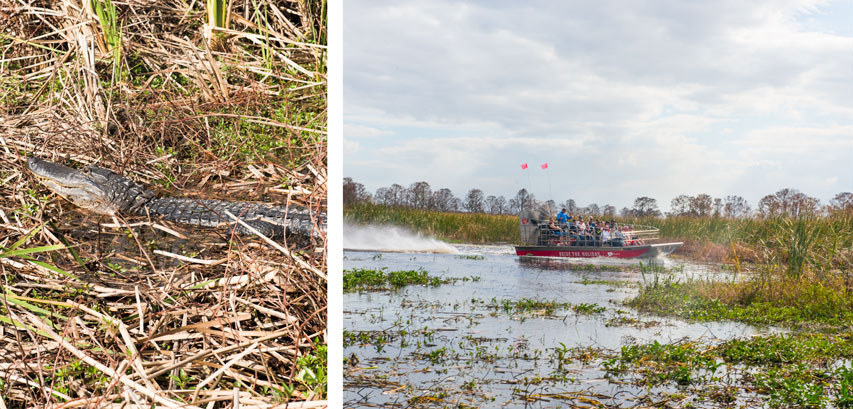 Not having had our fill of nature, adventure or gators, we embarked on a tour of the swamps, marshes, and rivers of the area with Wild Florida Airboats & Gator Park. Airboats, while charmingly dated in aesthetic, are wondrously amphibious vehicles capable of traveling over wetlands dense with flora and even solid land with relative ease. The remarkably smooth and steady ride across the mirror-still surface of the water reflecting the vast sky above stunned me to reverent silence as vultures, egrets, and blue herons startled around us.
Our driver and guide, Logan, stopped to point out 300-year-old cypress trees, a single otter roiling in the water-lily-thick swamp, and three bald eagles gliding overhead. We also watched plenty of egrets and blue herons take flight as we sped by. Of course, it wouldn't be a true airboat tour if we didn't see gators. Of the 1.5 million that reside in Florida and the 800 or so that live in this region, we came upon five minding their business in the wild much as they do in captivity.


If you set your alarm for four in the morning to take a hot air balloon ride at sunrise, you may be lacking in complete consciousness for the journey. Luckily our 20-person basket (that's the piece of the hot air balloon that holds the pilot, passengers, and cargo) was full of excitable birthday and anniversary revelers, which helped raise our slightly wilted spirits at Orlando Balloon Rides.
The envelope of our hot air balloon (the actual balloon bit of the whole kit) held 425,000 cubic feet of hot air, which was plenty to float us above neatly combed, north-south rows of orange trees, rust-tipped cypress trees, painstakingly manicured golf courses, and the beautifully blueprinted geometry of gated suburban communities. We hung out of the lip of the basket to watch a perfect reflection of our balloon pass by in a reservoir below while half-listening to radio chatter on altitudes and wind speeds. You can't steer a hot air balloon directly, I learned; you merely adjust your altitude to hitch your balloon to a wind blowing in the desired direction.

From above, on our last adventure of the trip, it was easy to see Central Florida as more than just Disney, more than Orlando. Beyond Walt's world, Florida is its own magical kingdom of natural beauty — one rooted in the reality of serene landscapes and peaceful waters, wildlife that call this place home, and breathtaking adventures.
Photographs by Lauren Zaser/© BuzzFeed
Design by Kirby Darland/© BuzzFeed
Come for the theme parks and stay for Kissimmee. Kissimmee keeps you close to everything, and it has the best vacation homes in the country. Book a trip to Kissimmee now and really experience Florida.