These Apricot Dumplings Are Perfect For Fall's Arrival
The inner values count.
by
,
Apricot Dumplings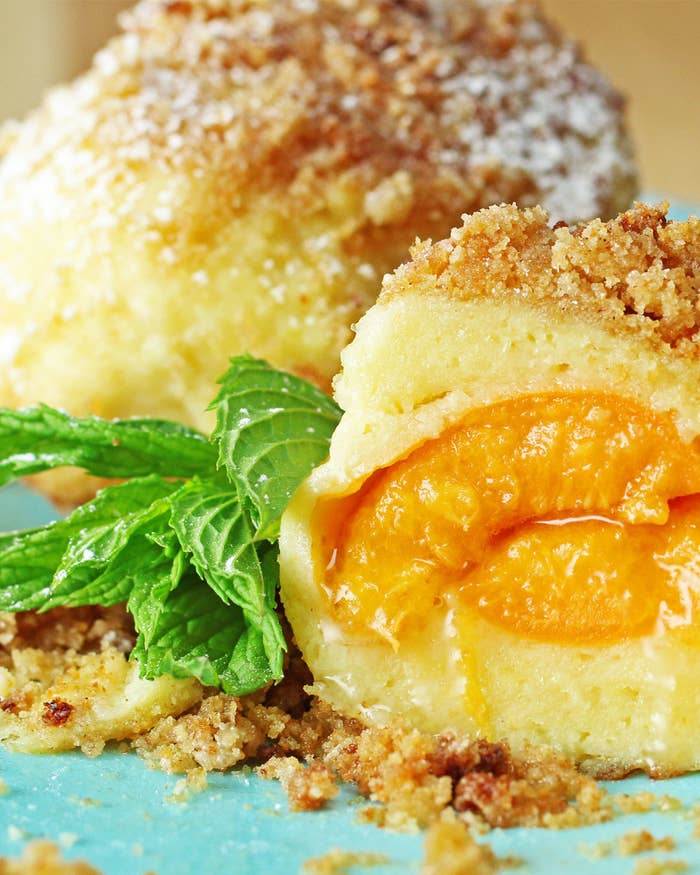 INGREDIENTS
Servings: 5 dumplings
Dumplings
4 medium-sized golden potatoes, boiled and peeled (or another waxy potato, not floury like a russet)
1 egg
2 tablespoons butter, room temperature
1 cup flour
1 pinch of salt
5 apricots
5 teaspoons sugar
Crumble
1 stick butter
½ cup sugar
1 teaspoon cinnamon
1 cup bread crumbs
1 teaspoon powdered sugar
PREPARATION
1. Grate the potatoes.
2. Stir the egg, butter, and a pinch of salt in a large bowl. Add the grated potatoes and flour. Knead until the pastry is smooth.
3. Put the pastry on a floured surface and knead into a thick sausage. Cut the sausage into five pieces.
4. Roll out each piece to about ¼ - ⅓ inch thick.
5. Cut the apricots in half and remove the pit. Place one half in the center of each piece of pastry and top it with one tablespoon of sugar.
6. Place the other apricot half on top of the first half. Close the pastry around it to get a dumpling.
7. Cook the dumplings for 10 minutes in slightly boiling water.
8. Melt the rest of the butter in a pan with the sugar and cinnamon. Once the butter is getting darker, add the bread crumbs and stir until the mixture gets a nice golden brown color.
9. Loosely coat the dumplings with crumble and serve hot.
10. Garnish with powdered sugar and enjoy!