Flammkuchen Bread Bowl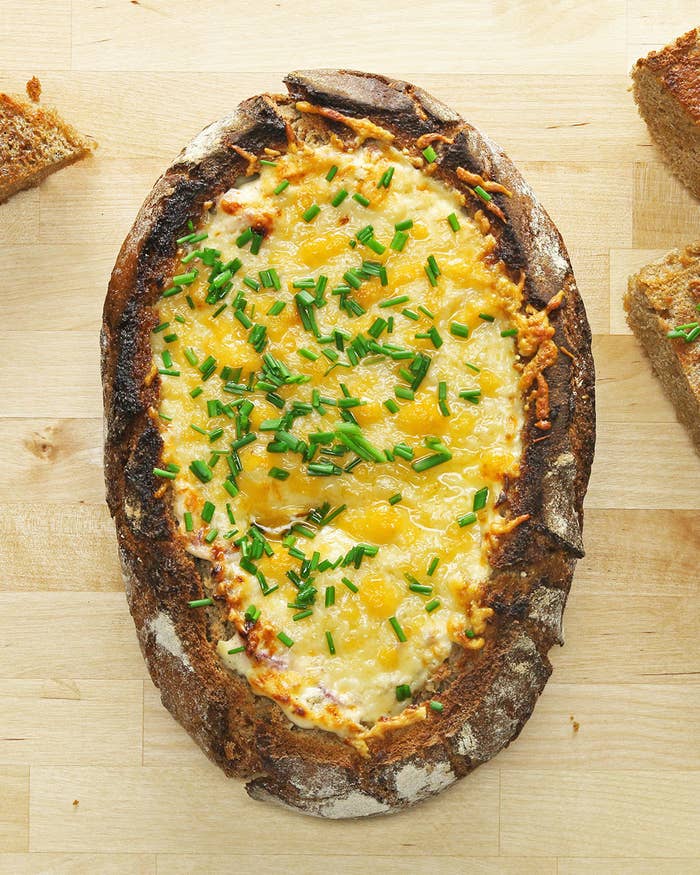 INGREDIENTS
Servings: 4
1 loaf dark sourdough bread
1 ½ cups sour cream
½ red onion, diced
3 pieces bacon or pancetta, cubed
2-3 tablespoons butter
1 cup gruyère cheese, grated
Pepper to taste
PREPARATION
1. Preheat oven to 480°F/250˚C.
2. Fry the bacon and the onions in a pan.
3. Mix fried onions, bacon, and sour cream in a bowl and season with pepper.
4. Cut off the top of the bread and remove the inside with a spoon.
5. Fill the bread with the sour cream mixture and cover with gruyère cheese.
6. Spread butter on the leftover bread, cut into thick chunks, and place on a
baking tray together with the bread bowl.
7. Bake for 15 minutes or until the bread is crispy and the cheese golden brown.
8. Enjoy!
Want BuzzFeed Tasty right in your inbox? Sign up for our newsletter!