Black Twitter Called Out This Hair Company After Its Campaign With White Women
The CEO told BuzzFeed that black women "didn't see themselves as represented in this post as they should have, as we should have featured them."
Hair care brand Shea Moisture recently released this new campaign in an attempt to stop the "hair hate."
The video features one women of color and three white women reflecting on their past hair woes and how they've come to love their hair.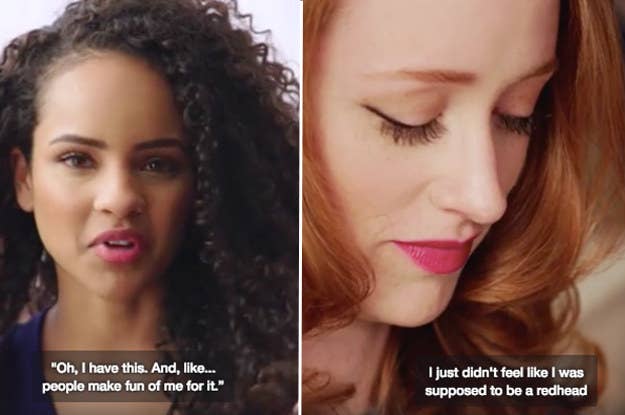 A few days after the video surfaced, a lot of the brand's supporters took to Twitter to express how the message was tone deaf for multiple reasons, one being that the campaign should have included more black women who make up the brand's core consumer.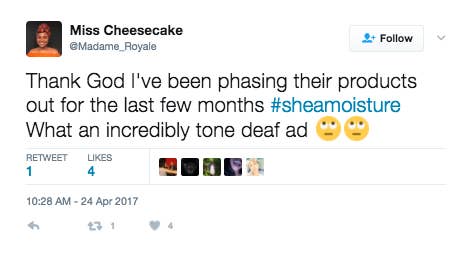 To clarify, one woman explained that the disappointment was not because Shea Moisture included white women, but because they had excluded black women whose spending power has largely benefited the brand.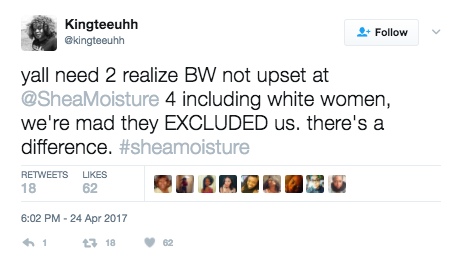 People also called out the brand for its tokenism, hiring one person of color to represent the range of black people.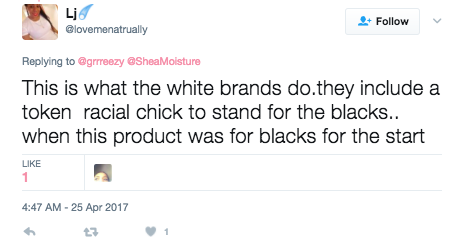 And one person pointed out how even that was a fail on the representation front.
Many customers took the moment to expose the brand for modifying its formulas to accommodate white consumers...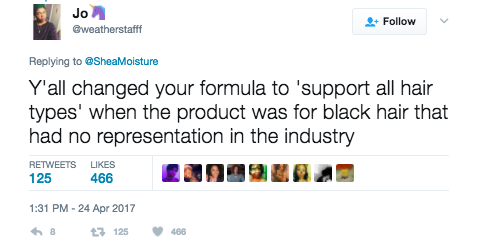 ...but Shea Moisture denied changing its formula and claimed to have only expanded its collections to service more hair types.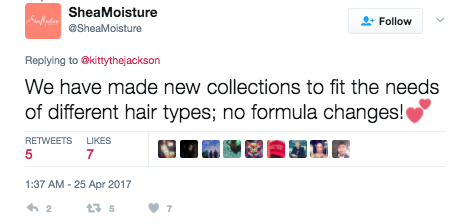 After all the backlash, Shea Moisture took to Facebook to apologize, admitting that it had "really f-ed this one up" and that moving forward, Shea Moisture would better represent "our community... so that the women who have led this movement never feel that their hair journey is minimized in any way."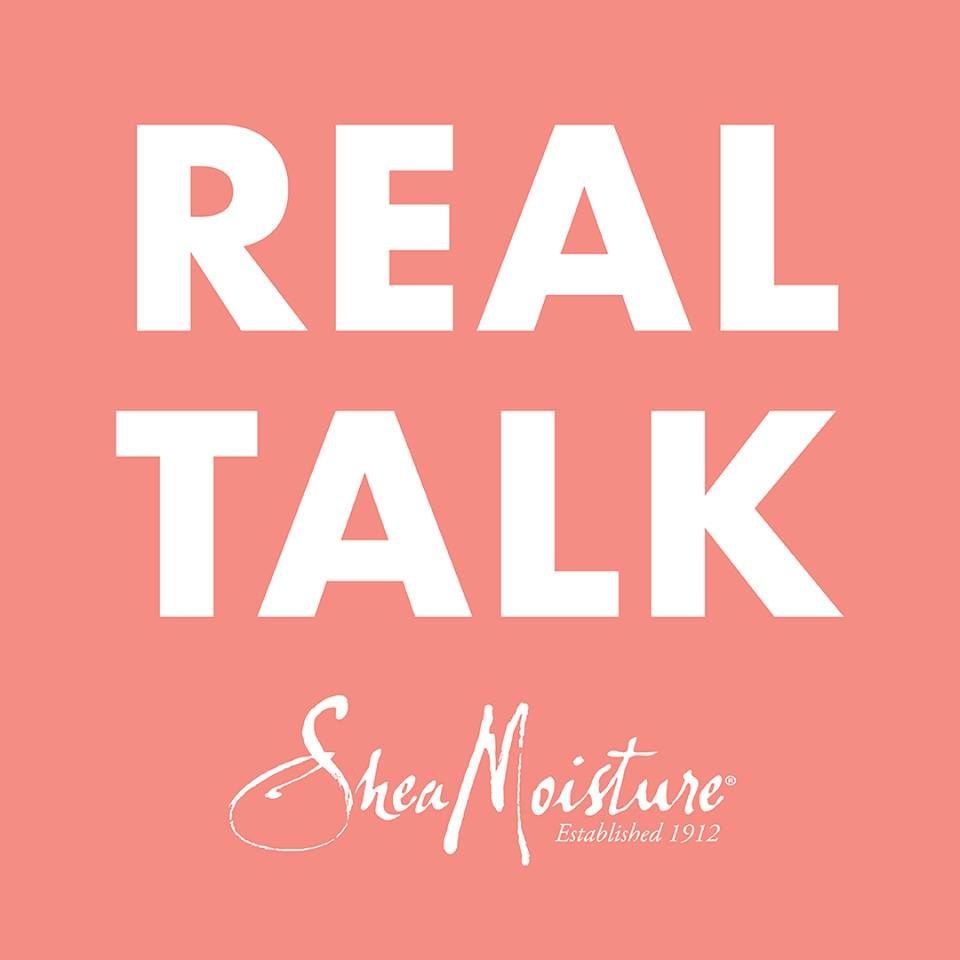 A large group of critics, however, still weren't here for it and questioned the brand's sincerity.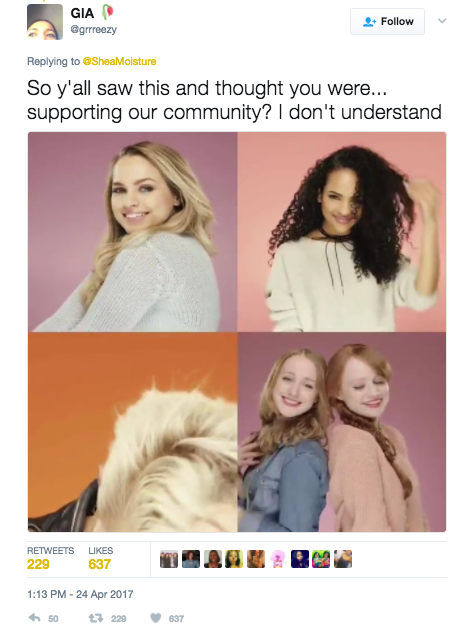 And because there's never a dull moment on the Internet, people also used the moment to crack a few jokes.
Like how other black hair care brands were probably taking notes on what NOT to do.
And the running joke that when some black people "make it," they conveniently forget the people who helped put them on.
BuzzFeed reached out to Richelieu Dennis, Founder and CEO of Sundial Brands, Shea Moisture's parent company, for comment regarding the backlash. He said black women "didn't see themselves as represented in this post as they should have, as we should have featured them."
"What this really shows is the love and passion people have for Shea Moisture, and them wanting to make sure that we deliver and serve them in the way that no one else has served them before," the CEO said. "As we grow, what this has sparked, is a conversation about how women of color have been leading this cultural revolution around beauty and owning their identity and beauty and wanting to make sure the brand that came with them is not leaving them."
Dennis said that "the comments show people want to make sure that we are not growing business at their expense," reassuring Shea Moisture customers that 80% of the brand's innovation in the past year and a half has been for women with coarse hair.
"The work we do in the community that we serve continues to lead the way in how we are driving growth, so we're not going to leave this audience to go to another.
"It's difficult to imagine that people would think we don't want to serve them. We will continue to focus on them, but are also growing and servicing people who have challenges around hair.
"We have to be cognizant of the fact that the cultural challenges our core base experiences should not be ignored and should continue to be uplifted. The backlash was painful because we know what it is what we stand for and try to do, standing for black women and also humanity."
In the meantime, it seems as if a large group of Shea Moisture's core market won't be supporting the brand until it better represents them on all fronts.