1.
Fenty Beauty is officially here, FYI, and ever since Rihanna announced the launch, we've been better versions of ourselves!!!
2.
We've taken a new interest in learning things.
3.
And we're applying the information.
4.
We are taking our purchase power SO seriously...
5.
And we've really committed to boosting the economy.
6.
Tbh, we're just like really woke and understand the importance of supporting woman-owned businesses.
7.
NOTHING will get in our way.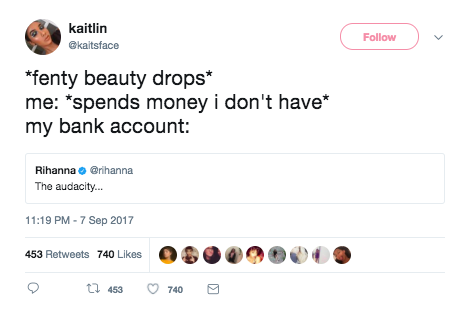 8.
'Cause this is sooo much bigger than us, guys.
9.
If we want to see more women-led empires, we must do whatever it takes.
10.
No ask is too big, no price is too high.
11.
It's like we just found this new passion...
12.
...this new fire!
13.
And seemingly outta nowhere, we got better with time management, too.
14.
We are GLOWING, and the people are noticing.
15.
Fenty Beauty got men out here FINALLY stepping up.
16.
And everybody's winning!
17.
Fenty Beauty is honestly just making the world a better place.
18.
People finally feel seen, and heard.
19.
And it's all thanks to Rihanna, who's shown us a better way.