Beauty Mogul Huda Kattan Says Losing Her Job Was Her Biggest Blessing
Huda Kattan of Huda Beauty talks being laid off, what influencers should invest in, and what she wants her daughter to be most proud of.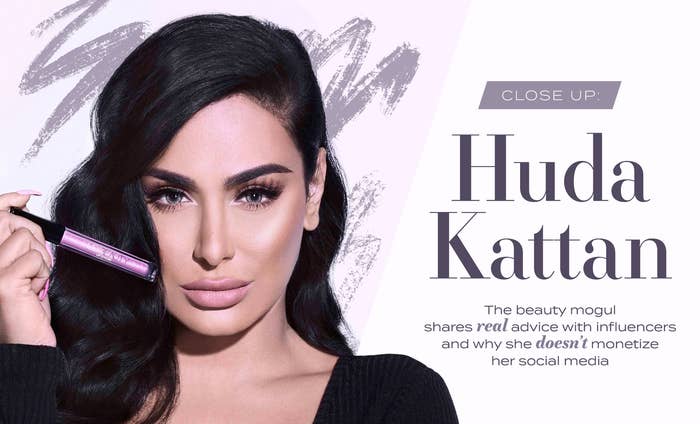 The beauty landscape has changed significantly, thanks to YouTube and social media platforms like Snapchat and Instagram. Beauty enthusiasts are no longer checking women's lifestyle magazines for the best puffy eye concealers or foundations for oily skin because their favorite internet influencers are telling them on their blogs/vlogs and social feeds as soon as the products drop — often times before. Los Angeles Times reported that the Yves Saint Laurent Mascara Volume Effet Faux Cils Shocking in Deep Black "moved 422 units in 24 hours, driving $13,500 in sales" after Arielle Charnas, influencer and entrepreneur, snapped about it in July 2016. The most business savvy of social media influencers have been able to take the once non-existent occupation and build a substantial, and lucrative, brand.
Huda Kattan, CEO of Huda Beauty, one of Sephora's top-selling cosmetic brands, was working in finance in Dubai before switching careers and becoming a makeup artist. After being laid off from her corporate job, Kattan went to Joe Blasco Makeup Artistry School in L.A. and set out on a new path. In 2010 she started blogging all things beauty, and hundreds of blog posts and videos later, she's a household name with a full-face makeup line: eyeshadow, concealer, foundation, lippies, powders, highlight, makeup brushes, plus her Kardashian-approved faux lashes. And her face is on much of her product packaging, making her one of few public figures (along side Oprah and Jordan) who've been able to pull off the bold marketing strategy. One of the most fascinating aspects of Kattan's business model, though, is that she doesn't do monetized content. You won't find #ad written on her Instagram posts for her 28+ million followers to see because she doesn't take money in exchange for her thoughts on products. One could look at it as a huge missed financial opportunity, but in the case of Kattan, it's part of the reason she's built the massive, loyal following. Fans trust the beauty mogul because her opinions aren't swayed by the coins of corporate brands. She's built an actual empire off of keeping it real and having a natural knack for math and business. We caught up with the boss to talk beauty, family, and what advice she has for aspiring influencers.

You've said before that you hated your job in finance. I think a lot of people struggle with this, but taking that leap into the unknown and pursuing a totally new career can be scary.
It just wasn't the right fit for me and I knew it pretty early on. I love nerdy things, like statistics and math, and I have always been very good at it so it was the obvious answer when I was considering what to study in University. Once I graduated and started working, I realized that there was something missing. I lost my job in the recession, and it was the biggest blessing because it gave me the opportunity to really think about what I wanted to do. My sister Mona was like, "Huda, you love makeup and you are super creative – why don't you do something with makeup?" So I packed my bags and headed to Los Angeles to train as a makeup artist.
There's a lot of money to be made in sponsored content, especially when you've generated such a huge following. Is it ever hard to turn down those offers?
I've always tried to keep my blog and social media completely unbiased and non-monetized. It's really hard to stay unbiased once you start accepting paid posts. I've gotten some insane offers and it gets hard to turn down, but I just never felt comfortable about it. For me, social media is and always will be purely a tool for me to share information, things that I love and connect with my followers. I am fortunate that I run Huda Beauty, which is where my income comes from, so I am not reliant on sponsored opportunities.
What are some real, solid tips you have for bloggers and social influencers?
If you are looking to grow your social following, my advice is to focus your energy on one social media platform. You can definitely use multiple channels, but I would focus on growing one and then moving on from there. Having a uniqueness to you will make you stand out, too. People will often try to model their social channels after other people, but it's super important to just be yourself and create your own identity.
You definitely want to invest in the right light. I swear by my ring light and use it every day, whether it's to do my makeup or to film content. If you don't have budget for lighting equipment, find a spot that has good, natural light. My team and I shoot a lot of content on cell phones so I don't think there's a need to invest in heavy duty cameras. Technology is so good these days that you can capture and edit your content on one device. Although, a tripod would be a good investment as it allows you to shoot from a consistent angle!
Preparation is super important. Before you start filming a video, you need to have a strong storyline so there is a good, natural flow. Plan your intro and outro, and make sure you have all of the messages you want to convey planned in advance – it makes editing a video a lot easier and your audience will appreciate if there is a logical flow.
You're constantly evolving as a mogul. Why did you start your Facebook show Huda Boss?
Making Huda Boss was really important to my family and I because we wanted to create a show that would really inspire our viewers. We know that a lot of our followers on social media are aspiring makeup artists or people who want to start their own beauty brands, so this was really about showing them that anything is possible if they dream big enough and stay committed. We faced so many challenges when we started the business and we want to show the real and honest side to running the company – as a wife, a mom, a sister, a makeup artist – and for our viewers to feel empowered.
Speaking of family, how do you balance it all with running a business?
Balance is so important, and it's something that I still really struggle with. You definitely want to set time aside for family and make sure that that time is strictly for quality time, but also set boundaries for when you are working. I spend every weekend with my daughter and make sure that she and I have a few nights a week where it's just us and my husband Chris. There is a lot of power in planning and I think working moms can really benefit from managing their time efficiently as it will allow them to be amazing in their career, and still have time for family.

If you weren't the face of Huda, who'd be the face of your brand?
My younger sister Mona has always been my muse and someone I idolize, so I think it would have to be her! As a child, Mona was in beauty pageants, which are VERY big in the South, and I would love to do her makeup. She was like my little doll. Even now she is my muse, my icon, and sometimes my guinea pig – but ultimately, one of my biggest cheerleaders.
Hard question but what's your absolute favorite Huda Beauty product ever?
What about you do you want your daughter to be most proud of?
That I hustled and never stopped giving 100%. We have come really far in the five years since we launched, and it is all down to hard work and staying entirely focused on our vision. I want her to know that anything is possible if she dreams big enough and is prepared to work every single day for it.
I would love for my legacy to be that I empowered others to embrace who they are. I feel extremely honored to be creating products for other women. I have always believed that an empowered woman is unstoppable so to help people get to that point is really powerful for me.

Huda Beauty Lip Contour Pencil in Trendsetter. Get it from Sephora for $19.

Tatcha Pure One Step Camellia Cleansing Oil. Get it from Sephora for $48.

Neutrogena Hydro Boost Hydrating Gel Cleanser. Get it from Amazon for $7.40.

Clinique Clarifying Lotion 2. Get it from Sephora for $25.50.

Ren Clean Skincare Rose O12 Moisture Defence Oil. Get it from Ren for $80.
Diva Ring Light Super Nova 18" Dimmable Ring Light. Get it from Amazon for $219.
AmazonBasics 60-Inch Lightweight Tripod with Bag. Get it from Amazon for $23.49.