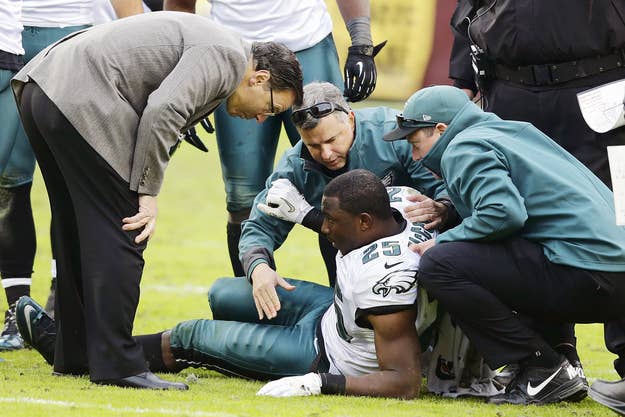 It was almost 10 years ago today that ESPN did something extremely un-ESPN. On Aug. 26, 2003, the network premiered Playmakers, a scripted drama about a fictional professional football team. The plotlines were intentionally controversial and clearly based on NFL reality. (Steroids! Paralysis! Gay teammates!) It was a bold move for a network that depends on the NFL for access and broadcast rights. Indeed, during Playmakers' first season the league leaned on ESPN so hard that despite two million weekly viewers (a respectable figure), the series was dead by spring. Said Mark Shapiro, the network's executive vice president at the time: "It's our opinion that we're not in the business of antagonizing our partner."
A decade can change a lot of things, and the last decade in particular has seen much critical coverage and reporting on the NFL's approach to concussions. But it looks like ESPN is still in the business of not antagonizing its partner. They've abruptly parted ways with PBS and Frontline 15 months into an 18-month partnership to investigate the effects of concussions on players and the response thereto by the NFL. (As in, the NFL that ESPN pays $1.9 billion every year for the broadcast rights to Monday Night Football.) PBS was the first to announce the dissolution of the collaboration, posting a press release that said ESPN had pulled out. ESPN subsequently put out its own statement blandly attributing the decision to disagreements about "editorial control."
The sports network denied — and continues to deny — that its decision was the a result of NFL pressure or even that it was made independently out of a concern for potential future conflict with the league. But the New York Times reported this morning that two top ESPN executives were summoned last week to a "combative" meeting with commissioner Roger Goodell and NFL TV exec Steve Bornstein about the Frontline project, while a Frontline producer told the Times that the details of editorial control of the project — the groups would had been coordinating their investigation and producing co-branded features, with each network having final say over what appeared on its own channel — had been clear for more than a year.
The odd part of ESPN's move is that it does nothing to prevent the completion of two major projects associated with the investigation. One, called League of Denial: The NFL's Concussion Crisis, will be aired on PBS in October. That same month, two investigative reporters from ESPN will publish a book also called League of Denial, which was written in conjunction with the film's production. The sports network also asserted that it will "continue to cover the concussion story through our own reporting" — presumably a reference to the award-winning Outside the Lines show that it's slowly burying.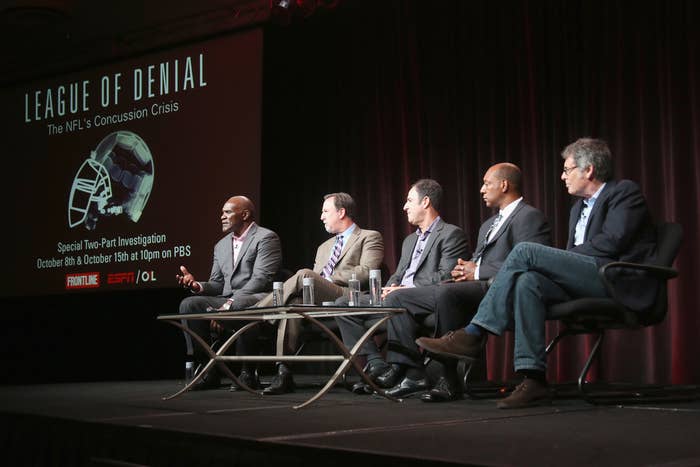 Also weird, aside from the fact that it took ESPN's vaunted PR machine a whole 40 minutes to release its own statement to the media — maybe they really didn't think this was going to be a big story? — is that ESPN could not have praised League of Denial enough not three weeks ago. During a Television Critics Association panel discussion earlier this month, executives from PBS and ESPN sat side-by-side lauding each other's efforts, united in taking obvious pride in having produced quality journalism despite the NFL's complete refusal to cooperate.
Steve Fainaru, one of the co-authors of League of Denial, had this to say when asked about the NFL's involvement with the book:
Mark [Fainaru-Wada] and I have been working on the book now for about a year and a half. And we've had several conversations with the NFL about what we're doing. And so that lack of cooperation around footage and around information has basically extended to us as well. We understand that they're being sued by, you know, more than one-third of all living former players over this issue. And so it's a difficult one. But no, they haven't been cooperative with our work.
And Dwayne Bray, a senior ESPN producer involved with League of Denial, had this to say regarding the partnership in a larger sense:
Frontline is the gold standard, I've said before, of longform investigative documentaries. ESPN is the gold standard for sports journalism from covering the games to investigative journalism. Nobody does it as comprehensively as we do it. So we made a conscious decision when we were presented with this opportunity to literally get in bed with Frontline. We've had other nonprofits, universities that have asked us to partner with them. We've never done a partnership. And from the Frontline standpoint, I think this is only the second time domestically that they've done a partnership with a broadcast partner. So we respect Frontline greatly. They respect us. And the NFL is going to have to understand that.
Reporting by Marc Tracy of The New Republic makes it sound like this whole unraveling was swift and unexpected by anyone actually involved on a day-to-day basis with the project. It seems like higher-ups at ESPN simply didn't know what they were getting into when they signed on with PBS and Frontline, and panicked when they found out. It's a monumental lack of foresight for the most powerful sports entity on the planet, the kind that gets people unannounced office visits from security guards carrying cardboard boxes. Because — for all the negative press the NFL gets — it is still, from ESPN's point of view, an absolutely essential business partner. Live sports are crucial to all broadcasters, since they're one of the few remaining ways to get live viewers — and live viewers can't skip ads. ESPN is able to charge cable providers the highest carriage fees of any network, $5.15 per subscriber per month. Advertising and carriage fees are the two revenue streams that have made ESPN an incredibly useful, $40 billion asset to its parent company, Disney. Meanwhile, it was reported this week that the CEO of Google met with Roger Goodell this week to talk about the possibility of buying NFL rights for YouTube. The NFL would have plenty of other bidders for Monday Night Football if they decided ESPN had gotten too uppity.
The ultimate lesson: For all the talk of football potentially becoming a stigmatized sport like boxing, or Barack Obama saying he might not let his own hypothetical teenage son start playing the game, the current reality is that some of the largest corporations in the world are still willing to make billion-dollar bets that we'll all be watching a lot of football for a long time to come. But the league can't control everyone all the time, and the good news in all this is that League of Denial is still going to air. It'll give us all a chance to make up our own mind — a chance that it seems ESPN would prefer we not have. As much as it might like to, ESPN can't cancel the concussion story.